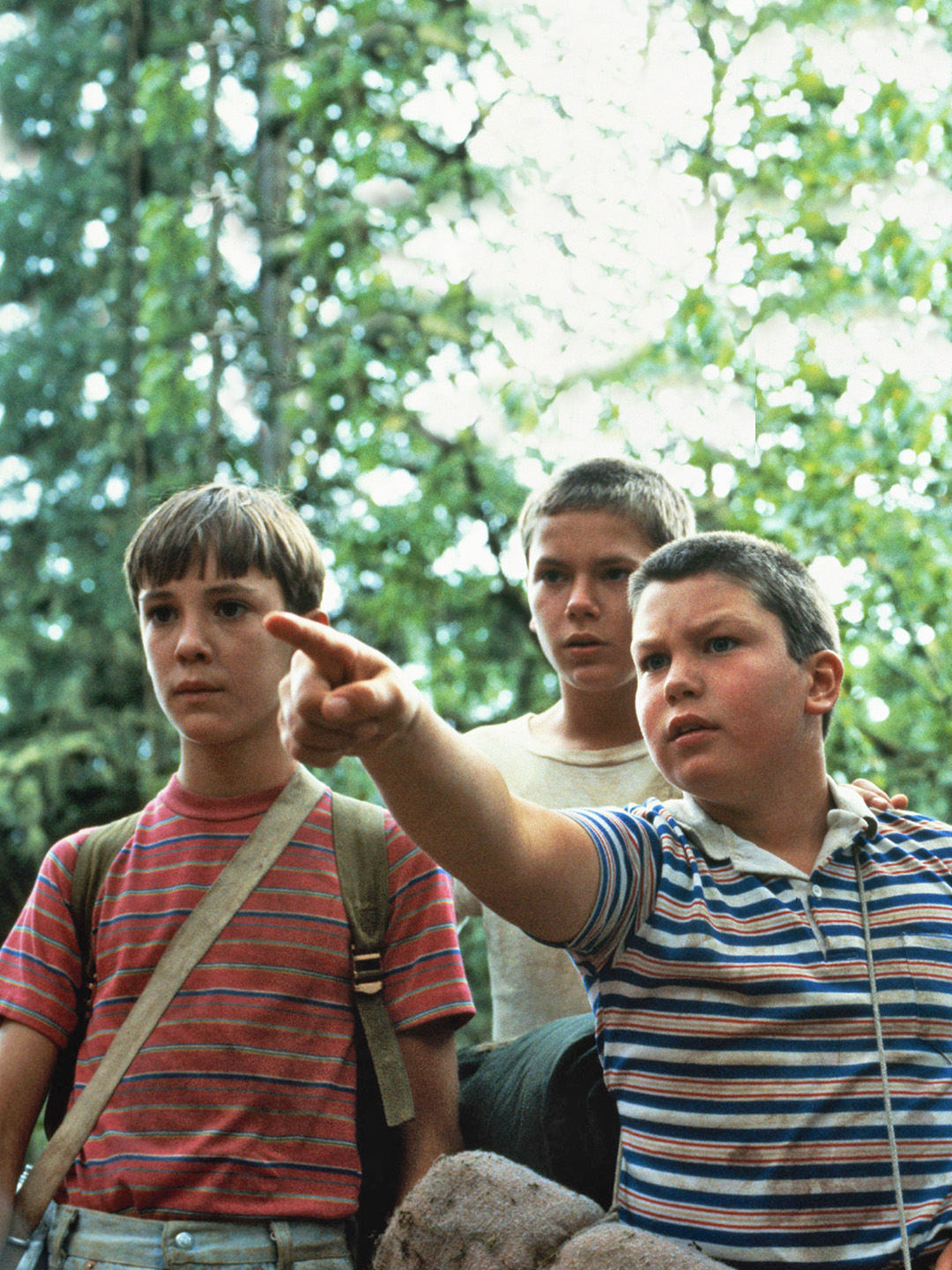 STAND BY ME
(director: Rob Reiner; screenwriters: from the novella "The Body" by Stephen King/Raynold Gideon/Bruce A. Evans; cinematographer: Thomas Del Ruth; editor: Robert Leighton; music: Jack Nitzsche; cast: Wil Wheaton (Gordie Lachance), River Phoenix (Chris Chambers), Corey Feldman (Teddy Duchamp), Jerry O'Connell (Vern Tessio), Kiefer Sutherland (Ace Merrill), Casey Siemaszko (Billy Tessio), John Cusack (Denny Lachance), Bradley Gregg (Eyeball Chambers), Marshall Bell (Mr. Lachance), Frances Lee McCain (Mrs. Lachance), Richard Dreyfuss (narrator, writer, Gordie Lachance as an adult); Runtime: 89; MPAA Rating: R; producers: Bruce A. Evans/ Raynold Gideon/Andrew Scheinman; Columbia; 1986)
"A well-observed and executed little film."
Reviewed by Dennis Schwartz
A coming-of-age tale based on the semi-autobiographical novella "The Body" by Stephen King and realistically written by Raynold Gideon and Bruce A. Evans. Rob Reiner ("This Is Spinal Tap"/"The Sure Thing"/A Few Good Men") directs it with a light touch as a nostalgia piece. It's set in Castle Rock, Oregon, over Labor Day weekend, 1959, as four twelve-year-olds, Gordie Lachance (Wil Wheaton), Chris Chambers (River Phoenix), Teddy Duchamp (Corey Feldman) and Vern Tessio (Jerry O'Connell), go by foot on a two-day trek to search for the body of a missing 12-year-old in the nearby woods so they can get their names in the local newspaper as heroes. The middle-aged Gordy (Richard Dreyfuss), a writer and family man, looks fondly back at that rite of passage, and acts as narrator.
Upon learning of the death of one of his three friends, the writer reflects on the great summer adventure they had and how he'll always remember that time with great pleasure even though the childhood friends did not remain in contact. The adventure uncovers that Gordy is a somber, smart child, whose father never warms to him and still mourns the death of his beloved high school football star older son (John Cusack) who recently died in an accident; that Chris is their leader, a hard-edged kid who comes from a family in trouble with the law; that the chubby hanger-on Vern is not that swift; and the abused Teddy is considered a psycho and his war hero father was institutionalized. The boys are entering in the fall junior high school, and Gordy is tracked for a college program while the other three to the vocational program–a reason they will go their separate ways.
Vern, while eavesdropping, overhears his toughie teenage older brother Billy (Casey Siemaszko) and his crony tell of joyriding in a stolen car and coming upon the corpse of a local kid who had recently disappeared. They keep silent, not wanting any involvement with the police. When Vern tells his secret to his crew, they decide to hike the 20 miles to the body's location in the hopes of receiving media attention from their "accidental" discovery. The problem is that Billy's crew, led by the high school bully, Ace (Kiefer Sutherland), and his sidekick Eyeball Chambers (Bradley Gregg), Chris's criminal brother, when they hear of the body also decide to claim recovering it for the good publicity.
A well-observed and executed little film. The soundtrack is filled with catchy rock songs of the era.
REVIEWED ON 8/5/2009 GRADE: B