SOUND OF FREEDOM
(director/writer: Alejandro Monteverde; screenwriter: Rod Barr; cinematographer: Gorka Gómez Andreu; editor: F. Brian Scofield; music: Javier Navarrete; cast: Jim Caviezel (Tim Ballard), Bill Camp (Vampire), Cristal Aparicio (Rocio), Mira Sorvino (Ketherine Ballard), Eduardo Verástegui (Paul), Yessica Borroto Perryman (Gisselle), Javier Godino (Jorge), Gustavo Sanchez Parra (El Calacas), Kurt Fuller (Frost), Gerardo Taracena (El Alacran), Gary Basaraba (Earl Backman), Jose Zuniga (Roberto), Kris Avedisian (Oshinsky), Manny Perez (Fuego), Lucas Avila (Miguel), Scott Haze (Chris); Runtime: 130; MPAA Rating: PG-13; producer: Eduardo Verástegui; An Angel Studios release; 2023-in English, with the Spanish dialogue in subtitles)
"The low-budget message indie has surprisingly become a box office hit for reasons I attribute to good marketing and not to being a good film."
Reviewed by Dennis Schwartz

It's based on a true story about child traffickers directed by Mexican filmmaker Alejandro Monteverde ("Little Boy"/"Bella"), a faith-based filmmaker, who co-writes it with Rod Barr. The low-budget message indie has surprisingly become a box office hit for reasons I attribute to good marketing and not to being a good film.

The star of the anti-Semitic "The Passion of The Christ" (2004), Jim Caviezel, a leaden actor who has mostly been in faith-based films, stars as a federal agent for Homeland Security, Tim Ballard. He rescues a boy taken by child traffickers and subsequently learns the kid's older sister has also been taken by traffickers. This prompts him to quit his job out of frustration and go into the Colombian jungles to rescue her.

The heart of the film is about Tim's perilous rescue mission in the jungle, occasionally veering to show how the captured young girl (Cristal Aparicio) is being treated by her captors and before that how she was grabbed. The film is all about hero worshiping the brave rescuer and humanizing him by showing him interact with his always tearful wife (Mira Sorvino) and big family.

My problem with the thriller was the script was so heavy-handed, the villains were one-dimensional figures, the hero is an actor I can't relate to, it was executed in a lumbering fashion, I couldn't have been more bored by the bleak film, and I was repulsed that the nutty QAnon group had such a big involvement with it.

The title was derived from a children's clapping game.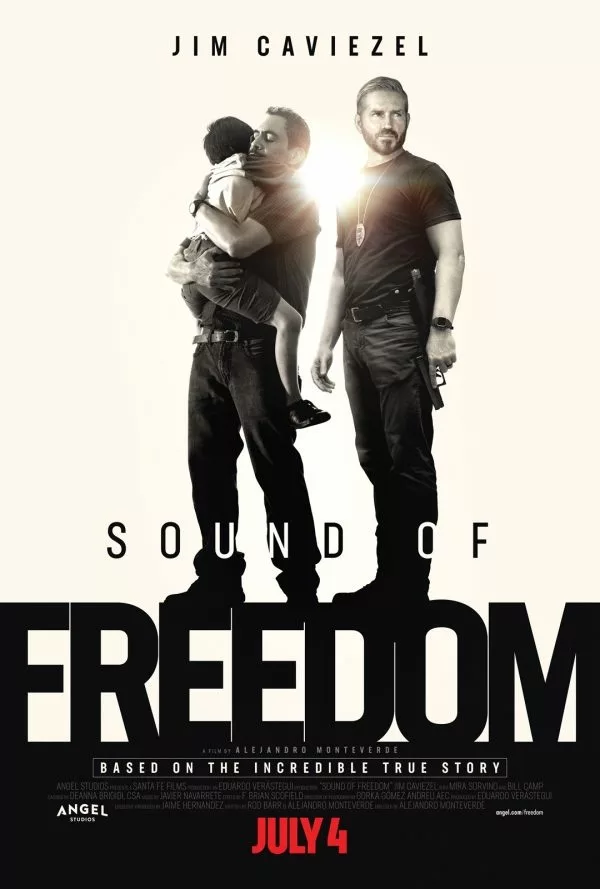 REVIEWED ON 7/22/2023 GRADE: C