SOMETIMES I THINK ABOUT DYING
(director: Rachel Lambert; screenwriters: based on the play "Killers" by Kevin Armento/Kevin Armento/Stefanie Abel Horowitz/Katy-Wright Mead; cinematographer: Dustin Lane; editor: Ryan Kendrick; music: Dabney Morris; cast:  Daisy Ridley (Fran), Dave Merheje (Robert), Parvesh Cheena (Garrett), Marcia Debonis (Carol), Megan Stalter (Isobel), Brittany O'Grady (Sophie); Runtime: 91; MPAA Rating: NR; producers: Alex Saks/Daisey Ridley/Dori A. Rath/Lauren Beveridge/Brett Beveridge; Mirror Image Films; 2023)
"Surprisingly not joyless."
Reviewed by Dennis Schwartz

Rachel Lambert ("I Can Feel You Walking"/"In The Radiant City") directs a low-key drama about female loneliness that's surprisingly not joyless. It's based on the play "Killers" by Kevin Armento and is written by Armento, Stefanie Abel Horowitz and Katy-Wright Mead.

Fran (Daisy Ridley) is an office worker for a small company dealing with business supplies in a small town in coastal Oregon, who lives a simple life and lacks the social skills to relate to others. She's shy and her life away from work is empty. At times she daydreams of ways of dying.

The outgoing charmer Robert (Dave Merheje) joins her office and pays attention to her, even if she's his opposite, and they begin dating. She's in a shell that he tries to bring her out of, which hinders their relationship.

Ridley does a good job as the socially awkward female, while Lambert does a good job depicting the boredom and the politics in the contemporary work-place.

It's weirdly a fine relationship film. Ridley may be on her way to Meryl Streep-like stardom.

It played at the Sundance Film Festival.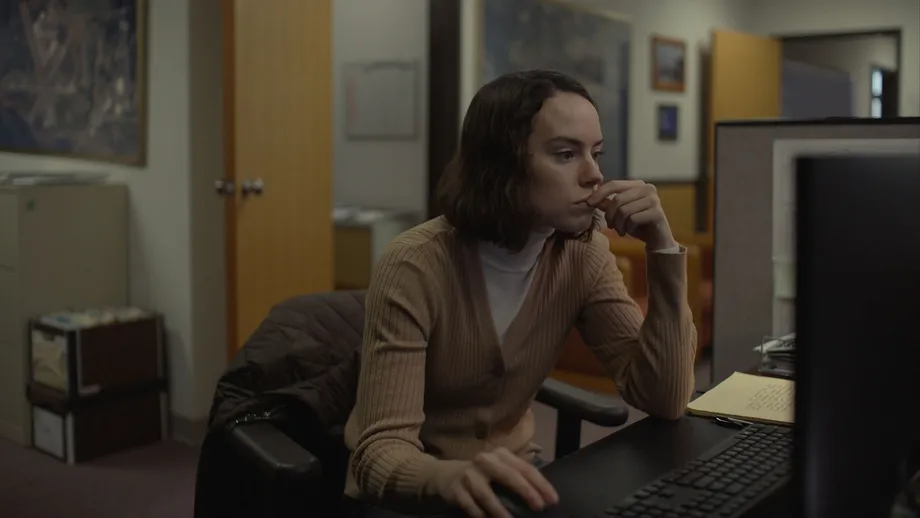 REVIEWED ON 6/23/2023  GRADE: B