SHE SAID
(director: Maria Schrader; screenwriters: Rebecca Lenkiewicz/based on the NY Times investigation story on Harvey Weinstein by Megan Twohey & Jodie Kantor; cinematographer: Natasha Braier; editor: Hansjörg Weißbrich; music: Nicholas Britell; cast: Carey Mulligan (Megan Twohey), Zoe Kazan (Jodi Kantor), Patricia Clarkson (Rebecca Corbett), Samantha Morton (Zelda Perkins), Andre Braugher (Dean Baquet), Keilly McQuail (Rose McGowan-voice), Jennifer Ehle (Laura Madden), Ashley Judd (Herself); Runtime: 135; MPAA Rating: R; producers: Brad Pitt/Dede Gardner/Jeremy Lleiner; Universal Pictures; 2022)
"Raised questions over the silence around the subject of sexual assault in Hollywood on the casting couch."
Reviewed by Dennis Schwartz

The acclaimed German actress and current filmmaker, Maria Schrader ("I'm Your Man"/"Love Life"), directs with vigor and clarity this social conscious expose drama based on the headline grabbing NY Times muckraking report by its outstanding reporters Megan Twohey (Carey Mulligan) and Jodie Kantor (Zoe Kazan) on the sex scandal over the accused slimy Hollywood rapist producer Harvey Weinstein in October 2017. It raised eyebrows as it stirred things up over the feminist #Metoo movement and raised questions over the silence around the subject of sexual assault in Hollywood on the casting couch. The reporters from the NY Times eventually shared the Pulitzer Prize with the New Yorker reporter Ronan Farrow, who also did a hard-hitting story on Weinstein's criminal behavior.

After the newspaper's investigation exposed Harvey as the vile creep he was to the public, many actresses came forth to tell their story of how he attacked them (such as Ashley Judd), breaking the silence that enabled him to commit the same crime over and over. This expose shook up the film industry and hopefully their positive actions of banning the former Miramax  head honcho will send a message to others in Hollywood.  As a result, more than 80 different women eventually accused the Hollywood mogul of criminal behavior (he was convicted in NY in 2020 and is currently serving a long prison sentence , while he's facing another court trial in Los Angeles over additional charges).

The dirtbag's downfall and ruin can be attributed to the efforts of these tireless reporters who wouldn't let go of the tawdry story. If you want to see how they did it, this well-crafted film makes for a good watch (though I would have pruned its length).
It played at the New York Film Festival.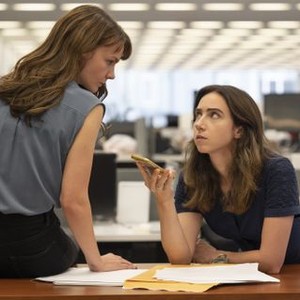 REVIEWED ON 11/9/2022 GRADE: B+