SERAPHINE
(director/writer: Martin Provost; screenwriter: Marc Abdelnour; cinematographer: Laurent Brunet; editor: Ludo Troch; music: Michael Galasso; cast: Yolande Moreau (Séraphine Louis), Ulrich Tukur (Wilhelm Uhde), Anne Bennent (Anne Marie), Geneviève Mnich (Madame Duphot), Nico Rogner (Helmut), Adélaïde Leroux (Minouche), Serge Larivière (Duval), Françoise Lubrun (Mère Supérieure); Runtime: 125; MPAA Rating: NR; producers: Miléna Poylo/Gilles Sacuto; Music Box Films; 2008-France-in French with English titles)

"Gives testimony to the human spirit."
Reviewed by Dennis Schwartz
Martin Provost ("Le ventre de Juliette") directs and cowrites with Marc Abdelnourthis uneven mostly factual based Van Gogh like biopic. It's exhilarating when showing lumpen primitive nature painter Séraphine Louis (Yolande Moreau) collecting chicken blood on the sly from a butcher shop for mixing into her red colors, lifting her skirt in the woods to pee while looking up at the wonders of nature with awe and singing while finger-painting at night after mopping floors as a cleaning lady all day. It becomes stiff with too many scenes of the elite treating the lowly cleaning lady Séraphine like a speck of dirt, the bourgeoisgiving her their ill-informed opinions of her paintings (in one instance saying her painting of apples doesn't even look like apples), and the dry chronicling of her strange path to temporary fame as an aspiring obscure artist who was discovered by, Wilhelm Uhde (Ulrich Tukur), a wealthy emotionally detached homosexual German art critic and avant-garde gallery owner in Paris.
In 1912 washerwoman Séraphine is hired as the maid of upper-crust art critic Uhde, who rents a country home in Senlis, in central France, to get away from the rigors of his Paris art gallery. The well-heeled sophisticated collector is impressed with Séraphine's crude wood panel paintings of fruits and flowers and becomes her patron, learning only that she started painting in 1905, while working as a cleaning lady in the convent, after hearing voices that the Virgin Mary wanted her to paint nature and without any formal training made herself into a true artist (in truth she sat in on art classes for young ladies in Paris, something the film fails to mention).
When Uhde has to leave in a hurry for safety reasons at the onset of World War I and doesn't hear from the peasant artist until he returns in 1927, where he rents a home in nearby Chantilly. The collector has built a considerable rep for early on collecting Picasso, Rousseau and Braque, or as his caustic critics suggest searching for "naives."
During her patron's absence Séraphine remained a cleaning woman, but evolved as a painter and started using big canvases. When they reconnect, the patron wants her to give up being a maid and pays her a nice monthly stipend to have her just be an artist. During this period of fame and money, thanks to the efforts of Uhde to get her known, it seems that success goes to her head and takes away her artistic edge and she goes into decline. After the stock market crash and the world-wide Depression in the 1930s, Séraphine is disappointed she can't get a gallery show. Driven to insanity by the harsh realities of her life, Séraphine dons a bridal gown to walk the streets and tells of hearing the voices of guardian angels. Institutionalized, she remained in the asylum throughout the 1930s until her death in 1942. But while locked up, the wily art dealer was able to sell some of her paintings (but she was too far gone to be told this).
The film's noble purpose is to point out that there's no one path for an artist, that no matter how discouraging it may be the true artist has no choice but to follow his/her heart. This odd relationship between the business savvy talented art scout/avant-garde art dealer and the visionary peasant artist given to lapses of madness, gives testimony to the human spirit and the mysteries of creativity.
Veteran Belgian actress Yolande Moreau completely inhabits in a most credible way the plump Séraphine, brilliantly playing the devoutly religious obsessive artist and cleaning lady who can't be bought and possesses a child-like innocence that seems touched by a divine hand.
It won the Best Film at France's César awards.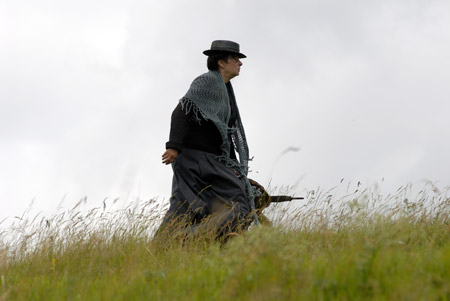 REVIEWED ON 2/19/2011 GRADE: B+