SEBERG
(director: Benedict Andrews; screenwriters: Anna Waterhouse/Joe Shrapnel; cinematographer: Rachel Morrison; editor: Pamela Martin; music: Jed Kurzel; cast: Kristen Stewart (Jean Seberg), Anthony Mackie (Hakim Jamal), Margaret Qualley (Linette), Zazie Beetz (Dorothy Jamal), Stephen Root (Walt Breckman), Vince Vaughn (Carl Kowalski), Colm Meaney (Frank Ellroy), Jack O'Connell (Agent Jack Solomon), Yvan Attal (Romain Gary); Runtime: 102; MPAA Rating: R; producers: Fred Berger, Kate Garwood, Bradley Pilz, Brian Kavanaugh-Jones, Stephen Hopkins, Marina Acton, Alan Ritchson; Amazon Studios; 2019)
"The biopic doesn't get serious until the final act when it's too late to be saved."
Reviewed by Dennis Schwartz
The noted stage director Benedict Andrews ("Una") helms a weak presentation of the true story of the wronged American actress Jean Seberg (Kristen Stewart). It's not helped by the bland screenplay by Anna Waterhouse and Joe Shrapnel. The biopic doesn't get serious until the final act when it's too late to be saved. Seberg was the free-spirited new movie star targeted by the FBI in the late 1960s because of her support of the civil rights movement, support of the Black Panthers and her romantic involvement with the black man Hakim Jamal (Anthony Mackie).

The 21-year-old Jean was an international hit in Godard's New Wave revolutionary film Breathless (1960), her breakout role, and lived in Paris in the late 1960s. Her radical behavior upset the G-men, who began to harass her.

On a transatlantic flight to L.A., the married Seberg (her second hubby is the French novelist and filmmaker Romain Gary (Yvan Attal)) meets the married Hakim Jamal (Anthony Mackie), the cousin of Malcolm X, and the meeting leads to an affair. Also to Seberg put under surveillance by the FBI and shot at by Jamal's wife (Zazie Beetz).    

The film proceeds at a languid pace cutting between Seberg's life and the FBI agents on her tail, the bigoted hothead Kowalski (Vince Vaughn) and the fictional agent, the more sympathetic but still dutiful partner, Soloman (Jack O'Connell). They followed her as part of the agency's illegal special program (COINTELPRO) to stop domestic political dissidence.

The troubled actress, who committed suicide at a young age of 41 in 1979, deserves a better biopic. But despite all its shortcomings it's still worth seeing.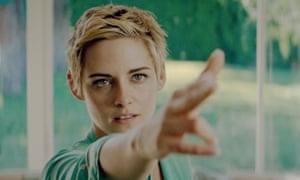 REVIEWED ON 12/18/2019  GRADE: C+  https://dennisschwartzreviews.com/