AIR
(director: Ben Affleck; screenwriter: Alex Convery; cinematographer: Robert Richardson; editor: William Goldenberg; music: Andrea von Foerster.; cast: Matt Damon (Sonny Vaccaro), Jason Bateman (Rob Strasser), Ben Affleck (Phil Knight), Chris Messina (David Falk), Viola Davis (Deloris Jordan), Chris Tucker (Howard White), John Fisher (Jay Mohr), Julius Tennon (James), Gustaf Skarsgard (Horst Dassler), Marlon Wayans (George Raveling), Matthew Maher (Peter Moore); Runtime: 112; MPAA Rating: R; producers: Ben Affleck/Matt Damon/David Ellison/Jesse Sisgold/Jon Weinbach/Madison Ainley/Jeff Robinov/Peter Gruber/Jason Michael Berman; Amazon Studios; 2023)
"A fluff sports marketing drama that scores only when shooting uncontested layups."
Reviewed by Dennis Schwartz

A fluff sports marketing drama that scores only when shooting uncontested layups. The film's production looks as cheesy as a promo commercial film should look. It could have used more of a Michael Jordan presence (his face was in the film only in an archival photo).

It's directed and stars Ben Affleck ("Far Bright Star"/"Live By Night"), who without any gravitas tells the true story about the basketball legend Michael Jordan's legendary sneaker contract with Nike's Phil Knight (Ben Affleck). Screenwriter Alex Convery delivers a script that doesn't have the height to match the giant Nike, as it became in the shoe world a giant corporation after inking when an underdog Jordan to an exclusive contract.


In the mid-80s, Sonny Vaccaro (Matt Damon) was a Nike honcho who sought to sign the rookie basketball star of the Chicago Bulls, Michael Jordan, to promote his company's revolutionary new Air Jordan sneaker, giving him his brand identity, as he's on his ways in the ensuing years to arguably becoming the goat in pro basketball. Converse and Adidas had more money to offer, so Vaccaro cleverly drove to Jordan's family home in North Carolina to befriend Jordan's remarkable mother, Deloris (Viola Davis, in a charismatic cameo role) and try to convince her to get her son to sign with him.

We meet the grinning Nike company suits such as Nike CEO Phil Knight (Ben Affleck), marketing director Rob Strasser (Jason Bateman), Nike's NBA liaison Howard White (Chris Tucker) and Jordan's own aggressive agent David Falk (Chris Messina). Their presence interested me about as much as a commercial break during a televised NBA game does, as the narrative largely covers what happens behind the scenes and only the cameo by Viola Davis worked for me.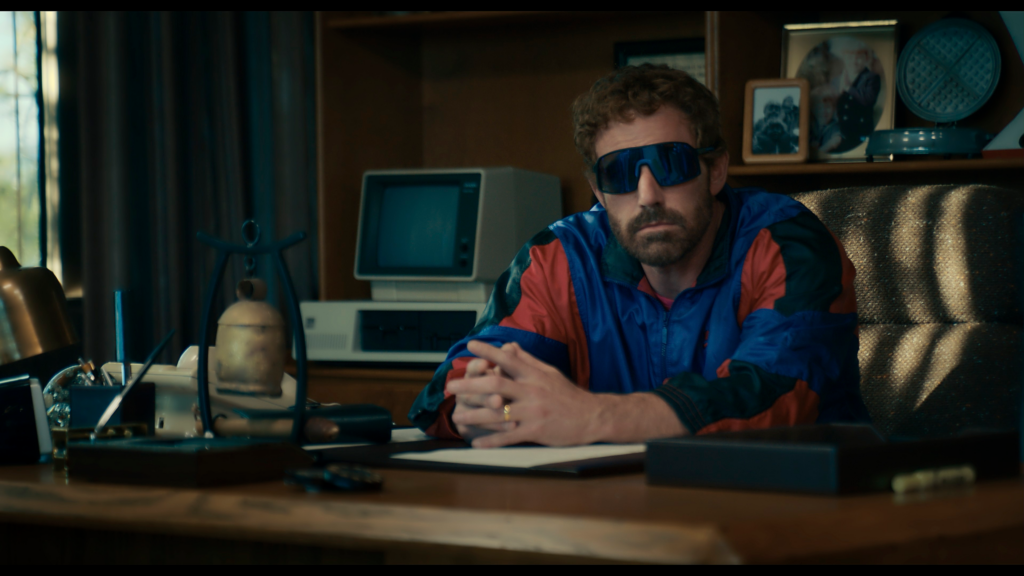 REVIEWED ON 4/9/2023  GRADE: C+
var/