SCREAM VI
(directors: Matt Bettinelli-Olpin/Tyler Gillett; screenwriters: based on characters by Kevin Williamson/James Vanderbilt/Guy Busick; cinematographer: Brett Jutkiewicz; editor: Jay Prychidny; music: Sven Faulconer, Brian Tyler; cast: Melissa Barrera (Sam Carpenter), Jasmin Savoy Brown (Mindy Meeks-Martin), Jack Champion (Ethan), Henry Czerny (Dr. Christopher Stone), Mason Gooding (Chad Meeks-Martin), Roger L. Jackson (the voice) , Liana Liberato (Quinn Bailey), Dermot Mulroney (Detective Bailey), Devyn Nekoda (Anika), Jenna Ortega (Tara Carpenter), Tony Revolori (Jason Carvey), Josh Segarra (Danny Brackett), Samara Weaving (Laura Crane), Hayden Panettiere (Kirby Reed), Courtney Cox (Gale Weathers); Runtime: 123; MPAA Rating: R; producers: William Sherak, James Vanderbilt, Paul Neinstein; Paramount Pictures; 2023)
"Being knowledgeable of the other sequels doesn't make you any smarter a viewer of this film."
Reviewed by Dennis Schwartz

Co-directors Matt Bettinelli-Olpin/Tyler Gillett ("Scream"/"Ready or Not") and co-writers James Vanderbilt and Guy Busick give us the sixth version since director Wes Craven's (died in 2015) original in 1996, along with story character creator Kevin Williamson,  that started a money-making franchise that keeps chugging along introducing new things despite losing its earlier shock effects and freshness. A seventh sequel is expected. This one is appealing in the most narrow of senses, and though I'm no fan of this popular scary film series I found several of its films bearable.

This gory sequel is set in NYC (filmed mostly in Montreal), as the killer is out of the small town of , from Woodsboro for only the third time in the franchise series, as the mysterious Ghostface returns with a new killer to do his bloody thing in the Big Apple against those he still has it in for from back in the days.

We learn that the film's college student, from Woodsboro, Sam Carpenter (Melissa Barrera) lives in a Manhattan apartment she shares with her younger liberated college freshman student sister Tara (Jenna Ortega), who she overprotects, and with friends, the fan girl of Scream, Mindy (Jasmin Savoy Brown) and Chad (Mason Gooding).

 Again, it opens as it usually does with a  riveting opening scene, which has a chilling phone-call-with-the-killer, which sets the film's macabre tone. At the trendy Manhattan restaurant bar the blonde British woman, Laura (Samara Weaving), is seated at the bar talking to her online Tinder date (Tony Revolor) to give him directions to her restaurant location. She's a professor of cinema studies at the fictional Blackmore College (a stand-in for NYU), teaching a course in slasher films, and he's a playful dork who entices her to meet him in the street to help find the place. When in a dark alley, a masked killer goes through his frightening creepy voice routine but quickly unmasks to show it's only a prank from her dork date. When the date is over and he's in his apartment, he receives a call from the real killer.  What follows are mass murders in the apartment-building, bodega and subway. It all leads to a climatic confrontation in the fictional city museum that's dedicated to preserving the sets from the previous Scream films (speaking of Hollywood hubris!).

Courtney Cox is the journalist who appears again for the sixth time playing the same character Gale Weathers, while the film's Scream Queen, Neve Campbell, playing Sydney, does not appear because she was offered too little to do her thing. She said if she received a fair salary offer, she would sign on for another sequel. Also present is Hayden Panettiere, playing Kirby Reed, who was the final girl in "Scream 4" and now is an FBI agent.

Sam is the prime suspect as the serial killer in the investigations by Detective Bailey (Dermot Mulroney) and FBI agent Kirby (Hayden Panettiere), and the journalist Weathers (Courteney Cox).

By the way, the masked killer is effectively voiced by Roger L. Jackson.

I believe, being knowledgeable of the other sequels doesn't make you any smarter a viewer of this film. I didn't see all the sequels and had no trouble following it.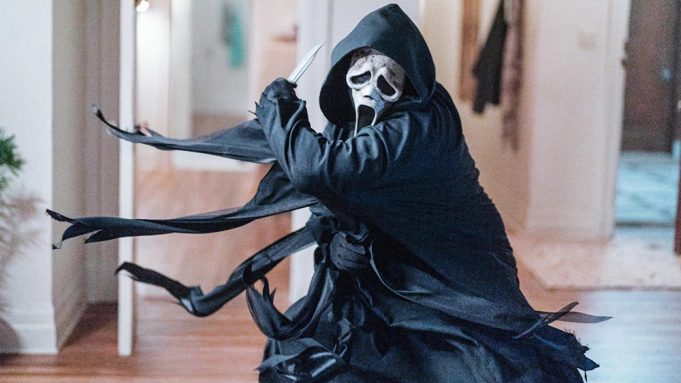 REVIEWED ON 3/9/2023  GRADE: B-