MACHINE, THE
(director: Peter Atencio; screenwriters: Kevin Biegel/Scotty Landes; cinematographer: Eigil Bryid; editor: Eleanor Infante; music: Joseph Trapanese; cast: Bert Kreicher (Bert), Jimmy Tatro (Young Bert), Mark Hamill (Albert), Iva Babic (Irina), Jess Gabor (Sasha), Stephanie Kurtzuba (LeeAnn), Robert Maaser (Alexi), Martyn Ford (Sponge), Aleksandar Sreckovic (Fedor), Rita Bernard Shaw (AShley), Nikola Đuričko (Igor), Oleg Taktarov (Train Igor), Amelie Child-Villers (Tatiana), Mercedes de la Cruz (Tracher); Runtime: 112; MPAA Rating: R; producers: Bert Kreicher/LeeAnn Kreicher/Judi Marmel/Cale Boyter/Peter Atencio; Sony/Screen Gems; 2023)
"A so/so comedy/action film."
Reviewed by Dennis Schwartz

A so/so comedy/action film that Peter Atencio ("Keanu"/"The Rig") directs. Its star, playing himself as a fictionalized version of himself, is the stand up comedian Bert Kreicher. The comedian doesn't look good as an actor and is not able to carry the film. The script by Kevin Biegel and Scotty Landes can't generate laughter–even when using the comedian's most popular act to tell a story about Bert as the party animal from way back who is later on kidnapped by the Russians.

Bert is a former frat boy and party boy from Florida State in the late 1990s, who was recognized by an article in the Rolling Stone 'zine as "the top party-er at the Number One Party School in the country."

Bert went on a college trip to Russia and somehow got in with Russian mobsters and helped them rob a train. Jimmy Tatro plays Bert in college.

The movie begins with Bert as a famous 50-year-old comedian, with a wife LeeAnn (Stephanie Kurtzuba) and his troublesome teenage daughters, Sasha (Jess Gabor) and Tatiana (Amelie Child-Villers). He thrives on his fame and lives off his rep as a party animal and big drinker. His career success is noticed by a Russian gangster, who sends his cold-blooded gangster daughter Irina (Iva Babic) to get back the invaluable family heirloom watch he stole while in Russia as a youth. If it can't be retrieved she's to take him by force back to Russia.

At Sasha's 16th birthday party, attended by his acerbic estranged carpet salesman fa ther Albert (Mark Hamill), Irina shows up and snatches Albert and Bert, bringing them to Russia to find the watch. So far, no laughs, as what follows are flashbacks to Bert's college days and the telling of his story about his trip to Russia.

The Machine never gets tooled right, as it's poorly paced, its story is turned into a piece of unimaginative tripe, it's unpleasantly gory and overlong. I don't think I could of taken much more of the beefy actor/comedian parading around shirtless.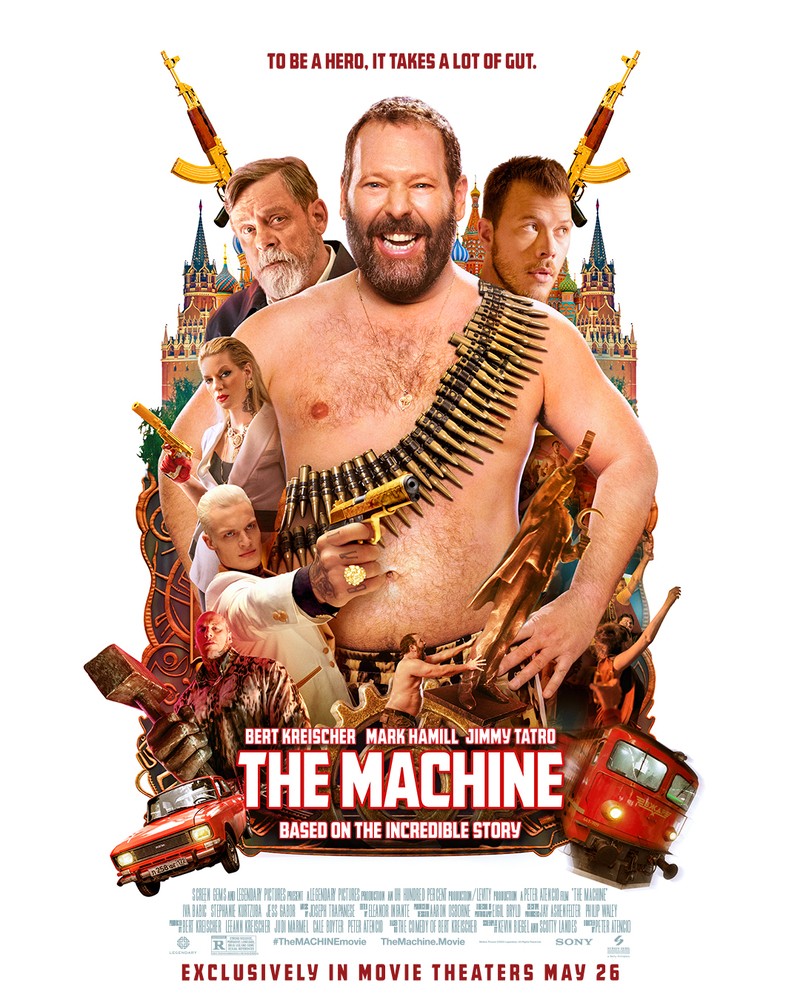 REVIEWED ON 6/2/2023  GRADE: C-