SCRAPBOOK
(director/editor/cinematographer: Eric Stanze; screenwriter: Tommy Biondo; music: Brian McClelland; cast: Emily Haack (Clara), Tommy Biondo (Leonard), Todd Tevlin (Biffle Morris), Elizabeth Hammock (Young Leonard's Sister), Sam Maiden Jr. (Young Leonard's Brother), Angela Sanderson (The Victim In The Van); Runtime: 95; MPAA Rating: NR; producers: Tommy Biondo/Jeremy Wallace; Wicked Pixel Cinema; 2000)
"This was a difficult film to sit through without feeling repulsed."
Reviewed by Dennis Schwartz
This was a difficult film to sit through without feeling repulsed. What added to my viewing displeasure was the poor quality of the DVD. Both its video and audio repeatedly malfunctioned through the 12 chapters. This low-budget cult film is directed/edited/photographed by Eric Stanze ("I Spit on Your Corpse, I Piss on Your Grave"/"Ice from the Sun").
A young woman named Clara (Haack) who has her hair short-cropped and a much tattooed body, is being held captive in an isolated rundown farmhouse by a chatty and imposing serial killer named Leonard (Biondo).
The 27-year-old Leonard keeps a scrapbook to record his life through the victims he held captive. Leonard started his killing spree when he was 15, after running away from home because his father disgusted him by his hunger for young boys. Leonard believes this scrapbook will prove that he's not a nobody and someone who could be ignored, as he takes Polaroids of his prisoners while subjecting them to his will and pastes the pictures and other items from the victims in a scrapbook. The scrapbook has nearly been completed and Clara is to be his final murder victim before he seeks fame for his deeds by turning himself in as a serial killer.
Emily Haack gives a wonderful performance, in a role where she goes from being crushed with fear to taking control of the situation by understanding her tormentor through the scrapbook.
For almost 95 minutes the viewer is forced to watch Leonard torture Clara mentally and physically. He rapes, beats and starves her, and keeps the terrified woman manacled and locked up in a ratty room. He also makes her participate in his scrapbook by writing down her impressions of what she's experiencing. Supposedly, this screenplay written by the film's co-star Biondo, is based on an actual event.
The brutality and honesty of the captive scene was certainly there, but other than that I failed to see much else that was worthwhile. But if you have the stomach to sit through an uncompromising sleazy film experience, in a film whose unrelenting violence is not stylized or diluted Hollywood style, then you will be rewarded by seeing a film that tries to imitate grim reality. It's an attempt at making an arty film that moves very close to porn and the newspaper headlines without stepping back to filter out what is unwatchable.
It's not for everyone, but those chosen few who it is for — should be rolling in the slop as happy as a pig.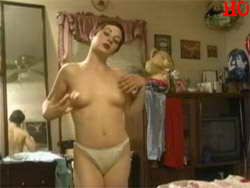 REVIEWED ON 8/24/2003 GRADE: C