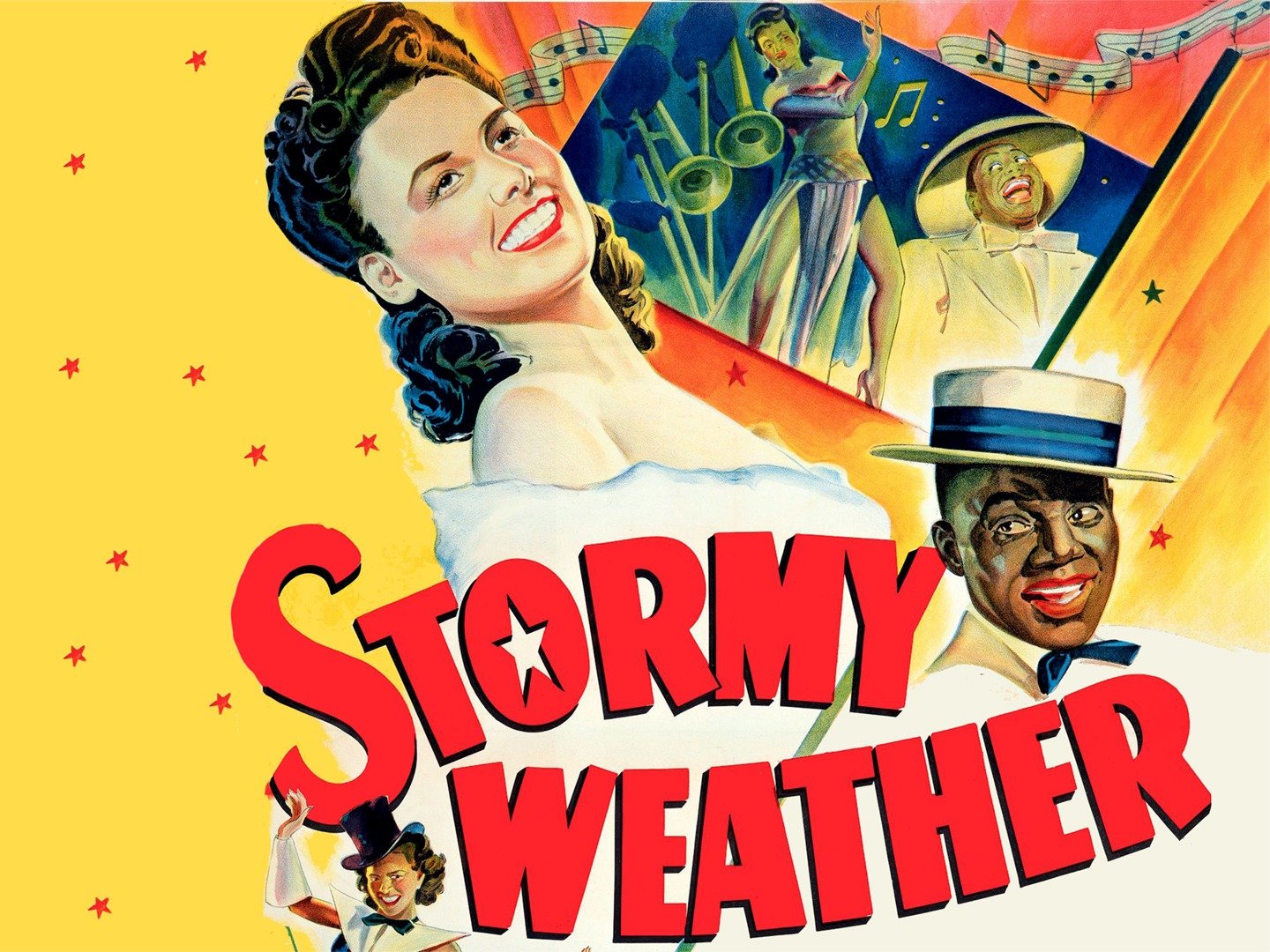 STORMY WEATHER
(director: Andrew L. Stone; screenwriters: story by Seymour B. Robinson & Jerry Horwin/ Frederick Jackson/Ted Koehler/H.S. Kraft; cinematographer: Leon Shamroy; editor: James B. Clark; music: Cyril J. Mockridge; cast: Lena Horne (Selina Rogers), Bill Robinson (Bill Williamson), Cab Calloway and His Band, Katherine Dunham and Her Dance Troupe, Fats Waller, Nicholas Brothers, Ada Brown, Dooley Wilson (Gabe Tucker), Babe Wallace (Chick Bailey), Nicodemus (Chauffeur); Runtime: 78; MPAA Rating: NR; producer: William LeBaron; Fox Video; 1943)

"The thin plot doesn't matter, as it's only an excuse to showcase the black entertainers as they superbly do their showbiz things in a string of reviews."
Reviewed by Dennis Schwartz
Fox's response to MGM's Cabin in the Sky. It's an all-black musical that features such Negro luminaries as Bill Robinson, Lena Horne, Fats Waller, Cab Calloway, and the Nicholas Brothers. Also doing a comic stint is Dooley Wilson, remembered as the 'play it again, Sam' in Bogie's Casablanca (1939). Andrew L. Stone("The Last Voyage"/"Highway 301″/"The Steel Trap") artfully directs, Katherine Dunham imaginatively provides the choreography and Benny Carter ably handles the musical direction. There are fourteen great musical numbers that include the lovely Lena Horne singing the title song and, the film's best number, "I Can Give You Anything But Love, Baby," and the indomitable Fats Waller playing the piano and singing "Ain't Misbehavin'."
The thin plot doesn't matter, as it's only an excuse to showcase the black entertainers as they superbly do their showbiz things in a string of reviews. It was a big hit with black audience. White audiences also responded well to it.
The story is told in flashbacks. Bill Robinson, playing a loose version of himself, playfully talks with a group of his black neighbor's youngsters in the yard of his Hollywood home about his showbiz career and romance with Lena Horne (also playing a loose version of herself) after they see him on the cover of Theatre World magazine. The story spans twenty-five years and both major wars, as it begins with the end of WWI and Dooley Wilson and Bill "Bojangles" Robinson marching with their army band, Jim Europe's 15th New York Regiment band, up 5th Avenue, to cheers and later at a Gotham club Bill meets his army buddy's sister, the club's headline singer, Lena Horne and slow romance brews. It climaxes with a show to entertain WWIItroops, with Robinson putting on a spectacular finale tap dancing number and then learning Lena is ready to marry and live with him in his Hollywood home.
What's there not to like about this upbeat musical!
REVIEWED ON 10/1/2014 GRADE: A-