SCOUNDREL, THE
(director/writer: Ben Hecht/Charles MacArthur; screenwriter: inspired by Ben Hecht's novel "Fantazius Mallare"; cinematographer: Lee Garmes; editor: Arthur Ellis; music: Frank Tours; cast: Noël Coward (Anthony Mallare), Julie Haydon (Cora Moore), Stanley Ridges (Paul Decker), Martha Sleeper (Julia Vivian), Hope Williams (Margie), Ernest Cossart (Jimmy Clay), Rosita Moreno (Carlotta), Everly Gregg (Mildred Langwiter), Eduardo Ciannelli (Maurice Stein), Lionel Stander (Rothenstein), Harry Davenport (Slezack), Helen Strickland (Mrs. Rolinson), William Ricciardi (Luigi), Isabelle Foster (Scrub Woman), Madame Shushkina (Fortune Teller); Runtime: 75; Paramount; 1935)
"In this film smoking saves lives."
Reviewed by Dennis Schwartz
This was noted British actor Noël Coward's first starring role in a film. This odd morality play is set in the hellish environment of a decadent and pseudo-intellectual NYC publishing house, and is written and directed by Ben Hecht and Charles MacArthur. It was inspired by Hecht's earlier novel, "Fantazius Mallare." This unique fantasy film sets an acerbic atmosphere of backbiting and meaningless existence for literary types. The film's climax leaves the realistic publishing world and enters a metaphorical world of spiritual values. Unfortunately this stagy but cleverly sophisticated story turns into a pretentious mess. Though, the film was able to collect an Oscar for Best Original Story.
Anthony Mallare (Noël Coward) is the scoundrel (The film is based on the real-life Broadway scoundrel publisher and playboy Horace Liveright, who died friendless and broke). Mallare's the heartless, self-centered, cynical, wealthy NYC publisher who loves to toy with other people's lives and insult those under him. Mallare creates a cruel workplace environment in which false flattery and self-congratulations become the rule. Mallare's a womanizer who uses women in the same way he uses the authors who work for him, as he discards them on a whim or out of boredom. Mallare refuses to publish Slezack's second book and the author commits suicide. Tony's bitter comment: "it was a foolish effort to call attention to his bad writing." There are many hangers-on who can't stand him, but Mallare views them as friends because they are clever enough to see through him.
Lionel Stander plays a poet (umm….talk about miscasting!). Legendary critic/curmudgeon Alexander Woollcott can be spotted in a bit part. Martha Sleeper is Julia, the publisher's ex-girlfriend, who when asked about the innocent heroine comments that "innocence is an arrested stage of development." Mallare's underling Jimmy Clay (Cossart) comments, "I dislike New York in the summer, the streets look like a socialist picnic." Another ex-girlfriend Margie (Hope Williams), when asked about her journey crossing the Atlantic to be in New York, states "It was nice — I love storms."
Into this cynical crowd comes a fresh faced 22-year-old poetess, Cora Moore (Haydon), who thinks life is wonderful. Mallare views her as a challenge, someone that he can corrupt. He offers to publish her first book of poems and tries to break up her upcoming marriage to her childhood friend Paul Decker (Ridges), not because he loves her but because he's a cad. The outraged engineer Decker resents the snooty intellectual and his pompous crowd and that he stole the girl he worships. But he foolishly plays into Mallare's hand by becoming overbearing and goes into a jealous snit, giving Cora an ultimatum to leave the 40-year-old scoundrel or else. She instead chooses to be part of Mallare's more exciting crowd and becomes his new girlfriend for the next seven months.
Unable to bear that, Decker bursts into Mallare's office and shoots him. But a cigarette case stops the bullet. In this film smoking saves lives. Mallare refuses to press charges, but the unhappy Decker goes on a drunken binge and is in need of $5,000 to be kept out of prison. When Cora who has now been rejected by Mallare for another asks him for the money, he turns her down. She then curses him out and wishes his plane crashes, as he's on his way to Bermuda to marry Margie.
The plane Mallare is on crashes, but he mysteriously returns to life as a ghost for one month because God graced him that time to find one person who will shed a tear over his loss — thereby giving his life some meaning. In his ghostly search for eternal salvation, Mallare tracks down Cora and tries to make amends for his smug life by finding some way he can show that he is capable of loving someone.
The film is both remarkable and awful. It succeeds in capturing the images of a corrupt upper-class bunch of sophisticates. But, the part of redemption was unconvincing. Yet this impudent work had some brains go into its storytelling.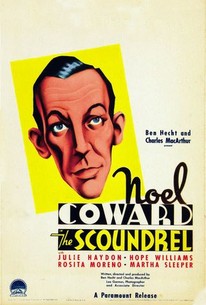 REVIEWED ON 3/26/2002 GRADE: C +