VELVET BUZZSAW
(director/writer: Dan Gilroy; cinematographer: Robert Elswit; editor: John Gilroy; music: Marco Beltrami; cast: Alan Mandell (Ventril Dease), Jake Gyllenhaal (Morf Vanderwalt), Rene Russo (Rhodora Haze), Toni Collette (Gretchen), Zawe Ashton (Josephina), Tom Sturridge (Jon Dondon), Natalia Dyer (Coco), Daveed Diggs (Damrish), Billy Magnusson (Bryson), John Malkovich (Piers), Sedale Thrett Jr. (Ed), Marco Rodriguez (Ray Ruskinspear); Runtime: 113; MPAA Rating: R; producer: Jennifer Fox; Netflix; 2019)
"When the film morphs into a horror film it has a false ring."
Reviewed by Dennis Schwartz
The catchy title is derived from the opportunistic art gallery owner Rhodora Haze (Rene Russo, the wife of Dan Gilroy), whose old punk rock band was named the Velvet Buzzsaw and she was the lead singer. There's a tattoo of a buzzsaw on the back of her neck as a reminder of that time.

Dan Gilroy ("Nightcrawler") directs and writes this dark comedy that plays out like some recent revenge Japanese horror films such as the Ring (1998). The auteur earned his rep as a screenwriter for such reputable films as Freejack (1992), The Fall (2006), Real Steel (2011), The Bourne Legacy (2012) and Kong: Skull Island (2017).

It plays out as a satire of the contemporary art scene of Los Angeles and is set in that bustling art world, where commercial-minded artists and high-scale collectors greedily collaborate to get a high price for art more than trying to be creative.

The bi-sexual Morf Vanderwalt (Jake Gyllenhaal) is a respected L.A. art critic who dumps his personal trainer boyfriend Ed (Sedale Thrett Jr.) because of his early leaking of his reviews, and replaces him with Josephina (Zawe Ashton)–an assistant to the wealthy gallery owner Rhodora Haze. After Josephina finds her neighbor Vetril Dease (Alan Mandell) dead in the hallway of her apartment building, she uncovers in his apartment a massive art collection of his work and retrieves them. When the recluse Dease's paintings become known, there is a clamoring in the art world to buy them. Josephina authorizes Rhodora to have the exclusive right to display them at her gallery after threatened by Rhonda with a civil suit if she tries to sell the paintings on her own. The Dease collection becomes a hot item, even though the artist stipulated they be destroyed because he believes they're cursed.

While writing a book on Dease, Morf in his research uncovers the artist's questionable past (he's suspected of being a serial killer). When the artist's wishes are not respected, a supernatural entity emerges from the paintings and murders those who buy them (these scenes were awkward and unconvincing and pulpy).
Gilroy seems to be highly critical of the way the art world operates as exploiters, as the film allows him to get things off his chest in a personal way. The problem is when the film morphs into a horror film, it has a false ring and turns into a cheesy B-film. It probably should have just stuck to being a satire and not going over-the-top. In one scene, whose grossness turned me off, the Toni Collette character, playing a museum curator turned art advisor, is chewed up inside a chromium sculpture. However, Collette's performance was good, but the sequence was done in bad taste.The cast is solid despite all the nonsense. Gyllenhaal wears glasses and comes off as a believable but appalling nerd (his acerbic reviews are so deadly they can easily end a career). While the supporting cast seems to be having fun with the psychological twisty narrative, as they enliven things by acting as eccentrics wrestling with their moral compass and must decide whether to be all in on their art or on commercialism. John Malkovich plays Piers, an artist more interested in the money he makes from replicas than in creating new art. Daveed Diggs plays an aspiring artist, Damrish, not wishing to make the same mistakes as Piers, as he promotes his metallic sphere.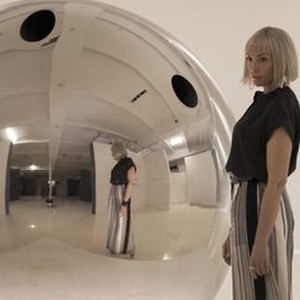 REVIEWED ON 2/14/2020 GRADE: B-