SALTBURN
(director/writer: Emerald Fennel; cinematographer: Linus Sandgren; editor: Victoria Boydell; music: Anthony Willis; cast: Richard Grant (Sir James), Carey Mulligan (in a cameo as Pamela), Barry Keoghan (Oliver Quick), Alison Oliver (Venetia), Archie Madekwe (Farleigh), Rosamund Pike (Elspeth), Will Gibson (Jake), Millie  Kent (India), Sadie Soverall (Annabel), Jacob Elordi (Felix Catton), Ewan Mitchell (Michael Gavey), Paul Rhys (Duncan), Reece Shearsmith (Professor Ware), Lolly Adelope (Lady Daphne); Runtime: 127; MPAA Rating: R; producers: Emerald Fennel, Josey McNamara, Margot Robbie, Tom Ackerley; Amazon Studios/MGM; 2023UK/USA)
"Depraved English drama about class-conflict."
Reviewed by Dennis Schwartz

British actress and filmmaker Emerald Fennel ("Promising Young Woman") directs and writes this depraved English drama about class-conflict. It reminds one of The Talented Mr. Ripley, but with a protagonist less daring. The title is derived from the name of the story's posh estate.

Oliver "Ollie" Quick (Barry Keoghan) is an impoverished academic scholarship nerd from Merseyside, attending Oxford University in 2006, whose needy parents battle mental health issues and a drug-addiction-with his dad recently dying. Ollie can't make any friends among the school's aristocrats, his only friend is his fellow needy student, the brainy math whiz, Michael Gavey (Ewan Mitchell). That is, until he accidentally one day while off campus bumps into the handsome and heavily tattooed popular upper-class student Felix Catton (Jacob Elordi), who lends him his bike so he can get to class in time. Felix is the super-cool big man on campus, who can score with the ladies without exerting much effort.

The ambitious upward looking Ollie dumps his fellow brainy and impoverished friend, as he strikes up a friendship with Felix. Ollie will get an invite to spend his summer vacation with Felix at his family's impressive sprawling country estate, Saltburn.

The fish out of water Ollie meets Felix's well-oiled family, made up of his vain but witty loudmouth mom Elspeth (Rosamund Pike), his eccentric father Sir James (Richard E. Grant) and his attractive bulimic sister Venetia (Alison Oliver). There's also the sponger Pamela (Carey Mulligan), a family friend and permanent house-guest, and Felix's hostile half-American cousin Farleigh (Archie Madekwe), whose poverty-stricken mother lives in NYC. Farleigh observes that Ollie doesn't fit in and hates him for supposedly interfering with his free-loading thing.

There are lavish summer parties with soundtracks from groups like The Killers and The Cheeky Girls.

The dialogue is filled with caustic wit and the scenario is filled with nostalgic reminders of that time period. There's also the spiky comments by Pike that enables her to steal every scene she's in.

We settle into viewing a highfalutin setting filled with sex, drugs and rock music.

When the opportunistic Ollie has a fling with Venetia, his hosts are not pleased.

There's no character who can be viewed as likeable. Every person is a phony, acting one way in public and another way in private.

The simple story observes that both the English ruling class and social climbers are phonies. It's an audacious film gleefully showing us the dark side of academia.

It played at the London Film Festival.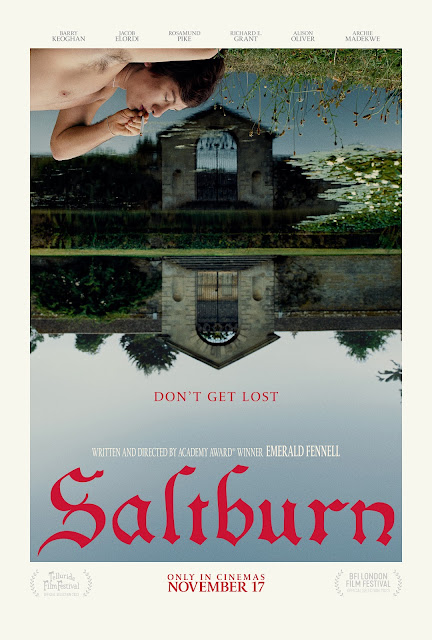 REVIEWED ON 11/11/2023  GRADE: B-