RRR
(director/writer: S.S. Rajamouli; screenwriters: Sai Madhav Burra, from a story by K.V. Vijayendra Prasad; cinematographer: K.K. Senthil Kumar; editor: A. Sreekar Prasad; music: M.M. Keeravani; cast: N.T. Rama Rao Jr. (Komaram Bheem), Ram Charan (Alluri Sitarama Raju), Ajay Devgn (Venkata Rama Raju), Alia Bhatt (Sita), Shriya Saran (Sarojini), Samuthirakani (Venkateswarulu), Olivia Morris (Jennifer), Ray Stevenson (Scott Buxton), Alison Doody (Catherine Buxton); Runtime: 187; MPAA Rating: PG-13; producer; D.V.V. Danayya: Sarigama Cinemas/DVV Entertainment 2022-India-in Hindi, Telugu, Kannada, Malayalam and Tamil with English subtitles)
"Supercharged action pic."
Reviewed by Dennis Schwartz

S.S. Rajamouli  ("Fega"/"Sye") is the writer and director of this supercharged action pic that's set in the 1920s during the period England ruled India. It's based on a story by K.V. Vijayendra Prasad and co-written by Rajamouli (Prasad's son) and Sai Madhav Burra. It's an epic patriotic saga that runs for over three hours.

The main characters are inspired by two real rebel heroes from the past–Komaram Bheem (N.T. Rama Rao Jr.), a revolutionary from the Gond tribes, and Alluri Sitarama Raju (Ram Charan), a police officer who would befriend the rebel when realizing how corrupt were his Brit rulers. They are played by the two biggest stars in India's modern cinema. Both characters are inspired by the characters played by Komaram Bheem and Alluri Sitarama Raju.

The Gond tribal girl Malli is taken away by the sadistic British governor Scott Buxton (Ray Stevenson) and his wife Catherine (Alison Doody) against the wishes of her parents and enslaved by them. While the tribal police officer Raju first volunteers to go after the girl's rescuers then disobeys the British orders and instead teams up with Bheem to save the little girl on a river that's on fire.

From out of the blue, a romance between Bheem and the governor's liberal niece (Olivia Morris), is thrown into the mix.

Shot in a maddening frenetic pace (nonstop action and plotting), with many slow-motion shots, C.G.I. effects  and action-packed set pieces, the film aims to please the locals from India by showing the freedom fighters making fools of the Brit soldiers. It's an engaging epic bromance between superheroes, a provocative anti-colonialist flick that gives voice for the people of India to cheer two popular political figures from their colonial past. Foreigners can take comfort in seeing a Hollywood-like action pic from India that is called by them a Tollywood film.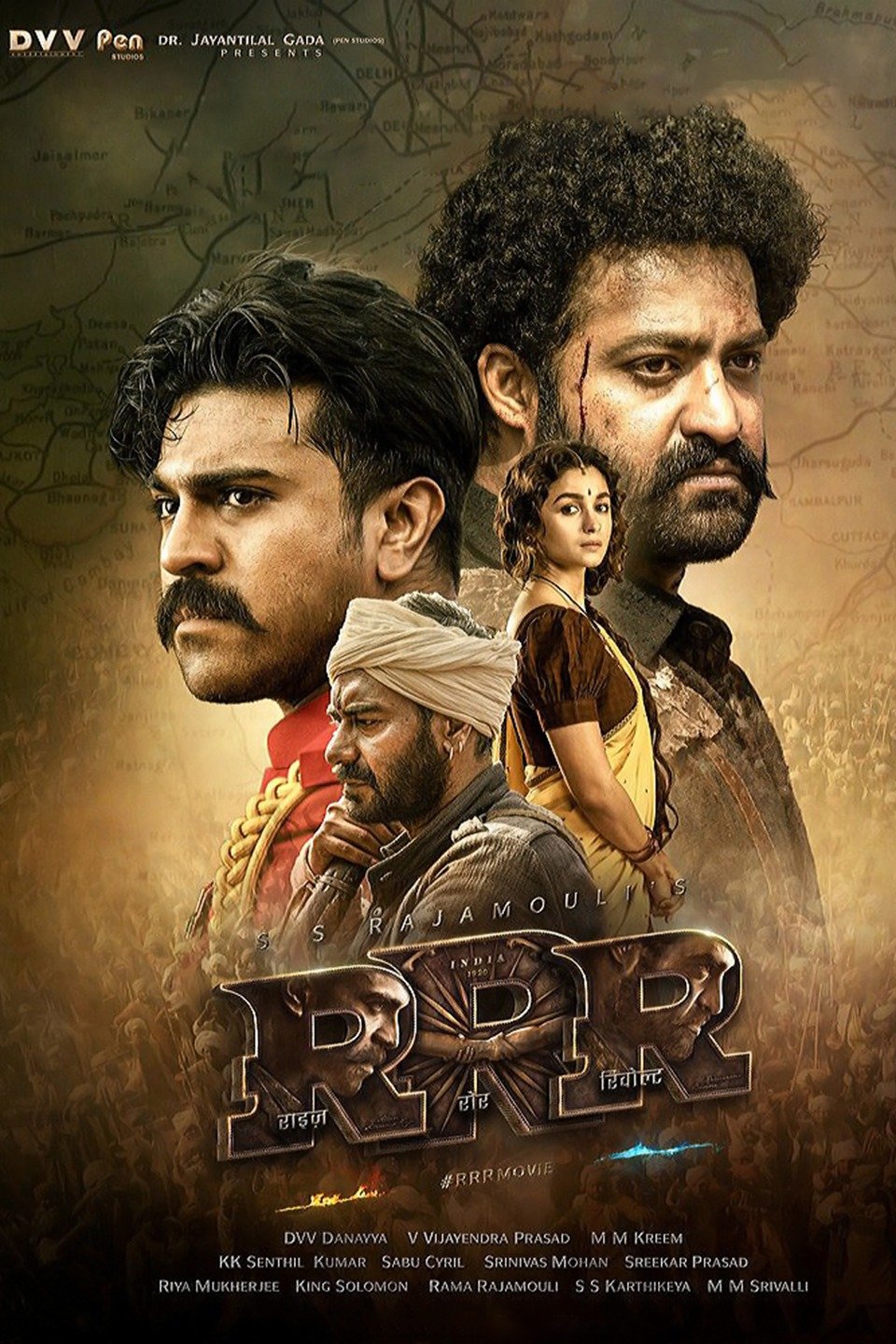 REVIEWED ON 4/27/2022 GRADE: B-