RITZ, THE
director: Richard Lester; screenwriter: Terrence McNally/from the play by McNally; cinematographer: Paul Wilson; editor: John Bloom; music: Ken Thorne; cast:  Jack Weston (Gaetano Proclo), Rita Moreno (Googie Gomez), Jerry Stiller |(Carmine Vespucci), Kaye Ballard (Vivian Proclo), Treat Williams (Mike Brick), F. Murray Abraham (Chris), Paul B. Price (Claude), John Everson (Tiger), Dave King (Abe), Peter Butterworth (Patron in chaps; George Coulouris (Vespucci family patriarch); Runtime: 86; MPAA Rating: NR; producer: Dennis O'Dell; Warner Bros.; 1976)
"Funny in spots but disappointing as a whole."
Reviewed by Dennis Schwartz
Funny in spots but disappointing as a whole, this one-joke campy gay movie is based on the 1975 stage play success by Terrence McNally. Richard Lester ("Robin and Marian"/"A Hard Day's Night") queerly directs this gay farce as a comedy of mistaken identities. It was shot in 25 days in London.

On his deathbed, the Italian family patriarch, Vespocci (George Coulouris), in the refuse business, orders his gangster son Carmine Vespucci (Jerry Stiller) to whack his son's fat business partner, his brother-in-law from Cleveland, Gaetano Proclo (Jack Weston), the husband of his daughter Vivian (Kaye Ballard). Proclo immediately goes on the run and while in a wig disguise checks into a Manhattan gay Turkish bathhouse hotel he figures as a place his brother-in-law will never look for him.

Once inside, Proclo meets an assortment of gays, like the chubby-chaser fetishist (Paul B. Price) who is after his body and the street-smart queen, Chris (F. Murray Abraham), who acts as tour guide. Also checked-into the bathhouse is the straight private detective Michael Brick (Treat Williams), a hunk who was hired by Carmine to find Proclo. Because of his squeaky voice he appears gay but is straight (which he has to explain throughout the film).

The bathhouse has only one female, the Puerto Rican no talent spitfire Googie Gomez (Rita Moreno), a lively showbiz singer wannabe, who entertains the boys and has undisguised ambitions to be on Broadway. Moreno's dynamite performance steals the film. For her stage performance she won the Tony.

The gags at The Ritz are mostly loud, tasteless and crude, as gays get a chance to have a mainstream film about their tacky lifestyle which also attract a curious heterosexual audience to see such a daring production.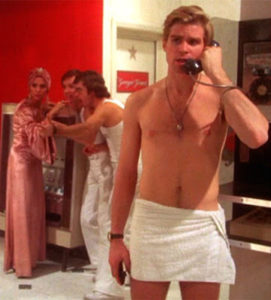 REVIEWED ON 1/6/2021 GRADE: B-