REMINISCENCE
(director/writer: Lisa Joy; cinematographer: Paul Cameron; editor: Mark Yoshikawa; music: Ramin Djawadi; cast: Hugh Jackson (Nick Bannister), Rebecca Ferguson (Mae), Thandiwe Newton (Emily "Watts" Sanders), Cliff Curtis (Cyrus Boothe, crooked cop), Daniel Wy (Saint Joe), Brett Cullen (Walter Sylvan, land mogul), Marina de Tavira (Tamara Sylvan), Natalie Martinez (Avery Castillo), Angela Sarafyan (Elsa Carine), Nico Parker (Zoe); Runtime: 114; MPAA Rating: PG-13; producers; Michael De Luca, Lisa Joy, Jonathan Nolan, Aaron Ryder: Warner Bros./HBO Max; 2021)
"Long and trying film."
Reviewed by Dennis Schwartz

A pretentious, forgettable, pseudo-poetic, sci-fi/noir, futuristic film directed too ambitiously by the screenwriter Lisa Joy, who is making her feature film debut. Lisa is married to the brother of celebrated filmmaker Christopher Nolan, the  producer Jonathan Nolan. She's the former HBO "Westworld" producer and writer, along with her producer husband.

Nick Bannister (Hugh Jackman) is a former war interrogator now in the business of running a "reminiscence" machine as a private investigator in a dystopian unspecified time in the future, as things are bleak in the present and most folks would like to remember again the happy days from their past. Nick tells us right off the bat that the "Truth is — nothing is more addictive than the past."

Nick is located in a Miami suffering from climate change and is sinking in the ocean faster than one of its condo buildings can collapse. It seems only the rich can afford to live on the land in comfort while the poor can only try their best not to drown.

In Nick's business, he guides clients to find their cherished memories so they can relive the happy parts of their past by using his immersion tank to explore their memories. His partner is the no-nonsense Watts (Thandiwe Newton), an ex-military warrior buddy from an unnamed border war, who like Nick has not gotten rid of her inner demons and has a drinking problem. Though Watts desires Nick, he rejects her love
.Because of the intense Miami heat, no one goes out until the evening.
Jackman does double-duty by doing the narration in the style of film noir from the 1940s. As a businessman, he lays on his clients the promo that "You're going on a journey to a place in time you knew before." Each client must put on electrodes, as the viewers see what the client sees in the hologram flashes. Nick tells us in a serious but nevertheless corny way that "memory is the boat that sails against time's current and I'm the oarsman."

The action picks up when the sexy redhead femme fatale Mae (Rebecca Ferguson) enters the pic as Nick's client, as she wants to find her lost keys. Nick falls in love with her at first sight, and they begin dating. After getting Nick off with a torch song (titled "Where or When"), Mae mysteriously vanishes without a clue. Nick then chases after his love, even dips into his own memory bank recapturing the time when with her (which is tabu for a "reminiscence" machine operator) as he obsesses over her throughout this long and trying film. Ray tries comparing his love for Mae to the one in the Greek myth of Orpheus and Eurydice (as the film soon veers off on a violent bent).

Jackman is such an accomplished and genial actor that he almost makes this can of worms seem tasty, but in the end doesn't as the film loses its vision when it tries to tell us too much in an additional plot and goes away from its initial good stuff of showing us how life can be improved by re-living pleasant memories with the help of technology (the machine). Rebecca's performance is dull, and I didn't believe Jackman could become so obsessed over someone without much of a spark. The film' is stolen by the world-weary action character played to perfection in a supporting role by the always reliable Thandiwe.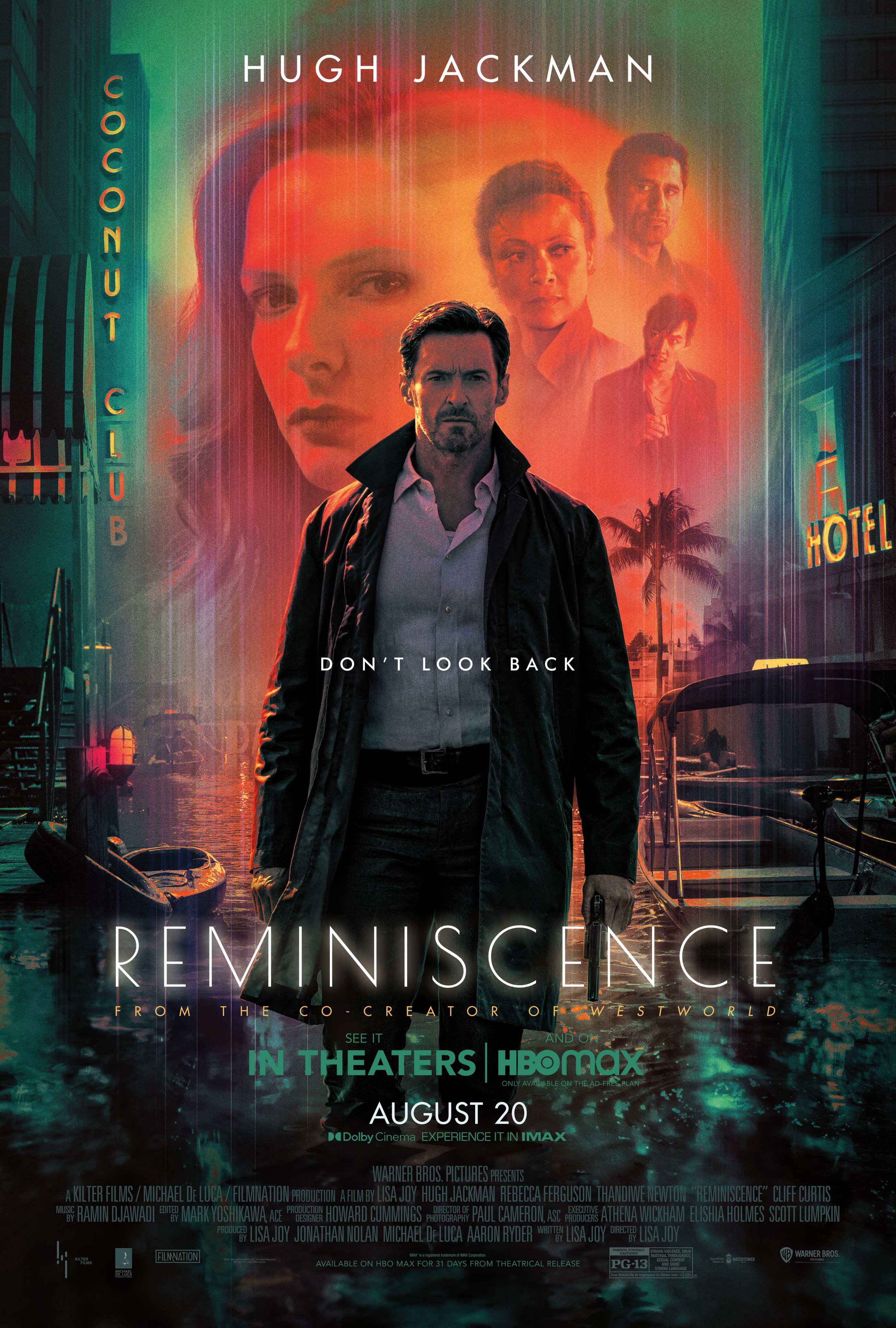 REVIEWED ON 8/24/2021  GRADE: C+