RADICAL
(director/writer: Christopher Zalla; screenwriter: based on an article fromWiredby Joshua Davis; cinematographer: Mateo Londoño; editor: Eugenio Richer; music:Pascual Reyes, Juan Pablo Villa; cast: Eugenio Derbez (Sergio Juarez Correa), Daniel Haddad (Chucho), Gilberto Barraza (Papa Paloma), Jennifer Trejo (Paloma), Mia Fernandez Solis (Lupe), Danilo Guardiola Escobar (Nico), Victor Estrada (Chepe), Enoc Leaño (Administrator), Manuel Cruz Vivas (Naco); Runtime: 127; MPAA Rating: NR; producers: Ben Odell, Eugenio Derbez, Joshua Davis; 3Pas Studios; 2023-Mexico-in Spanish with English dialogue)
"The Radical is an idealistic teacher."
Reviewed by Dennis Schwartz

In writer/director Christopher Zalla's ("Beautiful & Twisted"/"Sangre De Mi Sangre") crowd pleasing true story, based on an article titled "A Radical Way of Unleashing a Generation of Geniuses" from Wired by Joshua Davis. The Radical is an idealistic teacher, Sergio Juarez Correa (Eugenio Derbez), of an under-performing sixth grade class in Matamoros, Mexico (a place just across the American border, noted for its poverty, violence, corruption and unrest, with a failing school that takes in kids who have failed in other schools).
Sergio takes over a teaching post in the middle of the year in the troubled Jose Urbina Elementary School. The teacher's efforts to help the kids has him throw out the old teaching ways that didn't work and instead becomes innovative, as the sincere newcomer makes a big difference in the lives of his 20 pupils.


The spotlight turns on three kids, who change for the better under the dedicated teacher: Nico (Danilo Guardiola Escobar), being groomed by the drug cartel, who develops an interest in boats and would like the opportunity to stay in school and leave the thugs behind him; the pensive fan of the philosopher John Stuart Mills, Lupe (Mia Fernandez Solis), the eldest of four siblings, who mom wants home to take care of the youngsters but finds a way to stay in school; and the smart astronomy-obsessed Paloma (Jennifer Trejo), who must take care of her sick father (Gilberto Barraza)–who earns a meager living as a scavenger for metal. She has the brightest future of the students if she can survive in this hostile environment.

The teacher endears himself to the kids, and despite all sorts of problems works with them so they can find a good path to success in life.

It's a feel-good film you can cheer for the kids and the teacher to succeed, and only hope things work out for them despite the mixture of optimism and heartbreak it leaves us with. 

 
It played at the Sundance Film Festival.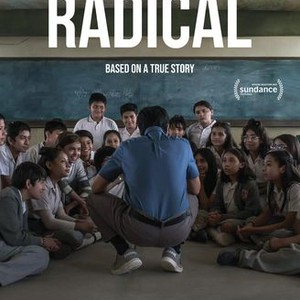 REVIEWED ON 2/9/2023  GRADE: B