OPERATION MINCEMEAT
(director: John Madden; screenwriters: Michelle Ashford/book by Ben Macintyre; cinematographer: Sebastian Blenkov; editor: Victoria Boydell; music: Thomas Newman; cast: Colin Firth (Ewen Montagu), Matthew Macfadyen (Charles Cholmondeley), Lorne MacFadyen (Sgt. Roger Dearborn / Glyndwr Michael),  Kelly Macdonald (Jean Leslie), Penelope Wilton (Hester Leggett), Johnny Flynn (Ian Fleming), Mark Gatiss (Ivor Montagu), Dolly Gadson (Jennifer Montagu), Hattie Morahan (Iris Montagu), Alex Jennings (John Masterman), Alex Jennings (John Masterman), Paul Ritter (Bentley Purchase ), Simon Russell Beale (Winston Churchill), Michael Bott (Frank Sawyer-Churchill Butler), Jason Isaacs (Admiral John Godfrey), Charlotte Hambling (Patricia Trehearne), Rufus Wright (Lt. Bill Jewell), Mark Bonnar (Jock Horsfall), Ruby Bentall (Connie Bukes); Runtime: 128; MPAA Rating: PG-13; producers; Charles S. Cohen, Iain Canning, Emile Sherman, Kris Thykier: Netflix; 2021-UK)
"The extraordinary true story should have been better executed."
Reviewed by Dennis Schwartz

Brit director John Madden ("Best Exotic Marigold Hotel"/"Shakespeare in Love") tamely dramatizes for the second time in a movie a successful disinformation mission of World War II. Ronald Neame's 1956 "The Man Who Never Was," starring Clifton Webb, was based also on a 1953 memoir by Ewen Montagu (Colin Firth), a married lawyer turned Naval Intelligence officer who along with the skittish RAF lieutenant Charles Cholmondeley (Matthew Macfadyen) led the "trojan horse" operation a decade earlier (that took the name Operation Mincemeat so as to create space between operations). This retelling of the spy story has been adequately adapted from the 2011 book by Ben Macintyre and scripted by the TV writer Michelle Ashford (though her so-so script was problematic at times because of its sappy moments over personal situations and romantic intrigue in the "war room" that was more covered than the mission).

Madden's crafty true spy film tells us how British intelligence used a homeless Welshman, dubbed Captain William Martin, as a dead soldier's body to fool the Nazis over their invasion plans, as it planted false Allied counter-offensive invasion papers on him plus a phony love letter (written by the department's spinster Helen Leggett-Penelope Wilton) plus it used the staff's typist office worker, the widowed Jean Leslie-Kelly Macdonald, to use her old photo to be with the dressed corpse and also used other misinformation to make sure that the Nazis who recovered his body when it washed ashore on a Spanish beach would think the invasion is in Greece and not Sicily. All it needed was their skeptical boss, Admiral Godfrey (Jason Isaacs), to sign off on the secret operation.

Though weighed down in details and telling a story that needlessly seems strained over behind the scenes personal issues, as the extraordinary true story should have been better executed. It however shows its humor by having the future James Bond writer Ian Fleming (Johnny Flynn) as a civil servant writing at his desk, far from the front, while abetting the mission with his ideas. It even goes further by showing many other civil servants who seemed to be writing a book to get away from the front.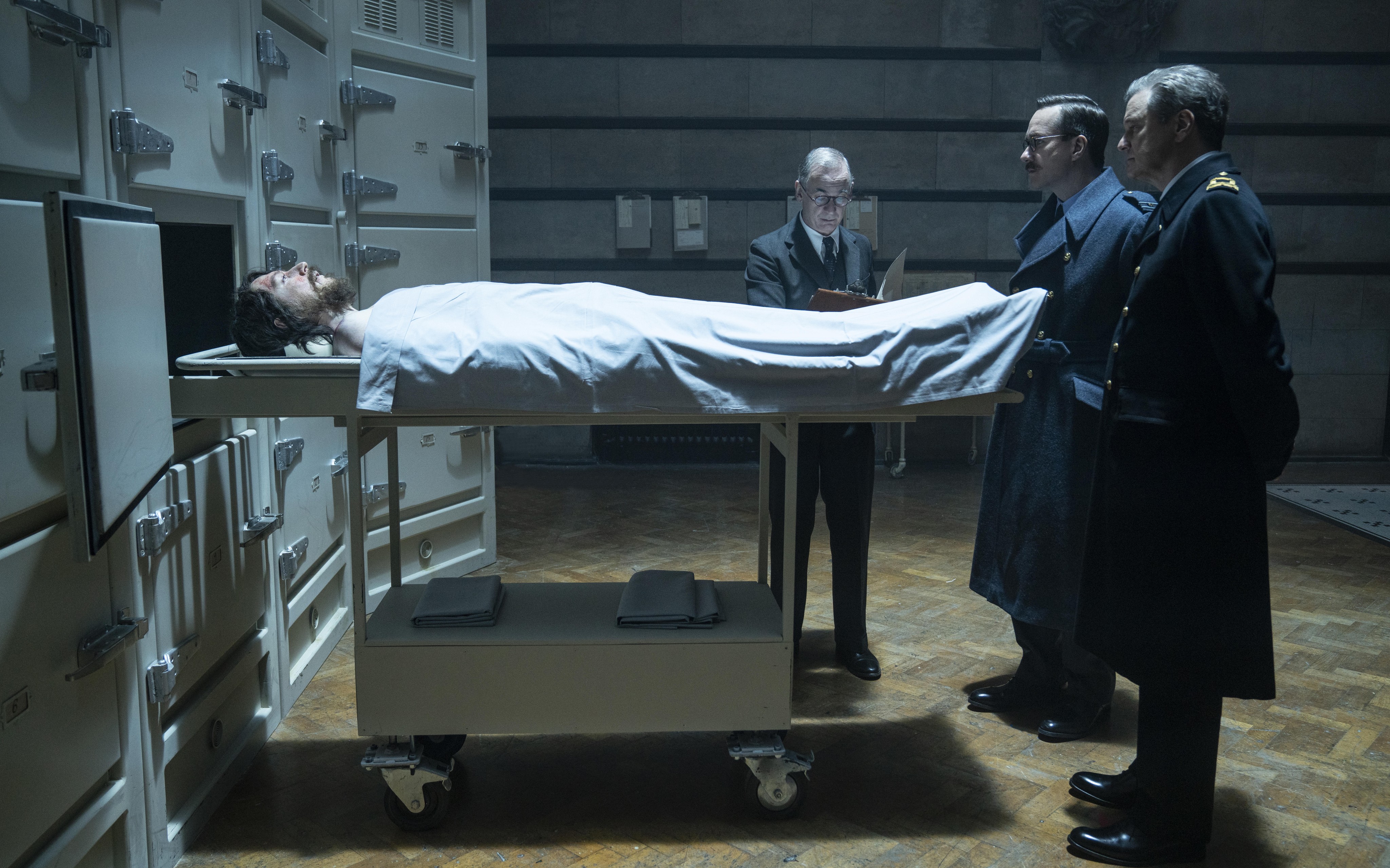 REVIEWED ON 5/17/2022 GRADE: B-