PATHAAN
(director: Siddharth Anand; screenwriter: Shridhar Raghavan, Abbas Tyrewala, story by Siddharth Anand; cinematographer: Satchith Paulose; editor: Aarif Sheikh; music: Ankit Balhara, Sanchit Balhara, Vishal Dadlani, Shekhar Ravjiani; cast: Shah Rukh Khan (Pathaan), John Abraham (Jim), Deepika Padukone (Rubina Mohsin), Dimple Kapadia (Nandini), Ashutosh Rana (Colonel Luthra), Salman Khan (Tiger); Runtime: 146; MPAA Rating: NR; producers: Adithra Chopra/Alexander Dostal; Yas Raj Films; 2023-India-in Hindi with English subtitles)
"There are too many dull spots in this overlong thriller to overcome."
Reviewed by Dennis Schwartz

A fun filled but mediocre Bollywood spy action pic directed by Siddharth Anand ("Bang Bang"/"War") from a story he wrote. It's filled with action set-pieces, many of which are implausible (such as the helicopter one, with a character hanging outside it with guns blazing). The film is uplifted by its talented cast playing to the viewers. The uninspiring script is co-written by Shridhar Raghavan and Abbas Tyrewala.

It's a visually pleasing film (with great location shots of (Antartica, Spain, Morocco, Dubai, Afghanistan and the North Pole). It tells about the good guy, the ripped secret Indian agent, Pathaan (Shah Rukh Khan, popular Muslim actor). SRK is the romantic star of films from India who at last appears in an action film, something he always wanted to do.

Pathaan comes out of retirement to confront his rival Jim (John Abraham), the diabolical bad guy, a former agent. After the Indian government refused to pay the ransom for him and his wife, Jim became embittered. His pregnant wife died after released, as Jim now goes after his government with a vengeance by leading his international terrorist organization, Outfit X– a mercenary army that possesses a biological weapon of mass destruction and operates for profit.

Jim hooks up with a rogue Pakistani military man to create dissension in India because of a dispute over Kashmir.

The endless action sequences are poorly shot by the director, who seems to be in over his head when making an action film.

Another bad guy is the female Rubina (Deepika Padukone), who our hero awkwardly tries seducing when dealing with her in Spain.
Our hero's quest is to save the world, or at least save India. It concludes when Jim and Pathaan tangle in the climax.

Despite its popular appeal to Indian audiences, there are too many dull spots in this overlong thriller to overcome.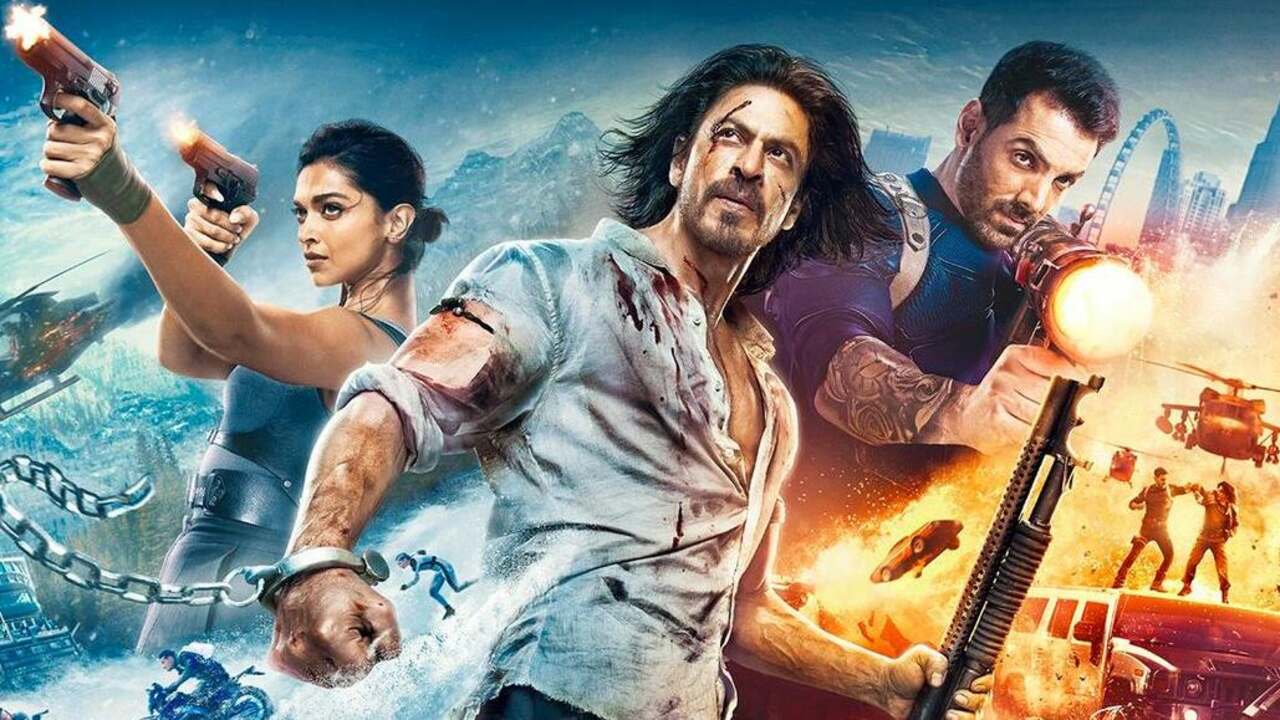 REVIEWED ON 2/4/2023 GRADE: C+