PAST LIVES
(director/writer: Celine Song; cinematographer: Shabier Kirchner; editor: Keith Fraase; music: Christopher Bear, Daniel Rossen; cast: Greta Lee (Nora), Teo Yoo (Hae Sung), John Magaro (Arthur), Seung Ah Moon (Young Nora), Seung Min Yim (Young Hae Sung), Ji Hye Yoon (Nora's mother), Won Young Choi (Nora's Dad), Min Young Ahn (Hae Sung's Mom), Yeon Woo Seo (Young Si Young), Kiha Chang (Hae Sung's 1-Friend), Hee Chul Shin (Hae Sung's 2-Friend), Jun Hyuk Park (Hae Sung's 3-Friend); Runtime: 106; MPAA Rating: NR; producers: David Hinojosa, Christine Vachon, Pamela Koffler; A24; 2023-USA/S. Korea-in Korean & English with English subtitles)
"This is a touching weepie romancer, that is so well-done on all levels."
Reviewed by Dennis Schwartz

In her debut feature, the playwright Celine Song excels at both direction and script. It's a tender story about childhood sweethearts reconnecting, or trying to reconnect. It looms as a modern-day Brief Encounter.

In Seoul, Nora (Seung Ah Moon at 12, Greta Lee as an adult) and Hae Sung (Seung Min Yim at 12 and Teo Yoo as an adult) are classmates who have an unspoken interest in one another. But any romance is cut off when Nora and her family move to Toronto, Canada.


Some 12 years later Nora is a student in New York City and Hae Sung is still in Seoul. Through Facebook, the pair reconnect and develop a Skype-based romance. Though glad to meet again, they cut things off when they realize neither is willing to meet for a visit. After another 12 years go by, Hae Sung is visiting New York and finally gets to see Nora again. Trouble is she is happily married to Arthur (John Magaro)..

We have observed the lead characters as children (where their affection was innocent), as twentysomethings (students thrilled to have a romantic relationship, even if only a long-distance one) and as thirtysomethings (with the married Nora meeting Hae in New York and still having feelings for him though happily married.

That our feelings of love also might change over time, but sometimes don't, is well amplified here. The drama also gives us some good insight into the immigrant experience of living in New York. 

This is a touching weepie romancer, that is so well-done on all levels.

It played at Sundance.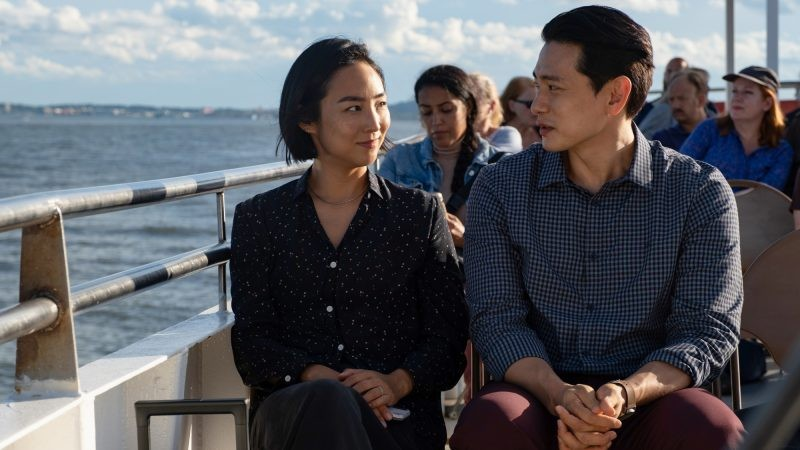 REVIEWED ON 6/12/2023  GRADE: B+