PARASITE (GISAENGCHUNG)
(director/writer: Bong Joon Ho; screenwriter: Han-Jin won; cinematographer: Hong Kyung-pyo; editor: Yang Jinmo; music: Jung Jaei-il; cast: Song Kang-ho (Kim Ki-taek), Choi Woo-shik (Kim Ki-woo), Jang Hye-jin (Kim Chung-sook), Park So-dam (Jessica/Kim Ki-jung), Lee Sun-kyun (Mr. Park Dong-ik), Cho Yeo-jeong (Park Yeon-kyo), Jung Ziso (Park Da-hye), Jo Yeo-jeong (Yeon-Kyo), Lee Jung-eun (Park housekeeper/Moon-gwang), Jung Hyeon-jun (Park Da-song), Jang Hyae-jin (Kim Chung-sook), Park Seo-joon (Min), Park Myung-hoon (Geun-sae), Park Geun-Rok (Chauffeur Yoon); Runtime: 132; MPAA Rating: R; producers: Jang Young-Hwan, Moon Yang-kwon, Kwak Sin-ae; NEON; 2019-S. Korea-in Korean with English subtitles)
"It's another of Bong's brilliant but hard to label movies."
Reviewed by Dennis Schwartz
A perceptive but bizarre family tragicomedy farce about class divisions from South Korean auteur Bong Joon Ho ("The Host"/"Snowpiercer"), with co-writing credits going to Han-Jin won. It's another of Bong's brilliant but hard to label movies (as this could be a comedy, a thriller or a social conscience film). It builds a social commentary over the actions of two families, one poor and the other wealthy. When the families come together in the palatial home of the wealthy clan, following Bong's film history you can expect weird and comical violent things to happen.

The college-aged Kim Ki-woo (Choi Woo-sik) comes from an impoverished family of four, living in Seoul with his older twentysomething sister Ki-jung (Park So-dam), his shifty unemployed driver father Ki-taek (Song Kang-ho) and his enabling mother Kim Chung-sook (Jang Hye-jin), in a dinghy, smelly, tiny basement apartment submerged partly underground. They barely survive in these difficult economic times by getting a pittance e for working for a delivery company folding pizza boxes. The resourceful family, victis of a lousy system, hold their cell phones high to steal wi-fi from a local coffee shop.

Things suddenly change for the better when Kim's slick college student friend Min (Park Seo-joon) recommends him as an English tutor for a spoiled wealthy teenage girl from the Park family, Park Da-hye (Jung Ziso), someone he's been working with but now must leave because he will be studying in America for a while. The friend somehow trusts Kim won't make a pass at the girl he's fallen for and recommends him as a replacement, even if he has no qualifications. Min also, before departing, gives the family a large decorative river rock mounted on a base, which is meant as a luck piece.

The opportunistic and affable Kim changes his name to Kevin and has sis forge a college diploma so the unqualified prospect can get the job. Meanwhile the demure Da-hye falls for the enterprising new tutor. But he resists, instead scheming to romance her later on but to first move his entire family into the home of her wealthy businessman father (Lee Sun-kyun). The Park family of four live in spacious luxury mansion, on the rich side of town, on the top of a hill overlooking the city. Kevin talks the neurotic and naive mother Yeon-Kyo (Jo Yeo-jeong) into believing that her precocious bratty, acting out son (Jung Hyun-joon), Da-hye's younger brother, needs an art tutor, which allows Kevin's bright sister, now called Jessica, to be enlisted as the tutor. Before it sinks in what's going down, Kevin's parents have moved into the Park home and without the Parks knowing they are related, as they replace the chauffeur of the Mercedes (Park Geun-Rok) and the loyal but secretive live-in housekeeper (Lee Jung-eun).

Everything is going well and things seem giddy, as the devious but sympathetic underdog family feels good it has a meal ticket from the clueless and unfeeling nouveau riche family. But the mood quickly changes when the Park family go on a picnic and the Kim family take over the house and drunkenly parade around as if they were the wealthy owners. The mood suddenly darkens after some unexpected events lead to comical violence, that's followed by an unexpected bloodbath.

In the end, after tragedy strikes both families, Kevin is back living alone in his squalid basement apartment, and in his closing narration stupidly saying how everything will turn out fine and he will one day return to own the Park mansion. He's telling us such crap because he still believes in happy endings, even if most viewers of Bong's films probably don't.

The astute but cynical Bong will question if the parasites are really the poor (as many think), even when they act in a despicable way as they do here. But Bong sympathizes with the poor, screwed by the system, and maintains it's the rich exploiters who are the real parasites.

Parasite won the Palme d'Or, becoming the first Korean film to receive the award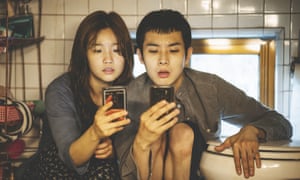 REVIEWED ON 9/24/2019 GRADE: A
https://dennisschwartzreviews.com/