CONCRETE COWBOY
(director/writer: Ricky Staub; screenwriter: Dana Walser/novel "Ghetto Cowboy" by Greg Neri; cinematographer: Minka Farthing-Kohl; editor: Luke Ciarrocchi; music: Kevin Matley; cast: Idris Elba (Harp), Lorraine Toussaint (Nessie), Caleb McLaughlin (Cole), Byram Bowers (Roman), Jharrel Jerome (Smush), Method Man (Leroy), Jamil Prattis (Paris), Liz Priestly (Amahle), Ivannah Mercedes (Esha); Runtime: 111; MPAA Rating: R; producers: Lee Daniels, Idris Elba, Jennifer Madeloff, Tucker Tooley, Dan Walser, Jeff G. Waxman; Green Door Pictures/Netflix; 2020)
"I've seen this movie before, but with no cowboys riding horses over the vacant lots of the inner city."
Reviewed by Dennis Schwartz

Ricky Staubin his debut feature directs this earnest but predictable story of a troubled teen, bounced from school for fighting, being rehabilitated by tough love. It's a pleasing cowboy film that features black cowboys and is set in North Philadelphia. It's based on the tween novel Ghetto Cowboy by Greg Neri , and is written by Dana Walser. It's passable entertainment because its message is a good one, but it hits on too many familiar things and offers no surprises. I've seen this movie before, but with no cowboys riding horses over the vacant lots of the inner city.

Harp (Idris Elba) is an ex-con whose resentful ex-wife Amahle (Liz Priestley), living in Detroit, sends his troublesome and resentful 15-year-old son, Cole (Caleb McLaughlin), to stay with his absentee dad in Philly that summer. The question raised is will these two hot-blooded men bond over dad's cowboy thing with horses in the city.

As the story goes, Harp runs North Philly's Fletcher Street Stables (a real place), where rescue horses are cared for by African American for a century. But this way of life is under danger of vanishing because of  gentrification. The beat cop, Leroy (Cliff "Method Man" Smith), often reminds Harp of the threat from developers snooping around the area.

Stable hand Nessi (Lorraine Toussaint) watches over Cole, as he's mucking out the stalls while Harp spends time chatting with his buddies. Father and son are like strangers, and are wary of each other.

Things get testy, raising the heat, when Cole, without his father's approval, starts hanging with his drug dealer cousin Smush (Jharrel Jerome).

But the kid takes to fellow rider Esha (Ivannah Mercedes), and tries managing a wild horse called Boo (obviously a horse version of him).

The story might leave us unimpressed, but the actors do their job and leave us with a warm story that's hard not to like.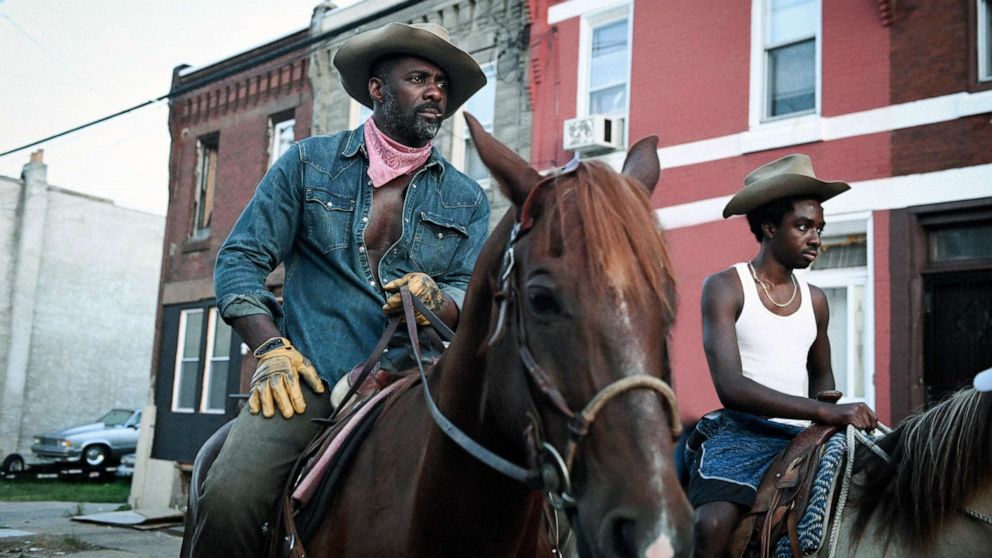 REVIEWED ON 4/14/2021 GRADE: B-