PAMELA, A LOVE STORY
(director: Ryan White; cinematographers: David Paul Jacobson, Dominique Hessert-Owens; editors: Asako Ushio, Berenice Chávez; music: Blake Neely; cast: Pamela Anderson, Gregory Butler; Runtime: 112; MPAA Rating: NR; producers: Jessica Hargrave/Julia Nottingham/Brandon Thomas Lee; Netflix; 2023-UK/USA)
"A well-done low-key documentary on the sexpot former Baywatch star Pamela Anderson."
Reviewed by Dennis Schwartz

Ryan White ("Good Night Oppy"/"Assassins") directs a well-done low-key documentary on the sexpot former Baywatch star Pamela Anderson, who turns out to be a likeable, smart and authentic person. Since I only heard about her from publicity stories and the hatred liberals seem to have for her, I was surprised this intimate portrait of her shows her in a different light.

The 50-something celebrity (with two adult sons) is interviewed at her beach house in Canada, where she's relaxed, wears no makeup and freely talks about her life, her career and the media, and her activism in PETA. The film uses her diaries, her home videos and asks her questions about the sex tape of her made by ex-hubby Tommy Lee (the father of her sons)–one of many ex husbands (all mistakes), and has her tell about her bad relationship with her mother and her abuse and rape as a child she had to overcome.

She became an actress after first discovered on a jumbotron camera at a football game, which was followed by a Playboy cover, and then her ascent to global fame on TV's Baywatch, her marriage on the beach to Mötley Crüe drummer Tommy Lee after knowing each other for only four days. Which gave rise to the unsolved theft of their honeymoon sex tape (which made its way into the public). It ends on her recent starring role as Roxie Hart in the Broadway musical Chicago, which she is set to do for two months.

The questions asked are all softball ones with no follow-ups, and it covers lightweight stuff you can read about in the tabloids or find on social media. But we can plainly see she turns out to be a person of some substance, and the film was an easy watch.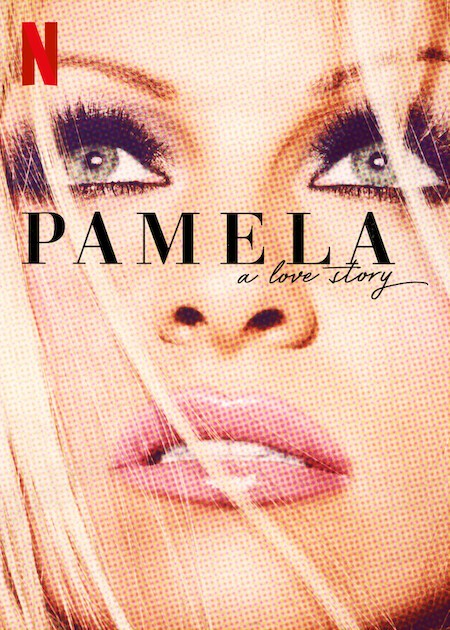 REVIEWED ON 5/5/2023  GRADE: B