NO SUDDEN MOVE
(director: Steven Soderbergh; screenwriter: Ed Solomon; cinematographer: Peter And, rews (Soderbergh); editor: Mary Ann Bernard; music: David Holmes; cast: Don Cheadle (Curt Govnes),Benicio Del Toro (Ronald Russo), David Harbour (Matt Wertz), Brendan Fraser  (Doug Jones), Julia Fox (Vanessa Capelli), Ray Liotta (Frank Capelli), Amy Seimetz (Mary Wertz), Noah Jupe (Matthew), Lucy Holt (Peggy), Bill Duke (Aldrick Watkins), Jon Hamm (Joe Finney), Frankie Shaw (Paula Cole), Hugh Maguire (Mel Forbert), Matt Damon (Mike Lowan), Craig muMs Grant (Jimmy), Lauren LaStrada (Clarisse), Tina Gloss (Louise Forbert), Kieran Culkin (Charley Barnes); Runtime: 115; MPAA Rating: R; producer; Casey Silver: HBO Max/Warner Bros.; 2021)
"A slick and twisty crime caper."
Reviewed by Dennis Schwartz

A slick and twisty crime caper competently directed as retro film noir by Steven Soderbergh ("Let Them All Talk"/"Traffic") and written in an intricate-plotted way with snappy dialogue by Men in Black's Ed Solomon. It's set in 1954 Detroit, and involves America's problems over corporate espionage, racial and political issues, and capitalistic power struggles. It uses the guise of a crowd-pleasing heist to explore further those impactful social-political concerns. The all-star cast is terrific and does wonders with the familiar material, making it far better than the superficial way it looks on paper. The enjoyment comes when small-time crooks get in way over their heads and resort to some off-the-wall comical reactions. It's worth noting that it's based on a real-life Detroit scandal that made its way to top-level government circles and industry heads.

In Detroit, in a middle-class neighborhood, in a brick house, three masked men, Ronald Russo (Benicio Del Toro), Black ex-con Curt Goynes (Don Cheadle) and the wise-ass Charley Barnes (Kieran Culkin), pull guns on a family, and Ronald and Curt hold the feminist wife (Amy Seimetz, a director) and kids (Noah Jupe & Lucy Holt) hostage, as ordered to do so by the bloke who hired them, the middleman Mr. Jones (Brendan Fraser), who works for the unidentified boss who doesn't want his name known. Meanwhile, the third member, Charley,  takes the bland but funny adulterous husband (David Harbour), a mid-level accountant at General Motors, on an errand to steal a document from the office of Mel Forbert (Hugh Maguire), an executive at General Motors. The encounter at the office with the boss's frisky scheming secretary Paula Cole (Frankie Shaw) is a scream.

Furthermore the crime drama depicts culture clashes and double-crosses between the Italian mob, and its raging spokesman Frank Capielli (Ray Liotta) and the menacing Black syndicate leader Aldrick Watkins (Bill Duke).

Though only in a small part, Julia Fox gamely plays Vanessa, the unfaithful wife of Liotta, who comes off with the mother of all snaps to shame her mobster hubby.

It might be forgettable, but when viewed onscreen it's so kinetic you can't stop watching it.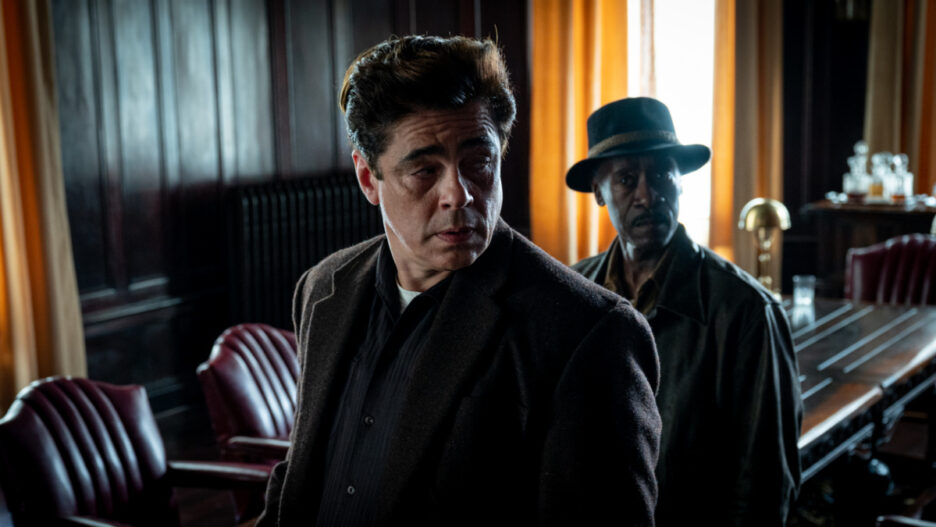 REVIEWED ON 7/6/2021 GRADE: B+