NEFARIOUS
(director/writer: Cary Solomon/Chuck Konzelman; cinematographer: Jason Head; editor: Brian Jeremiah Smith; music: Bryan E. Miller; cast: Sean Patrick Flanery (Nefarious-Edward), Jordan Belfi (Dr. James Martin), James Healy Jr. (Gate Guard), Tom Ohmer (Warden Moss), Eric Hanson (Assistant Warden Anderson), Stelio Savante (Det. Russo), Cameron Arnett (Trustee Styles), Jarrett McMaster (Officer Wilson), Robert Peters (Dr. Stewart), Gary Beck (Himself); Runtime: 98; MPAA Rating: R; producers: Cary Solomon/Chuck Konzelman/Chris Jones/Sheila Hart; Believe Entertainment; 2023)
"The film's heavy-handed and bogus message tells us that Hollywood is immoral because it acts to corrupt its viewer's minds."
Reviewed by Dennis Schwartz

Cary Solomon and Chuck Konzelman ("Unplanned"/"The Insatiable") are the co-writers and co-directors of this Christian faith-based psychological horror thriller, who previously wrote God is not Dead. The film's heavy-handed and bogus message tells us that Hollywood is immoral because it acts to corrupt its viewer's minds. Its inflammatory message is ridiculous, making me highly suspicious of these filmmakers. In this dreadful, ludicrous Christian-themed film, a non-believer is forced to admit his errors in thinking about religion by literally confronting a real-life demon and thereby is forced to admit God is also real.

At the Oklahoma State Prison, just before the execution of the mass murder serial killer on Death Row known by his nickname of  Nefarious (Sean Patrick Flanery), named after a demon, the psychiatrist Dr. James Martin (Jordan Belfi), a late  replacement for the other shrink who suddenly killed himself for no reason, is called in to determine if the prisoner is sane when he claims to be a demon.

The prisoner sits at a table conversing with the atheist shrink about the "Dark Gospel" for most of the film.

It feverishly goes on a culture war attack mode on any free thinker that disagrees with its positive messages on pro-life or pro-faith.

For its core of believers, represented in a cameo at the film's end by the right-wing media host Gary Beck, the film most likely goes over well, all others would be better off avoiding such a poorly made preachy evangelical propaganda film.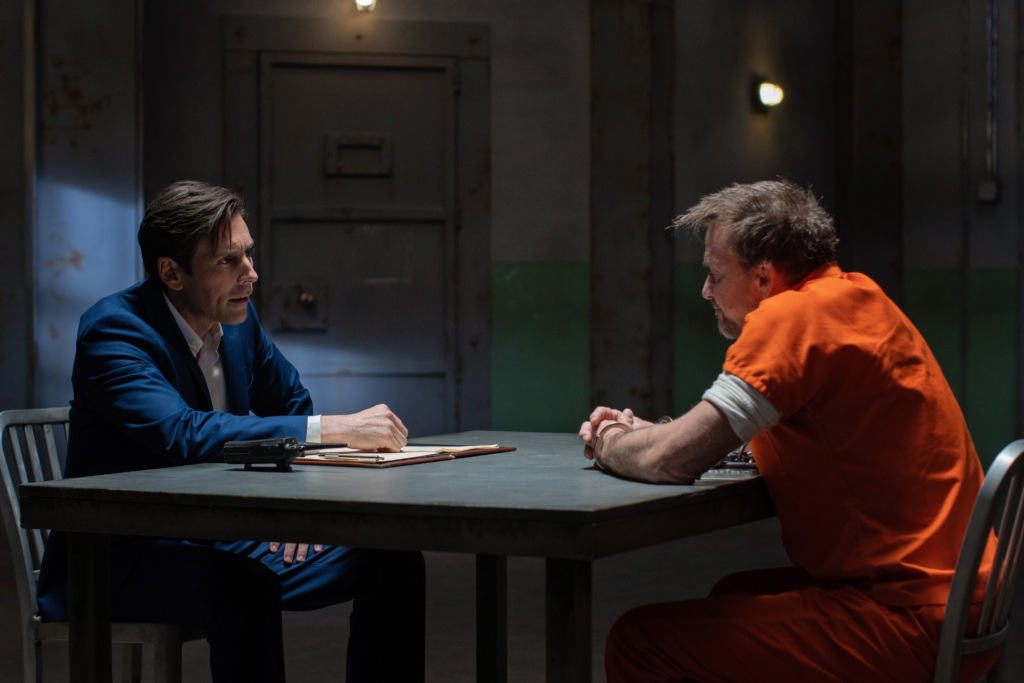 REVIEWED ON 4/18/2023  GRADE: D