MY OLD SCHOOL
(director/writer: Jono McLeod; cinematographer: George Geddes; editors: Berny McGurk/Jono McLeod; music: Shelly Poole; cast: Alan Cumming (Brandon Lee); Runtime: 104; MPAA Rating: NR; producers; John Archer, Olivia Lichtenstein: Hopscotch Films; 2022-UK)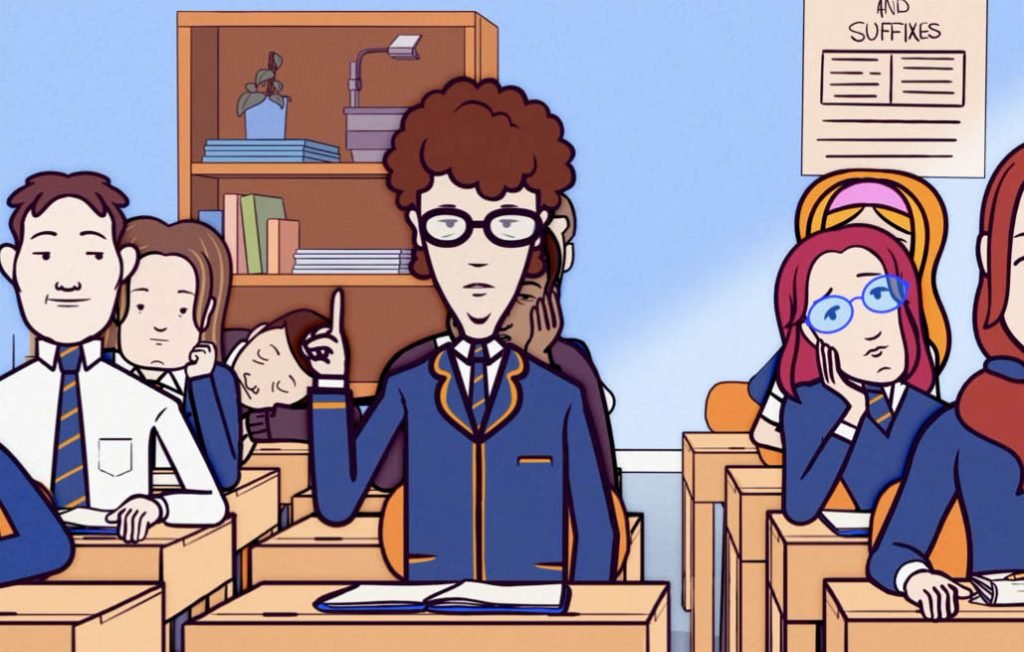 "A stranger-than-fiction documentary."
Reviewed by Dennis Schwartz

"Scotland's most notorious impostor" is the subject of reporter-turned-documentarian Jono McLeod's debut film. It's a wonderfully animated truth is a stranger-than-fiction documentary about Brandon Lee (Alan Cumming, Scottish actor), who describes himself as having been "brought up to be impersonal, to hold back from people." In 1993, the 16-year-old nerdy, lanky and older looking Brandon Lee enrolled in Bearsden Academy as a new student from Canada in the posh Glasgow suburban school because his opera singer mother died in a car accident. The accident also scarred his face. Mom home-tutored her son, thereby there were no school records.

Brandon was a whiz in class, his IQ was high and he showed a great knowledge of medicine. He became best friends with the school's only black student, Stephen. After he acted in the school production of South Pacific, he became very popular. He was so good in his medical studies, he was admitted into medical school before graduating high school.

The problem was he was not who he said he was, he was Brian McKinnon, a thirty-two-year-old man who was pretending to be sixteen in order to have another shot at medical school, since he had previously flunked out (and in Scotland, no one over 30 can be admitted to a medical school).

Coincidentally, Jono McLoed was one of Brandon's classmates at Bearsden and gives us the complete story. He gets the real so-called Brandon Lee to be in the documentary on the condition that his face would remain hidden. Alan Cumming plays him as he lip-synchs the real Lee's audio interview. He also voices young Brandon in the animated re-enactments, such as the one from his South Pacific performance.

Not only did McLoed get the real Brandon to be in the film, he also rounded-up 12 of his former classmates. He gets them to talk about their impressions of the impersonator, as the real Brandon tells us why he did it (as it's never too late to try and live out your dreams).

It was a fun film, and no one was harmed by his deceptions, as the so-called Brandon's reasons for the scam are not nefarious but are certainly creepy (as he seems to be looking for a new purpose and chance in life after dealing with some mental health issues).
My Old School screened at the 2022 Sundance Film Festival.
REVIEWED ON 1/27/2022 GRADE: B