HITMAN'S WIFE BODYGUARD, THE
(director: Patrick Hughes; screenwriters: Tom O'Connor and story, Phillip Murphy, Brandon Murphy; cinematographer: Terry Stacey; editors: Michael J. Duthie/Jack Hutchins; music: Atli Örvarsson; cast: Ryan Reynolds (Michael Bryce), Samuel L. Jackson (Darius Kincaid), Salma Hayek (Sonia Kincaid), Antonio Banderas (Aristotle Papadopolous), Morgan Freeman (Senior), Rebecca Front (Therapist), Frank Grillo (Bobby O'Neill), Gary Oldman (Vladislav Dukhovic), Caroline Goodall (Crowley),  Kristofer Kamiyasu (Zento), Richard E. Grant (Seifert); Runtime: 99; MPAA Rating: R; producers: Matthew O'Toole, Les Weldon, Yariv Lerner; Filmgate Films/A Lionsgate release; 2021)
"It might be worth seeing for how bad it is."
Reviewed by Dennis Schwartz

In director Patrick Hughes' ("Red Hill"/"The Hitman's Bodyguard") inane, loud, incoherent and violent action/comedy thriller sequel, written mindlessly for some intended bad fun by Phillip Murphy, Brandon Murphy and Tom O'Connor–from his absurd story, there's another life threatening situation to be faced by the horrible lead characters.
The out of place bodyguard Michael Bryce (Ryan Reynolds), too sensitive for his chosen profession, and sociopath hitman Darius Kincaid (Samuel L. Jackson) are back at it, with the hitman's volatile con artist wife Sonia (Salma Hayek) even more messed up than ever. Even though Bryce lost his license due to his involvement with the gangster and needs a vacation as advised by his therapist (Rebecca Front), the wifey still forcefully hires him as a bodyguard after not tuning in to hubby's objections. Bryce, however, is mainly interested in getting his license and life back.

What goes for a plot, has the greasy billionaire Aristotle Papadopolous (Antonio Banderas) as a pompadoured, smoking jacket wearing, psycho, whose aim in life is to destroy Europe by getting Croatian hackers to attack its power grid with a computer virus. The dumb narrative wings its way across Trieste, Tuscany, Zagreb and Capri, with enough car chases, gunfights, explosions and killings to make sure you can't take a snooze.

Going by the numbers, it's shot so we get to see another Jackson pic where he goes badass, Hayek goes into profane screaming rants, while the 84-year-old Morgan Freeman pops up as the hitman father of Bryce. Morgan's in another inferior flick–such as those he's recently taken where he gets well paid to peddle his name so the trashy film can have the one time respectable actor pretend to give the flick credibility.

It might be worth seeing for how bad it is. And, yeah, the location scenery is pretty to look at.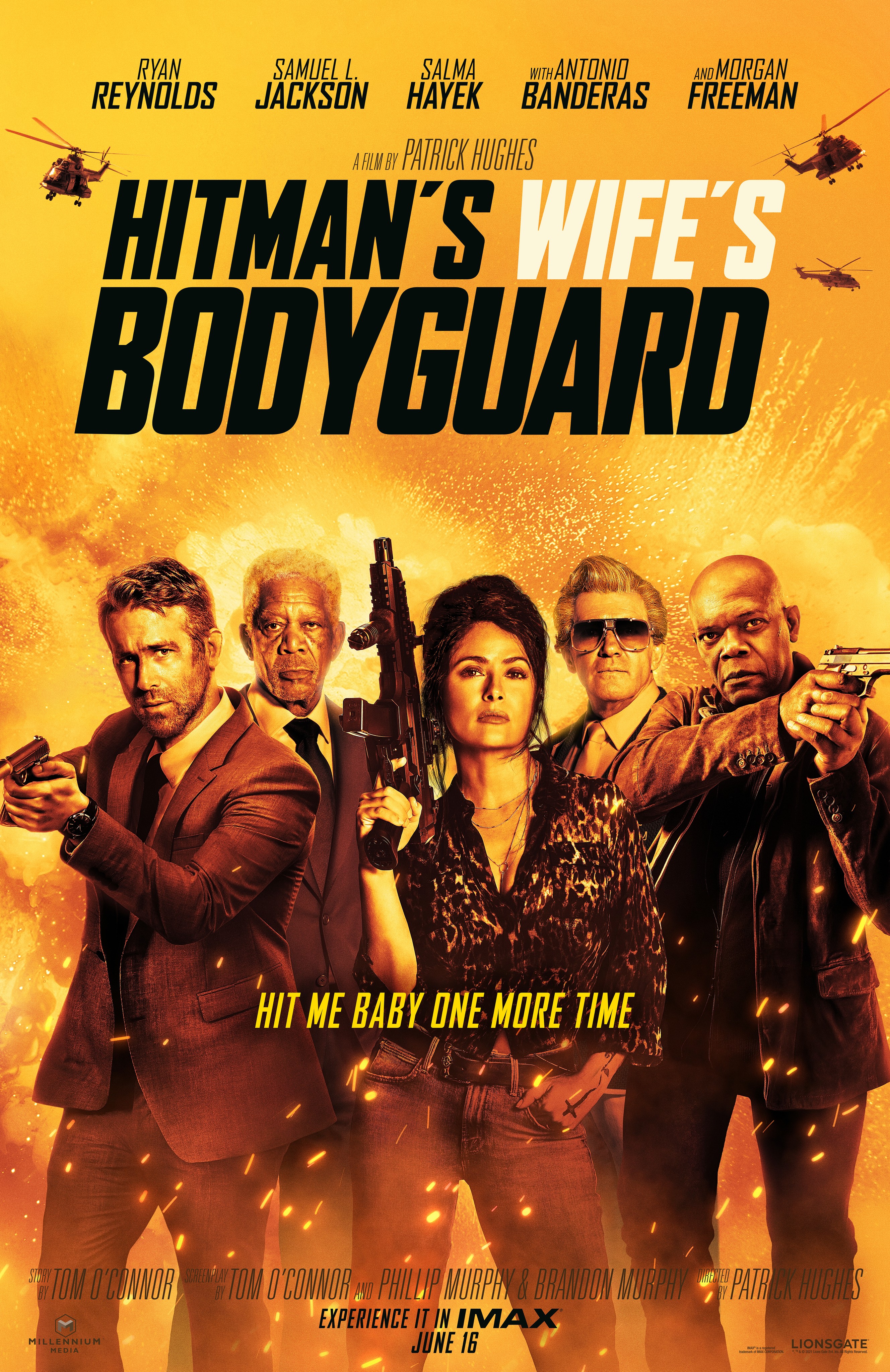 REVIEWED ON 6/19/2021  GRADE: C-