MURDER OF DR. HARRIGAN, THE

(director: Frank McDonald; screenwriters: Peter Milne/Sy Bartlett/novel "This Dark Stairwell" by Mignon G Eberhart; cinematographer: Arthur L. Todd; editor: William Clemens; music: Bernhard Kaun; cast: Kay Linaker (Sally Keating), Ricardo Cortez (George Lambert), Mary Astor (Lillian Cooper), John Eldredge (Dr. Leo Harrigan), Robert Strange (Peter Melady), Frank Reicher (Dr. Coate), Joseph Crehan (Police Lt. Lamb), Philip Reed (Dr. Simon), Roger Gray (Herbert, Morgue Attendant), Bill Elliott (Mr. Martin), Joan Blair (Ina Harrigan), Mary Treen (Nurse Margaret Brody), Don Barclay (The Drunk), John Barclay (Mr. Wentworth), Anita Kerry (Agnes Melady); Runtime: 67; MPAA Rating: NR; producer: Bryan Foy; Warner Bros.; 1936-B/W)
"I enjoyed its free flowing banter even if I found the formulaic hospital whodunit a bit underwhelming."
Reviewed by Dennis Schwartz
It's based on the 1931 novel This Dark Stairwell by the female author Mignon G Eberhart and is directed with class by Frank McDonald ("Isle of Fury"/"Smart Blonde"), while slyly written by Peter Milne and Sy Bartlett as if a possible blend of screwball comedy and soap opera. I enjoyed its free flowing banter even if I found the formulaic hospital whodunit a bit underwhelming.
 
In the movie the renamed Sally Keating (Kay Linaker) plays a nurse in a metropolitan hospital, while in the book she played a detective named Sarah Keate.

Before you can say what a whack hospital this is–doctor's smoking inside and outside the building and a drunk patient (Don Barclay) walking at will into the rooms of other patients–the founder of the hospital and the owner of a giant drug company, Peter Melady (Robert Strange), while about to be operated on with his company's first use of a new anesthetic that has improved on the ether formula, that's about to make him a bundle of cash as it soon goes to market, But he is found dead on a cart in the service elevator, apparently dying of fright. Later another murder is discovered, as Harrigan was stabbed to death by a scalpel that is found at his side. The cops get the nurse Lillian Cooper (Mary Astor) to confess ship wiped the murderer's fingerprints off the weapon, as we later see she had her reasons.

Also patients at the hospital are the founder's unfaithful wife (Joan Blair), with her boyfriend visitor (Bill Elliot), and Meladay's daughter Agnes (Anita Kerry), a close friend of the nurse Sally.

Even though Melady's regular doctor is the surgeon chief of staff, Dr. Coate (Frank Reicher), to his dismay his prize patient chooses the society doctor, Harrigan (John Eldredge), to do the operation, even though they hate each other's guts after a falling out over ownership rights to the moneymaking new formula.

When the police arrive to investigate the murder, the bossy Lt. Lamb (Joseph Crehan), the one in charge, suspects the nurse Sally is involved. But the intern George Lambert (Ricardo Cortez), who is crazy about her, helps her prove her innocence.
The guilty party is a third act surprise. He's someone we suddenly learn who feels cheated for not getting paid for his valued contribution to the research for the new product.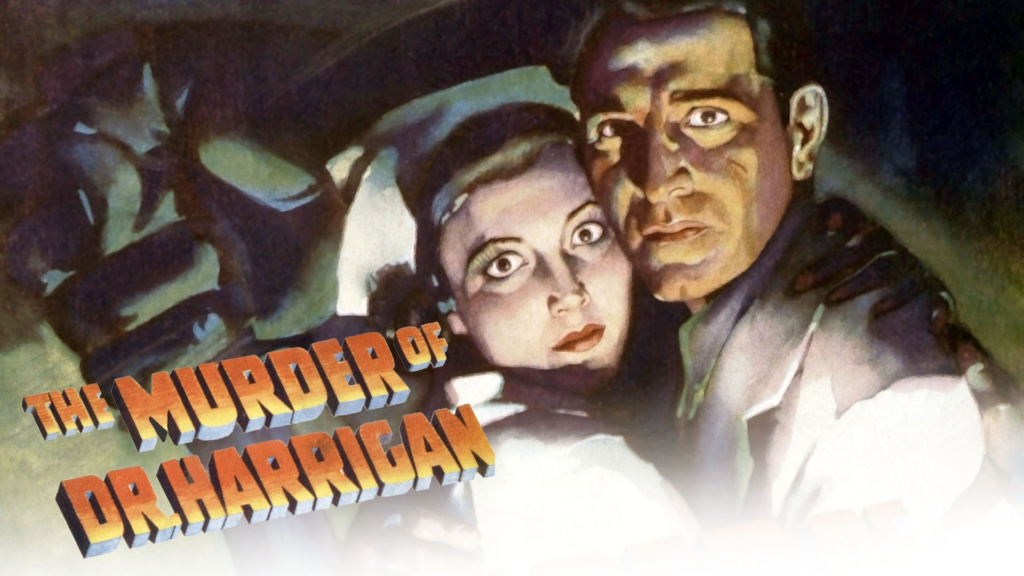 REVIEWED ON 10/29/2022  GRADE: B