MR. MALCOLM'S LIST
(director: Emma Holly Jones; screenwriter:Suzanne Allain/novel by Allain; cinematographer: Tony Miller; editor: Kate Hickey; music: Amelia Warner; cast: Zawe Ashton (Julia Thistlewaite), Ṣọpẹ́ Dìrísù (Mr. Malcolm), Freida Pinto (Selina Dalton), Oliver Jackson-Cohen (Lord Cassidy), Theo James (Captain Henry Ossory), Doña Croll (Lady Kilbourne), Naoko Mori (Mrs. Thistlewaite), Sophie Vavasseur (Lady Gwyneth Amberton), Aisling Doyle (Julia as a child), Tia Ann Jain (Selena as a child), Ashley Park (Gertie Covington); Runtime: 117; MPAA Rating: PG; producers: Katie Holly, Emma Holly Jones, Laura Lewis, Laura Rister; Bleecker Street release; 2022-English, Welsh, Japanese, Korean with English subtitles)
"Looks more like a sitcom than a classic period drama."
Reviewed by Dennis Schwartz

Emma Holly Jones ("They Grow Up") directs a costume drama/Regency-era romance film set in the London of 1818. It's a mediocre interpretation on the much better Jane Austin novels. It's scripted and based on the 2020 novel by Suzanne Allain, and features colorblind casting.

The Honorable Jeremiah Malcolm (Sope Dirisu, British/Nigerian Black actor) is considered the most desirable aristocrat bachelor in all of England. He escorts the debutante Julia Thistlewaite (Zawe Ashton) to a concert performance of "The Barber of Seville." Malcolm finds her pretty but lacking in conversation, and does not call on her again.

This bothers Julia when her social group makes fun of her for being dumped by the Man. Seeking revenge she calls on her truculent childhood friend from boarding school Selina Dalton (Freida Pinto, Indian actress), an artless clergyman's daughter from the country, and her idiotic flippant cousin Lord Cassidy (Oliver Jackson-Cohen) to go along with her spiteful scheme. The scheme is built around Julia's discovery that the rigid Mr. Malcolm has a checklist of 10 qualities that any future 'Mrs. Malcolm' must possess.

Predictably Julia's scheme backfires.

Jones has fouled things up with so many contrivances, that it looks more like a sitcom than a classic period drama. The social doings of the English upper-class snobs looks as awkward as the screenplay is when caught unprepared to come up with any imaginative courtships.


You're advised to remain for the end credits if you want to know what's in the future for some of the main characters.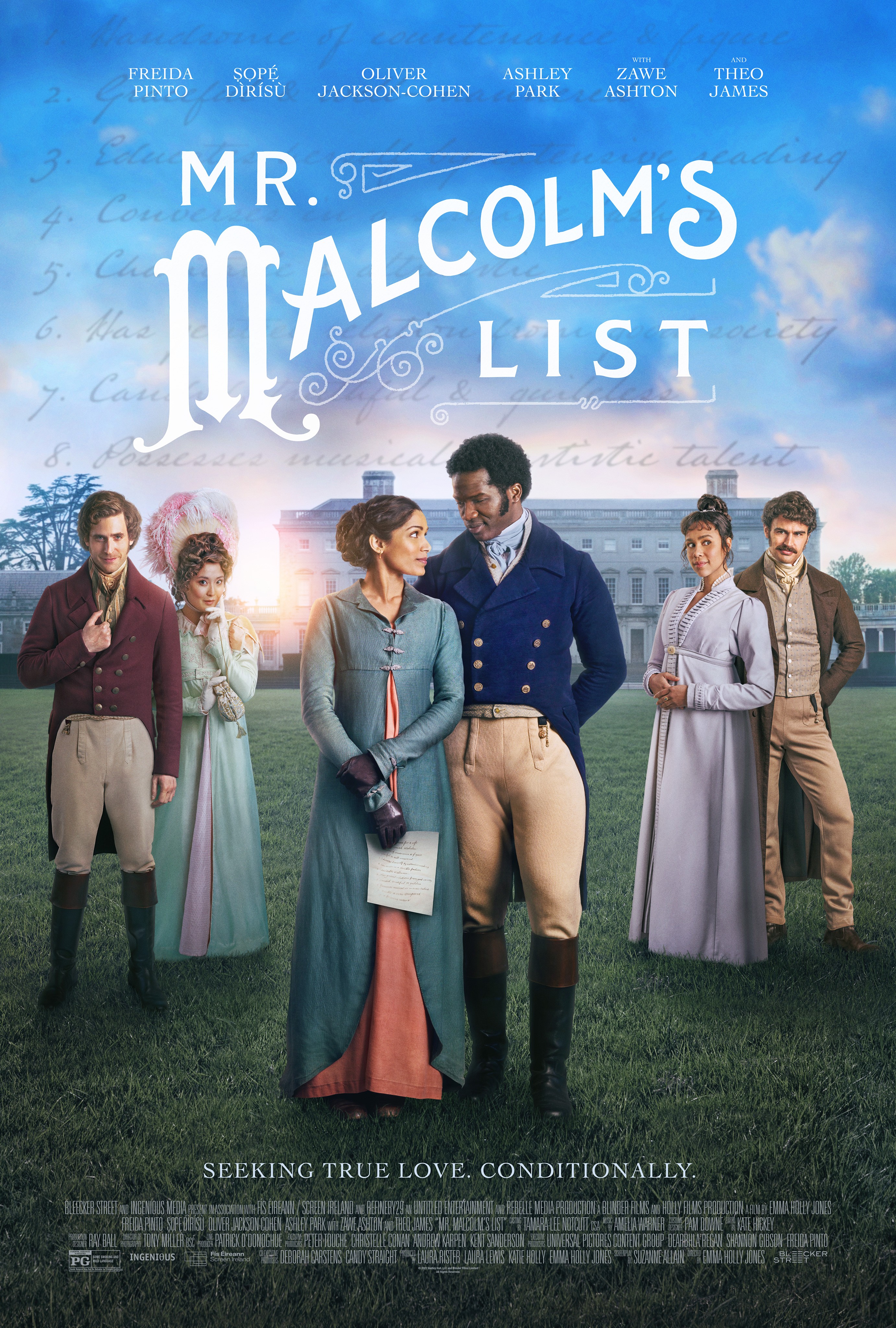 REVIEWED ON 7/15/2022 GRADE: C