MINARI
(director/writer: Lee Isaac Chung; cinematographer: Lachlan Milne; editor: Harry Yoon; music: Emile Mosseri; cast: Steven Yeun (Jacob), Yeri Han (Monica), Yuh-jung Youn (Soonja), Will Patton (Paul), Scott Haze (Billy), Alan S. Kim (David), Noel Cho (Anne), Eric Starkey (Randy Boomer), Esther Moon (Mrs. Oh); Runtime: 115; MPAA Rating: PG-13; producers: Dede Gardner, Jeremy Kleiner, Christina Oh; A24/Plan B Entertainment; 2020)
"The family drama connects with an audience in the same sincere way Ozu's films connected."
Reviewed by Dennis Schwartz

A gentle immigrant drama, well-worth seeing.

Minari is a Korean herb.
The drama is a heartfelt semi-autobiographical film by Korean-American writer/director Lee Isaac Chung("Munyurangabo "/"Lucky Life"), recalling his childhood experiences (his family were actually farmers in Arkansas).
The tale told is of his family's assimilation in America in the 1980s, after Jacob Yi (Steven Yeun) and his wife Monica (Yeri Han) emigrated from Korea together in the early '70. After a decade of living in California, they begin a fresh start at the Arkansas trailer home Jacob bought in the sticks, that sits on a five-acre plot of rough Ozark farmland.
Monica arrives there by car with the kids: the pre-teen girl named Anne (Noel Cho) and their precocious seven-year-old boy, with a heart murmur, named David (Alan S. Kim). Jacob arrives by truck, ready to literally plant his roots in his new country.

The American born kids can't find anything to do in the desolate spot and are unhappy in their new home, as dad has to make compromises to make their experiences better.

The challenge for the hard-working dad, who earns a living separating poultry by gender and growing Korean vegetables, is of keeping the family together and finding success in such a radical change of life experience.

The family assimilates, as we see them wearing cowboy boots.

A visit from maternal granny (Yuh-jung Youn) connects her with David, as she reminds the perceptive youngster what it's like to be Korean.

The visually beautiful film sincerely tells its American Dream story, as the Korean-American family experiences setbacks and works hard to be accepted in the white community. The film is filled with difficult moments, comedy and scenes that involve unusual challenges that sometimes evoke tears and at other times laughter.
The family drama connects with an audience in the same sincere way Ozu's films connected. It's one of the better films I've seen this year.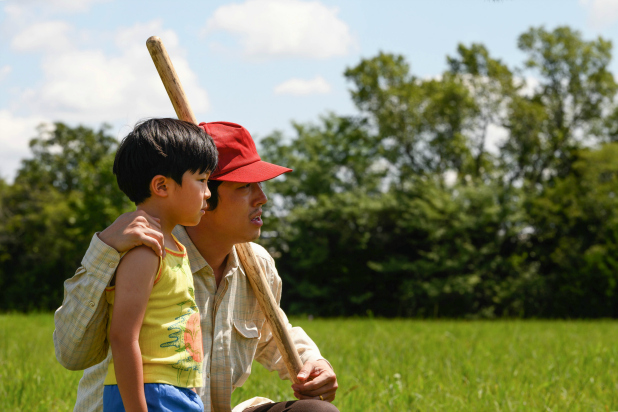 REVIEWED ON 12/10/2020  GRADE: A-
For those wanting more info on Minari, check out link below.
Link: https://dmtalkies.com/minari-2020-film-analysis/