MANIFEST WEST
(director/writer: Joe Dietsch/Louie Gibson; cinematographer: Joe Dietsch; music: Jesse Ahmann/Chris Gilbreath; cast: Annet Mahendru (Alice Hayes), Milo Gibson (Dave Hayes), Lexi Kolker (Riley Hayes), Ava Kolker (Lana Danik), Michael Cudlitz (Eric Lind), Dionne Audain (Susie Lind),Tim Heidecker (Steve Danik), April Ann Dais (Ruth Danik), Jonathan Irwing (Roger Danik), Ross Turner (Housing Inspector); Runtime: 91; MPAA Rating: NR; producer: Bryson Pitard; Samuel Goldwyn release; 2022)
"It turns out to be a more sober and self-reflective film than I expected. But is uneven, has too many dull moments and is not that provocative."
Reviewed by Dennis Schwartz
Co-directors and writers Joe Dietsch and Louie Gibson ("Happy Hunting") present this 'return to nature' family drama as a coming-of-age film that in the end is turned into a thriller.

The living off the grid Hayes family (the father Dave (Milo Gibson), the psychologically ill schoolteacher mother Alice (Annet Mahendru), the two daughters, the younger Mary (Madison Friedman) and Riley (Lexy Kolker), the narrator of the film. Things are conveyed to us from their ten-year-old daughter, Riley, told from her own POV. The throwback family hopes to escape the pressures of the modern world after going broke and moving from the city to a shabby mountain cabin in the wilderness.

Their neighbors (Eric Lind, a rational gun lover, (Michael Cudlitz), and Susie Lind (Dionne Audain), are helpful and friendly.

The lesson to learn here for the family is that no one can escape from themselves just by relocating, and kids need environments where they fit in if they are likely to succeed in life.

The co-director Louie Gibson and the actor Milo Gibson are both the sons of Mel Gibson.

It turns out to be a more sober and self-reflective film than I expected. But is uneven,has too many dull moments and is not that provocative. It could have used more craziness and a better climax than its vague one.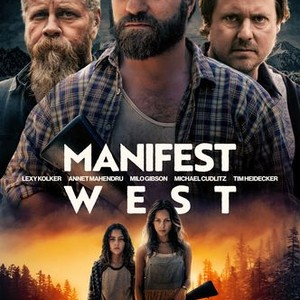 REVIEWED ON 1/9/2023 GRADE: C+