MAESTRO
(director/writer: Bradley Cooper; screenwriter: Josh Singer; cinematographer: Matthew Libatique; editor: Michelle Tesoro; music: Leonard Bernstein; cast: Bradley Cooper (Leonard Bernstein), Carey Mulligan (Felicia Montealegre Cohn), Matt Bomer (David Oppenheimer), Maya Hawke (Jamie Bernstein), Michael Urie (Jerome Robbins), Brian Klugman (Aaron Copeland), Sarah Silverman (Shirley Bernstein), Sam Nivola (Alexander Bernstein), Alexa Swinton (older Nina Bernstein), Gideon Glick (Tommy Cothran), Miriam Shor (Cynthia O'Neal); Runtime: 129; MPAA Rating: R; producers: Kristie Macosko KriegerSteven Spielberg, Martin Scorsese, Fred Berner, Amy Durning, Bradley Cooper; Netflix; partly in B/W-2023)
"The viewer friendly film can be enjoyed even by viewers not familiar with the legendary conductor of the New York Philharmonic and his achievements as a composer."
Reviewed by Dennis Schwartz

Actor-turned-director Bradley Cooper ("A Star is Born") stars in and directs and writes an elegant biopic on Leonard Bernstein with Josh Singer as co-writer. The viewer friendly film can be enjoyed even by viewers not familiar with the  legendary conductor of the New York Philharmonic and his achievements as a composer of such works as West Side Story, Mass, his opera A Quiet Place and his overture to Candide. Classic concert music lovers might be upset because it fails to dig deeper into his music. Instead it spends most of its time examining his marriage troubles and following his many gay experiences, such as with his clarinetist boyfriend for a time, David Oppenheimer (Matt Bomer).
 
It works best as a tribute film to Lenny.

The film's biggest controversy might be that Cooper played the Jewish music icon wearing a prosthetic nose, which bothered some as a possible anti-Semitic dig (which it wasn't).
 
It's filmed in a heartfelt manner and with good taste, as it richly covers Bernstein's troubled marriage of 27 years to his Costa Rican actress and activist wife Felicia Montealegre Cohn (Carey Mulligan), while it gives voice to his life-long music struggles and all the sacrifices he made for art.

It opens with a statement by Bernstein proclaiming "A work of art does not answer questions, it provokes them; and its essential meaning is in the tension within the contradictory answers."  Which is a positive response to how the artist views his life purpose.

The early scenes were shot in a luminous black-and-white, where the 25-year-old Bernstein in 1943 shines as a beacon of creative energy while conducting at Carnegie Hall for the first time when he was the assistant conductor who replaces the ailing great European guest conductor Bruno Walter and immediately becomes a star American to challenge all the great European composers.

The film succeeds because it gives a candid portrait of Lenny, who became a mega-star but not without being called out in public on numerous occasions. 

The movie is framed around the elderly Lenny, as he gives a television interview while sitting at his Connecticut country home piano and looking back at his successful career and at his deceased wife and daughter (Sarah Silverman). Throughout the interview he chain-smokes.

It played at the Venice Film Festival.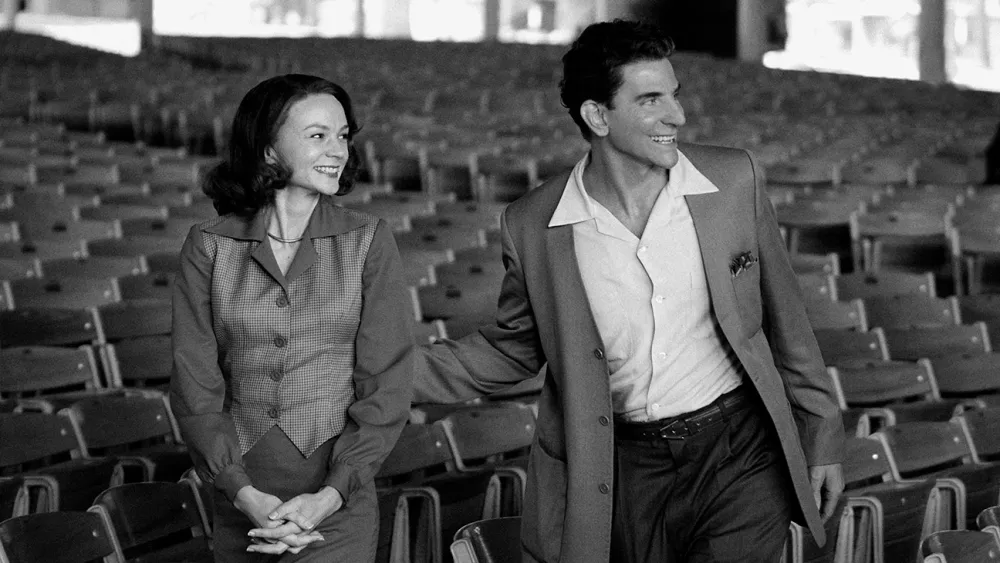 REVIEWED ON 10/7/2023 GRADE: B