MAD HOLIDAY
(director: George B Seitz; screenwriters: based on the novel Murder in a Chinese Theatre by Joseph Santley/Florence Ryerson, Edgar Allan Woolf; cinematographer: Joseph Ruttenberg; editor: George Boemier; music: William Axt; cast: Edmund Lowe (Philip Trent), Elissa Landi (Peter Dean), Zasu Pitts (Mrs. Fay Kinney), Ted Healy (Mert Morgan), Edgar Kennedy (Sgt. Donovan), Edmund Glenn (Williams), Walter Kingford (Ben Kelvin), Soo Yong (Li Tai), Raymond Hatton ("Cokey Joe" Ferris), Harlan Briggs (Kinney), Gustav Von Seyffertitz (Hendrck Van Mier), Rafaelia Ottiano (Ning), Richard Hakins (Shorty, photographer), Herbert Rawlinson (Capt. Bromley); Runtime: 71; MPAA Rating: NR; producer; Harry Rapf: MGM; 1936 in B/W)
"With three villains, it should at least keep the viewer occupied."
Reviewed by Dennis Schwartz

George B Seitz  ("The Legend of the Lone Ranger"/"Kit Carson") directs this poorly written screwball comedy whodunit. It's based on the novel Murder in a Chinese Theatre by Joseph Santley. The screenplay by Florence Ryerson and Edgar Allan Woolf is a mess. It's a failed wannabe Thin Man.

Edmund Lowe (matinee idol of the 1930s) plays the popular movie actor Philip Trent, who plays the part of a successful amateur sleuth named Shelby Lane in six movies, a role adopted from the trashy novels of Peter Dean (Elissa Landi). Fed up with the tiresome role, one he deems unrealistic, Trent sneaks off alone on a cruise from Los Angeles to San Francisco to take a vacation away from Hollywood. But once aboard he's quickly recognized by fellow passengers, as the overbearing married woman (Zasu Pitts, whose a riot) spots him and gets his autograph.

Surprised by a mysterious and frightened young woman in his cabin, Trent soon finds a man's body (Raymond Hatton) in his room, only to find out when the corpse vanishes that he's a jewel thief whose murder was staged as a publicity stunt by Peter Dean – the author of the Shelby James novels. Trent never saw Peter, who for the first time was hired by the producer (Walter Kingford) to write the script. Peter is the pseudonym of the lady author (Elissa Landi). She tries to convince Trent to sign on for another film and again to play the Shelby character. Also in on the publicity stunt is the pushy PR man Mert Morgan (Ted Healy) and his timid photographer Shorty (Richard Hakins), who get photos to send to the newspapers.

But a real murder follows, as a businessman (Gustav Von Seyffertitz) is killed and robbed of a valuable Chinese diamond called the White Dragon. He is also found dead in Trent's room. This upsets police Sgt. Donovan (Edgar Kennedy), who was hired to protect the businessman and the diamond on the cruise, and it upsets the dead man's fake English valet Williams (Edmund Glenn) who expresses an interest in the diamond. The murder gives Trent a chance to team up with Peter to catch the killer, get romantic and crack some dry jokes. The big joke is that the murder is plotted like one of her stories and that Trent acts as he does in those stories.

Unfortunately the film was a bore. But with three villains, it should at least keep the viewer occupied.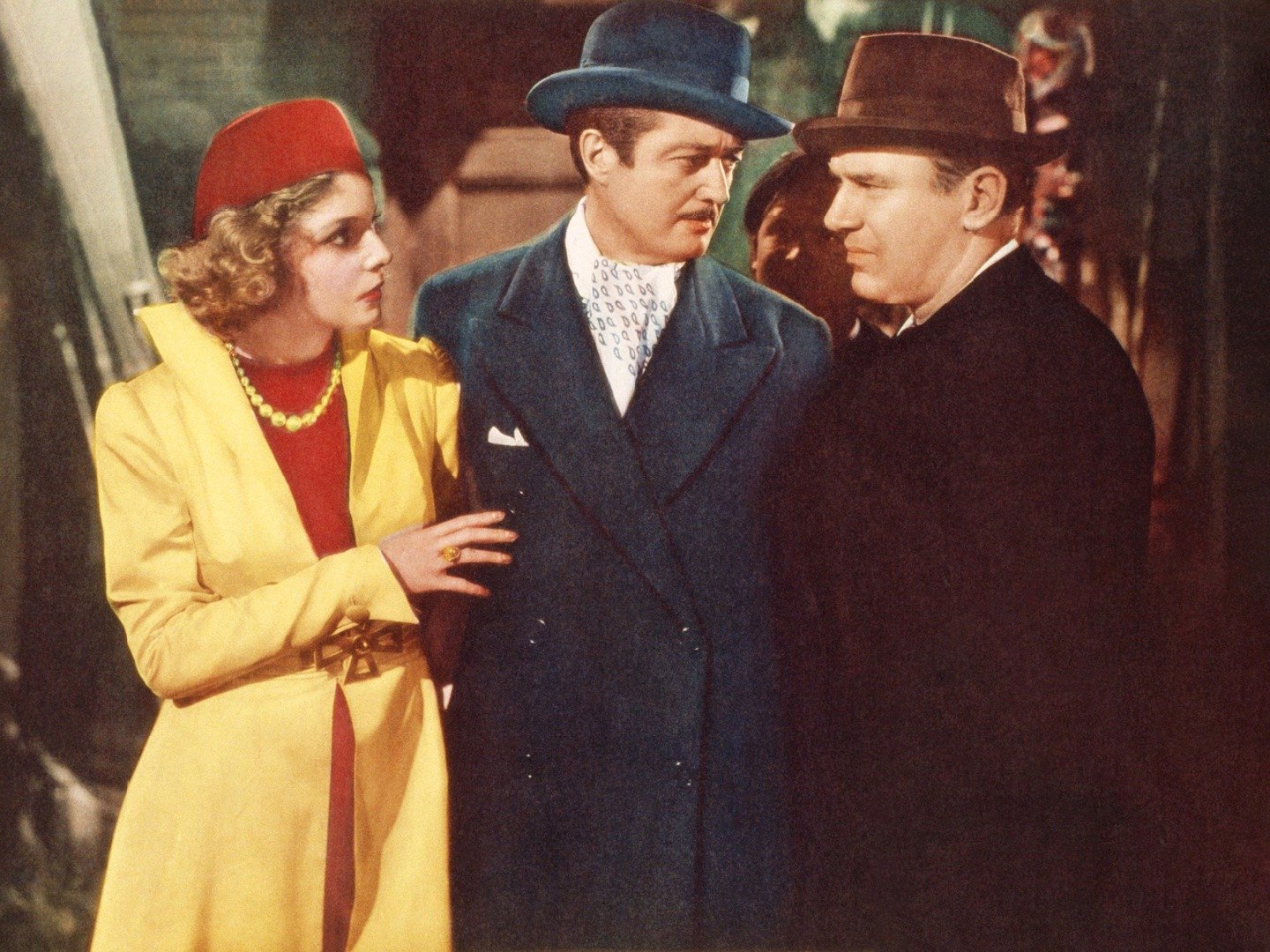 REVIEWED ON 4/19/2022 GRADE: C