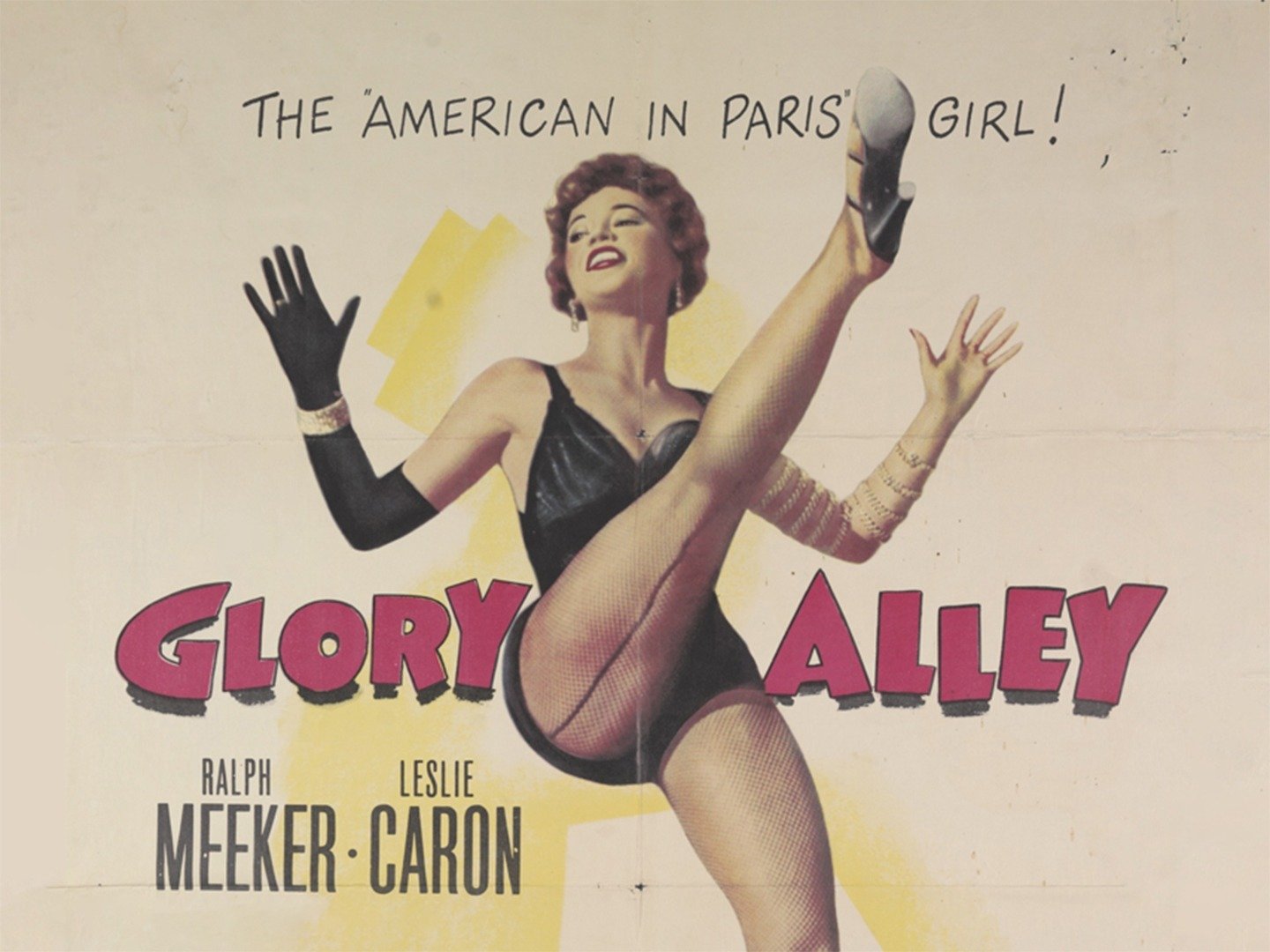 GLORY ALLEY (director: Raoul Walsh; screenwriter: Art Cohnstory by Art Cohn; cinematographer: William H. Daniels; editor: Gene Ruggiero; music: George Stoll; cast: Ralph Meeker (Socks Barbarrosa), Leslie Caron (Angela Evans), Kurt Kasznar (The Judge), Gilbert Roland (Peppi Donato), John McIntire (Gabe Jordan), Larry Gates (Dr. Ardley), Jack Teagarden (Himself), Louis Armstrong (Shadow Johnson),Dick Simmons (Dan), Pat Valentino (Terry Waulker), Dan Seymour (The pig); Runtime: 79; MPAA Rating: NR; producer: Nicholas Nayfack; MGM; 1952)
"The tedious film gets pep periodically from the musical interludes and scenes showing the lively night life on Bourbon Street."
Reviewed by Dennis Schwartz
Louis Armstrong gives the boxing pic a true New Orleans flavor with his jazz music, while the authentic New Orleans location sequences add to the film's excitement. Too bad Art Cohn's story and screenplay is a dud, one that's so unbelievable it can't be picked up from the mat by even such a noted action director like Raoul Walsh ("High Sierra"/"Sadie Thompson"/"Gentleman Jim")–a natural for such a prizefight melodrama.
The film is set in New Orleans' Latin Quarter on its side street known as Glory Alley, a street of despair where colorful characters hangout and where Satchmo blows his horn.
Right before a fight in New Orleans that would have made him a contender for a championship fight, sullen local boy Socks Barbarrosa (Ralph Meeker) walks away from the fight even though the up-and-coming boxer knows he can beat his opponent. Socks' story is told from flashback, after that event, by retiring veteran sportswriter of the New Orleans Times-Picayune Gabe Jordan (John McIntire), to his successor (Dick Simmons).
Everybody in New Orleans thinks Socks is a coward, so after that incident Socks becomes a huckster, an alcoholic and then joins the military. Socks fights in the Korean War and wins the Medal of Honor.
Returning a hero from the war, Socks still can't convince his girlfriend Angela's (Leslie Caron) know-it-all French-accented father (Kurt Kasznar), an irascible blind man called the Judge,that he's not a coward and good enough for his girl. The kicker comes when we learn the reason the prideful and secretive Socks quit that night is because of a deep psychological scar from a traumatic childhood incident when his abusive drunken dad murdered his mom and hit him over the head, fracturing his skull, and left him a neurotic for life. That works, and all the melodramatic conflicts suddenly get wiped clean, as Socks now wins over the blind-man and goes on a comeback to become champ.
The tedious film gets pep periodically from the musical interludes (with Satchmo in fine voice, Caron dancing and singing honky tonk ballads, and the jazz riff by Jack Teagarden) and the scenes showing the lively night life on Bourbon Street, otherwise the superficial film is as flat as Kansas.
REVIEWED ON 8/8/2010 GRADE: C
Dennis Schwartz: "Ozus' World Movie Reviews"
© ALL RIGHTS RESERVED DENNIS SCHWARTZ