LOW LIFE
(director: Tyler Michael James; screenwriters: Noah Rotter/Hunter Milano; cinematographer: Ian Hussie; editor: Zoe Bower; music: Zach Michel; cast: Wes Dunlap (Benny), Lucas Neff) (Jason), Lucy Urbano (Nicole), Jake Dvorsky (Sam), Hunter Milano (Ryan), Noah Rotter (Predator 1), Luna Montana (Megan); Runtime: 105; MPAA Rating: NR; producers: Annie Milligan/Noah Rotter/Hunter Milano/Tyler Michael James/Jake Dvorsky; XYZ Films; 2022)
"The story is too farfetched."
Reviewed by Dennis Schwartz
The debut feature film for the visual effects producer, Tyler Michael James, is a dubious and tawdry one.

Benny (Wes Dunlap) is a belligerent, bullying, loudmouth residing in Las Vegas, who is a small time star on YouTube as a self-styled vigilante hero, going after pedophiles. He never gets convictions because his evidence is shoddy and inadmissible in court. He doesn't care about any negative press received or that the local authorities admonish him. He only cares about going viral, getting clicks and becoming a star on YouTube.

The 16-year-old Nicole (Lucy Urbano) is one of Benny's biggest fans. Jason (Lucas Neff) is her math teacher who has a 13-year-old daughter Megan (Luna Montana), Nicole's best friend. Nicole told Benny that he's a pedophile, even if his wife and daughter disagree. Thereby to prove it, Benny sets a trap for him by inviting him over to his house to tutor Nicole in math. He forgets his poker playing friends (Hunter Milano & Jake Dvorsky) are there for their monthly card game. The depraved Nicole wants to be used as sex bait in his entrapment. Everything will be recorded on video and there will be a "gotcha" moment on video when he's seemingly caught acting out of line, but nothing turns out right.

The disturbing film showing the evils of social media and the sickos in it, has its gripping moments as well as its limitations. But the story is too farfetched to require any serious responses. After Benny screws up on this video, he has a downfall as a social media influencer. Which is what its message is supposed to be, I suppose.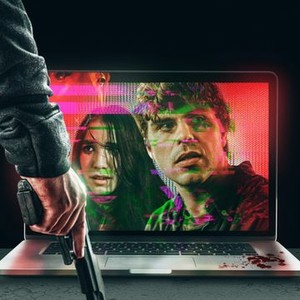 REVIEWED ON 1/9/2023 GRADE: C