LOVE GURU, THE
(director: Marco Schnabel; screenwriters: Mike Myers/Graham Gordy; cinematographer: Peter Deming; editors: Les Haxall/Gregory Perler/Billy Weber; music: George S. Clinton; cast: Mike Myers (Pitka), Jessica Alba (Jane Bullard), Justin Timberlake (Jacques Grande), Romany Malco (Darren Roanoke), Verne Troyer (Coach Cherkov), Meaghan Good (Prudence), John Oliver (Dick Pants), Stephen Colbert (Jay Kell), Jim Gaffigan (Trent Lueders), Manu Narayan (Rajneesh), Omid Djalili (Guru Satchabigknoba), Ben Kingsley (Guru Tugginmypuddha), Jessica Simpson (herself), Rob Cohen (Nerd), Michelle Mitchell (Oprah-voice), Samantha Bee (Cinnabon Cashier); Runtime: 87; MPAA Rating: PG-13; producers: Mike Myers/Michael De Luca; Paramount Home Entertainment; 2008)
"A guilty pleasure treat-a dumb B film I couldn't stop laughing from all its silliness."
Reviewed by Dennis Schwartz

The Michael Myers' (the Austin Powers guy) spiritual farce on self-help gurus is a guilty pleasure treat- a dumb B film I couldn't stop laughing from all its silliness. I loved the bad comedy for various reasons: including taking pleasure in how most critics hated it because it rubbed them the wrong way, how Myers (in a beard and wig) played a composite of a number of phony gurus spreading a message of false love that reeked of rotten fruit, how this type of phony got hordes of followers including celebrities fooled and how he aimed to surpass his rival, the guru Deepak Chopra, by throwing him shade.

First time helmer Marco Schnabel and co-writers Mike Myers and Graham Gordy turn in a crass script that's so messy Peter Sellers would probably trip over it. There are upsetting dick, piss and fart jokes that seem harmless enough but it's still a wonder that the film gets a PG-13 rating. It gives us shallow sketches made for TV that a popular comedy show like SNL (Myers is an alumnus of the program) thrives on.


There are cameos, elephant sex, a killer rooster and obnoxious gay jokes, to make you well-aware this film is a stinker.


Guru Pitka (Michael Myers) is an American raised in an ashram in India as an orphan when his missionary parents perished in India and he was trained by a crosseyed guru (Ben Kingsley). Pitka wanted to become a guru to meet girls, and resonates on the world stage in his L.A. ashram as a supposed wise man over a few sayings he spouts at opportune times.

The film's highlight or low-light, depending on the viewer's perspective, comes on the Oprah show and has the smug guru helping the owner of the Toronto Maple Leafs (Jessica Alba) help her team's lovesick hockey star (Romany Malco), whose wife (Meagan Good) is cheating on him with another hockey player (Justin Timbrlake), regain his mojo in time for the Stanley Cup Finals.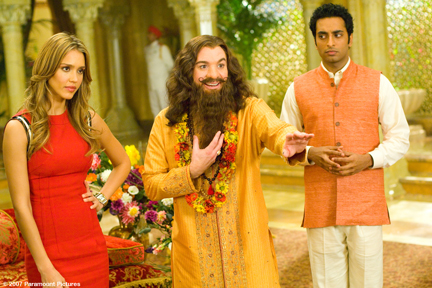 REVIEWED ON 6/25/2023 GRADE: B-