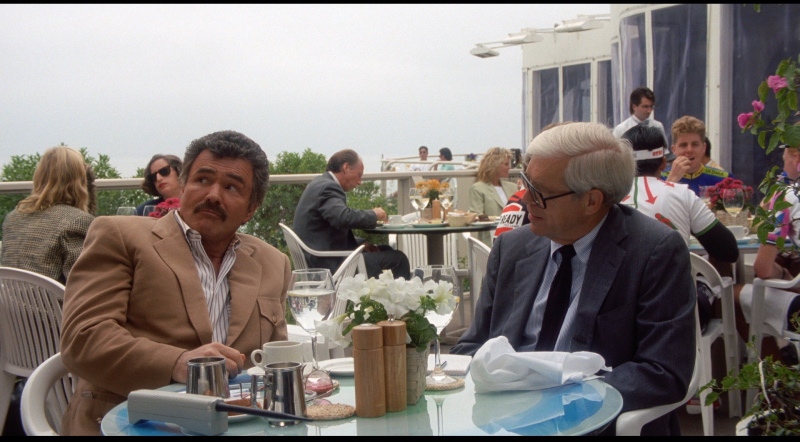 PLAYER, THE
(director: Robert Altman; screenwriter: from the novel by Michael Tolkin/Michael Tolkin; cinematographer: Jean Lepine; editor: Geraldine Peroni; music: Thomas Newman; cast: Tim Robbins (Griffin Mill), Greta Scacchi (June Gudmundsdottir), Fred Ward (Walter Stuckel), Whoopi Goldberg (Detective Avery), Peter Gallagher (Larry Levy), Brion James (Joel Levison), Cynthia Stevenson (Bonnie Sherow), Dean Stockwell (Andy Civella), Vincent D'Onofrio (David Kahane), Sydney Pollack (Dick Mellon), Dina Merrill (Celia), Lyle Lovett (Detective DeLongpre), Richard E. Grant (Tom Oakley); Runtime: 124; MPAA Rating: R; producers: Michael Tolkin/David Brown/Nick Wechsler; Fine Line Features; 1992)

"Amusing black comedy on Tinseltown."
Reviewed by Dennis Schwartz
Robert Altman ("3 Women"/"Nashville"/"Gosford Park") goes Hollywood to direct this amusing black comedy on Tinseltown, giving us his acerbic insider view. It's based on the novel by Michael Tolkin, who also writes the screenplay. Altman takes easy potshots at his industry's greed, superficiality, power struggles, the inane pitch for screenplays, the executives' concerns more over the bottom-line than art and the back-stabbing among the players. It has over 60 stars playing themselves in cameos. The pic provides plenty of in-jokes and nostalgia for film buffs to kvell over. It's enjoyable fluff, but nevertheless fluff. It takes aim at Hollywood, but only comes up magnifying Hollywood's obvious flaws that any serious moviegoer would have already figured out. As if the goof on Hollywood wasn't enough, Altman tacks on a murder/blackmail MacGuff into the plot which pours more ice on his cold treatment of the industry's love affair with celebrity and glamor.
Paranoid slime-ball hotshot Hollywood exec Griffin Mill (Tim Robbins), a likable asshole, hears the rumors that his slimeball rival, Larry Levy (Peter Gallagher), is joining the studio and is not too happy about that–figuring his days at the studio may be up. It's confirmed by the oily studio boss Joel Levison (Brion James), who urges Griff to get along with Levy and be a team player. Griff immediately plans on a way to stab Levy in the back. Meanwhile Griff is having an affair with his loyal assistant Bonnie Sherow (Cynthia Stevenson) and, on the darker side, receiving anonymous death threat postcards from a scriptwriter whose pitch he has ignored. Rattled by the death threats, Griff goes to Pasadena to meet the likely sender, an angry David Kahane (Vincent D'Onofrio). Griff talks by phone with David's artist girlfriend June Gudmundsdottir (Greta Scacchi), who tells him her man went to the nearby Rialto to watch Bicycle Thief. Griff meets him after the show and goes for a drink with him hoping to find a way of getting him off his back. Outside in the street, the two opposites argue over films and Griff accidentally kills David in the karaoke bar's parking lot. Later Griff learns David was not the post card sender, as he receives more threats. Detective Avery (Whoopi Goldberg) investigates the murder, but to her chagrin has no hard evidence on the main suspect Griff. The head of studio security Walter Stuckel (Fred Ward) acts to deflect any bad publicity for the studio, and is not adverse to suppressing the truth, if necessary. During this hectic investigation period Griff sticks Levy with a bad script aggressive agent (Dean Stockwell) and his English client hack writer nobody (Richard E. Grant) pitch for him (hoping to be called upon for a last sec rescue) and dumps Bonnie to date the sexy June, who is not that contrite over her loss. The couple dating so soon after the recent loss raises the eyebrows of the Pasadena police, who put a tail (Lyle Lovett) on Griff. But the talentless Griff eventually comes out of this bad experience smelling like a rose (showing that the good guys only win in Hollywood in the movie).
The performances are grand; the story is filled with good-natured satire; and it has the same kind of cynical attitude toward Hollywood as Sunset Boulevard (1950). It's also dazzling, witty and on target in its digs at the industry using star power to sell mostly soulless products. Though portentous, the pic scores as a voyeuristic delight that skewers a Hollywood community that understands its shallowness but doesn't have the spark to change and make creative films. Altman doesn't have to do much here except point the camera and let us see the shameful way Hollywood treats its screenwriters–literally getting away with murder.
REVIEWED ON 2/132011 GRADE: B+