LOCKED DOWN
(director:Doug Liman; screenwriter: Steven Knight; cinematographer: Remi Adefarasin; editor: Saar Klein; music: John Powell; cast: Chiwetel Ejiofor (Paxton), Ann Hathaway (Linda), Sonic (Hedgehog), Ben Kingsley (Malcolm), Ben Stiller (Guy), Mindy Kaling (Kate), Stephen Merchant (Michael Morgan), Lucy Boynton (Charlotte), Claes Bang (Essien), Jazmyn Simon (Maria), Dulé Hill (David), Sam Spruell (Martin), Frances Ruffelle (Neighbor), Mark Gatiss (Donald); Runtime: 118; MPAA Rating: R; producers; Michael Lesslie, P.J. van Sandwijk, Alison Winter: HBO Max; 2021)
"The heist story is too heavy-handed to be remembered or valued."
Reviewed by Dennis Schwartz

A tedious rom/com heist film that relies on star-power to get over. It's directed with a striking casualness by Doug Liman ("The Bourne Identity"/"Swingers") and written without passion by Steven Knight. It was shot in the midst of the COVID-19 pandemic, which might explain why it falters.

We're told that the London-living sullen Black truck driver Paxton (Chiwetel Ejiofor) has been romantically involved for the last ten years with the white woman Linda (Ann Hathaway), a type-A business CEO–a neurotic-chain-smoking-control-freak. There relationship has recently soured to the point they rarely speak to each other anymore. But they are accepting when they learn that they must remain together because of a lock-down order from the government is issued and a remain at home edict is enforced.

Paxton can't get work because he's a felon (a pub fight resulted in jail time), while Linda's asshole boss (Ben Stiller) assigns her to lay off her marketing team via Zoom.

Events point the way for the unhappy couple to steal a priceless diamond from Harrod's department store in London, in a low-tech heist that involves transferring the £3 million diamond while it's taken by truck to Heath Row Airport and replacing the real diamond with a fake.

Cameos of such stars as –Ben Stiller, Ben Kingsley, Mindy Kaling, Stephen Merchant, Claes Bang-appear mostly on computer screens.

Though there's some fun in its screw-ball comedy antics and in its zany dialogue, nevertheless the heist story is too heavy-handed to be remembered or valued.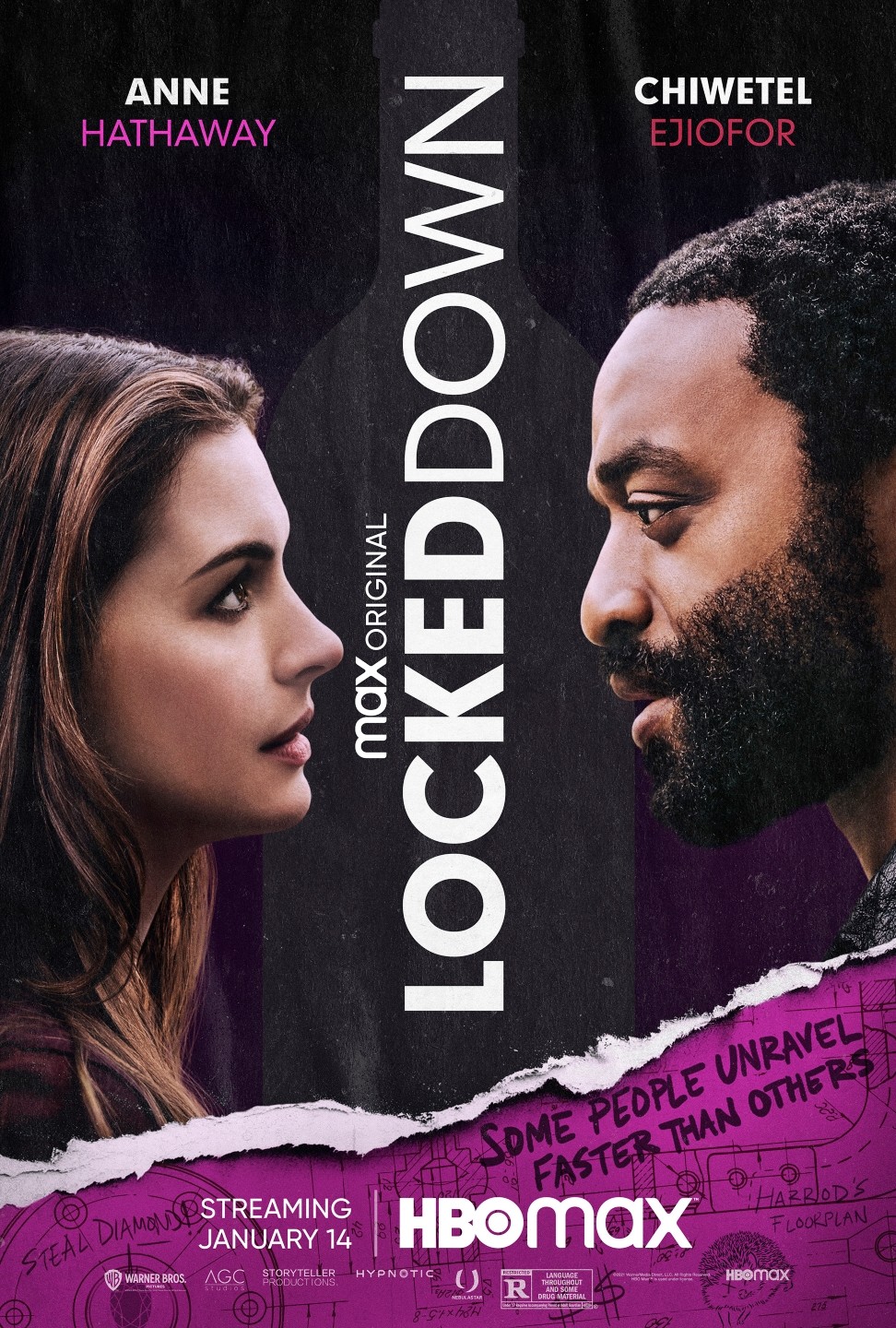 REVIEWED ON 1/11/2022 GRADE: B-