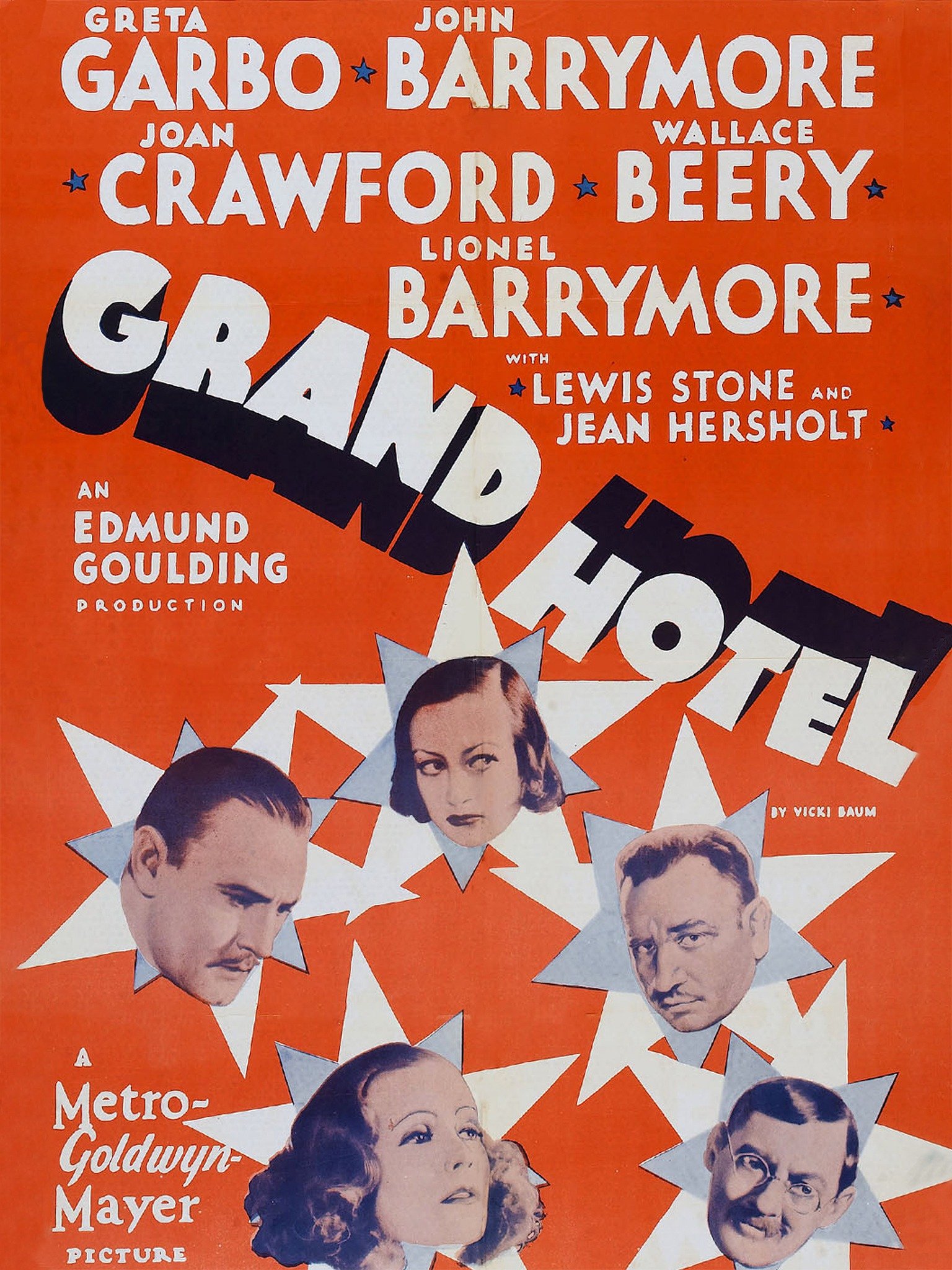 GRAND HOTEL, THE
(director: Edmund Goulding; screenwriters: from the novel "Menschen in Hotel" by Vicki Baum/based on the play byWilliam A. Drake; cinematographer: William H. Daniels; editor: Blanche Sewell; music William Axt; cast: Greta Garbo (Grusinskaya), John Barrymore (Baron Felix von Geigern), Joan Crawford (Flaemmchen), Wallace Beery (Preysing), Lionel Barrymore (Otto Kringelein ), Lewis Stone (Dr. Otternschlag), Jean Hersholt (Senf ); Runtime: 113; MPAA Rating: NR; producer: Irving G. Thalberg; MGM; 1932)
"It comes with a grand reputation but by today's standards is outdated."
Reviewed by Dennis Schwartz
This early talkie melodrama with an all-star cast is based on the play by William A. Drake, which is based on the novel "Menschen in Hotel" by Vicki Baum. It's directed with flare by Edmund Goulding. The story takes place over two days in Berlin's most luxurious Grand Hotel. It comes with a grand reputation but by today's standards is outdated. This splashy MGM vehicle works best as an example of the portmanteau style.
It chronicles the lives of the desperate guests of the Grand Hotel and catches them as they interact with each other: Greta Garbo is Grusinskaya, the lonely Russian ballerina who says she wants to be alone; John Barrymore plays the broke Baron Felix von Geigern, who because of circumstances is forced to be a noble jewel thief to pay back a large debt; Joan Crawford plays Flaemmchen, the ambitious business-like stenographer courted by the Baron; Lionel Barrymore plays Otto Kringelein, the terminally ill timid bookkeeper for Preysing's textile plant who goes on a last fling; Wallace Beery plays Preysing, the hardened industrialist worried about a business merger going through with Manchester; Jean Hersholt plays Senf, a nervous émigré; and Lewis Stone plays the world-weary alcoholic house doctor Otternschlag, a caustic observer of the scene. Otternschlag sets the film's tone in the opening scene when he says: "People come, people go, and nothing ever happens."
The performances of John and Lionel Barrymore were hammy, but not as hammy as the one by Wallace Beery. It seems odd that in this talented cast, Crawford comes through with the most genuine and pleasing performance. It served the Depression-era audience with an inspirational story showing that the wealthy were also experiencing personal and money problems.
It won Best Picture at the 1932 Academy Awards. It was remade not as successfully as the 1945 Weekend at the Waldorf starring Ginger Rogers, Lana Turner, Walter Pidgeon, Van Johnson, and Edward Arnold.
REVIEWED ON 9/27/2005 GRADE: B-