LITTLE MERMAID, THE
(director: Rob Marshall; screenwriter: David Magee; cinematographer: Dion Beebe; editor: Wyatt Smith; music: Alan Menken/Lin-Manuel Miranda; cast: Hallee Bailey (Ariel), Jonah Hauer-King (Eric), Noma Dumezweni (The Queen), Daveed Diggs (Sebastian (crab)-voice), Awkwafina (Scuttle (Seagull)-voice), Art Malik (Sir Grimsby), Jacob Tremblay (Flounder-voice), Javier Bardem (King Triton), Melissa McCarthy (Ursula); Runtime: 135; MPAA Rating: PG; producers: Rob Marshall/Marc Platt/Lin-Manuel Miranda/John DeLuca; Walt Disney Pictures; 2023)
"A splashy mermaid performance by the vibrant, soulful and pleasant-voiced Halle Bailey."
Reviewed by Dennis Schwartz

A live-action redo of a Disney Oscar-winning 1989 animation classic. It's directed by Rob Marshall ("Nine"/"Chicago") and written by David Magee with too many subplots. But it isn't a misfire even if not as good as the original. It cashes in on its trove of nostalgia, fine musical numbers from the past, such as "Under the Sea" and "Part of Your World." (but the added hip-hop numbers by Lin-Manuel Miranda were a turn off) and a splashy mermaid performance by the vibrant, soulful and pleasant-voiced Halle Bailey.

It's set around a fictitious Caribbean island, inhabited by the 18-year-old mermaid named Ariel (Halley Bailey), the youngest of King Triton's (Javier Bardem) daughters and the most rebellious.

Ariel wishing to find out about the world above the sea after rescuing the dashing Prince Eric (Jonah Hauer-King) from a shipwreck, ventures to the sea's surface to meet the Prince. She thereby deals with her first kiss, the curious manipulations of the sea witch Ursula (Melissa McCarthy) agreeing to make her human if she loses her singing voice in exchange, and the anger of her father for disobeying his wishes.

It worked better in animation than in CGI (even if the new version looked terrific), as the former is more pliable and the filmmaker is better able to get more emotion out the characters.

Because Prince Eric was so bland, I couldn't get worked up about the romance. I was not able to get fully under its magical spell, but still fell for its simple fairy-tale story.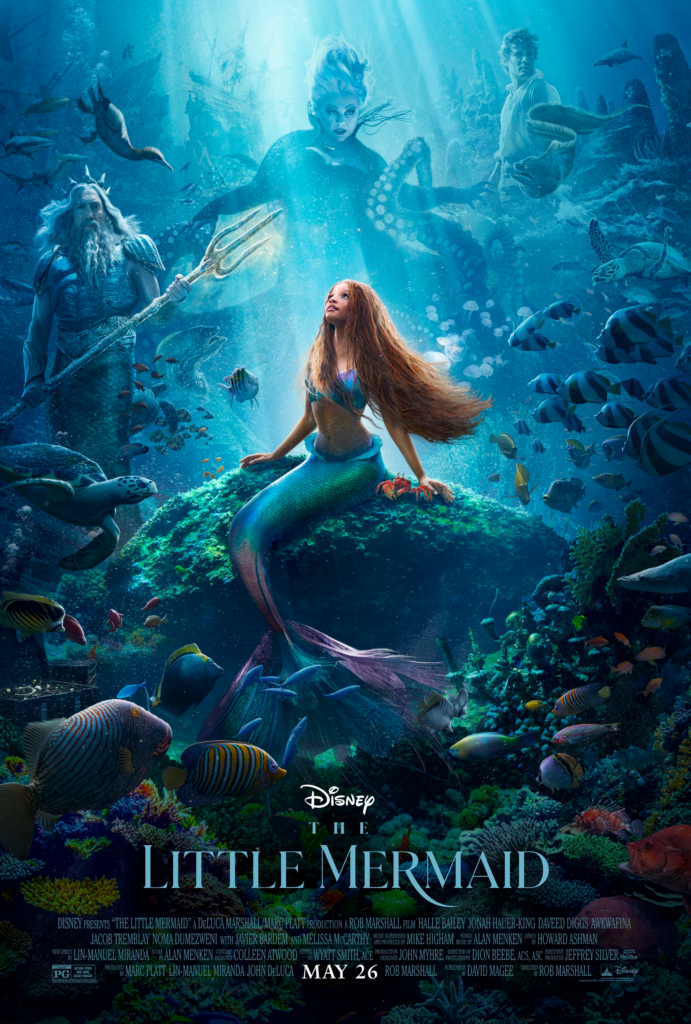 REVIEWED ON 5/27/2023  GRADE: B-