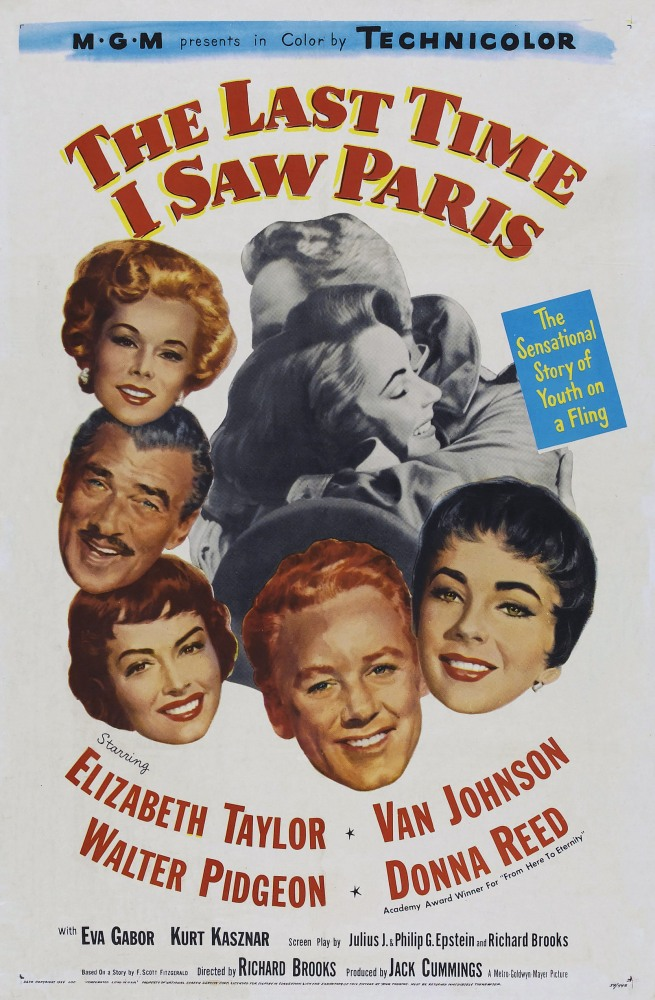 THE LAST TIME I SAW PARIS
(director/writer: Richard Brooks; screenwriters: Julius J. and Philip G. Epstein/based on the short story "Babylon Revisited" by F. Scott Fitzgerald; cinematographer: Joseph Ruttenberg; editor: John Dunning; music: Conrad Salinger; cast: Elizabeth Taylor(Helen Ellswirth), Van Johnson (Charles Wills), Walter Pidgeon (James Ellswirth), Donna Reed (Marion Ellswirth), Eva Gabor (Lorraine Quarl ), Kurt Kasznar (Maurice), George Dolenz (Claude Matine), Odette (Singer), Roger Moore (Paul); Runtime: 116; MPAA Rating: NR; producer: Jack Cummings; MGM; 1954)

"Somewhat engrossing but too much a dull and heavy-handed tragic melodrama."
Reviewed by Dennis Schwartz
Somewhat engrossing but too much a dull and heavy-handed tragic melodrama. It's directed with urgency by Richard Brooks("In Cold Blood"/"Bite the Bullet"/"Looking for Mr. Goodbar"). It's based on the short story "Babylon Revisited" by F. Scott Fitzgerald. Writer twins Julius J. and Philip G. Epstein turn in a syrupy and cliche-ridden script that's, nevertheless, faithful to the book's tone. The lavish MGM production made Paris shine and the leads all gave fine sensitive performances.
It's set, just after WWII, in the 1920s, at a time the "lost generation" hung out in Paris. The aspiring writer, the ex-GI, Charles Wills (Van Johnson), hangs out in Paris and falls in love with the wealthy American Helen Ellswirth (Elizabeth Taylor). The heavy drinker shows little ability in writing, works as a reporter and tries to write a masterpiece novel. When he fails, he becomes depressed. When he's out cold in a drunken stupor and Helen gets accidentally locked out of their place during a rainstorm, she catches pneumonia and later dies.
Helen's sister Marion (Donna Reed), who always disapproved of Charles, raises their child.
Meanwhile Charles returns to the States and succeeds as a novelist.
The film begins with an older and reformed alcoholic, Van Johnson, returning to Paris and reminiscing about his romance in the City of Light with Liz. He then reunites with his child and makes peace Donna.
REVIEWED ON 5/24/2015 GRADE: B-