LAKE PLACID
(director: Steve Miner; screenwriter: David E. Kelley; cinematographer: Daryn Okada; editors: Paul Hirsch/Marshall Harvey; music: John Ottman; cast: Bill Pullman (Jack Wells), Bridget Fonda (Kelly Scott), Oliver Platt (Hector Cyr), Betty White (Mrs. Delores Bickerman), Brendan Gleeson (Sheriff Hank Keough), Meredith Salenger (Deputy Sharon Gare), Adam Arkin (Museum Boss), Mariska Hargitay (Myra Okubo), David Lewis (Walt Lawson); Runtime: 82; MPAA Rating: NR; producers; David E. Kelley, Michael Pressman: 20th Century Fox/Scream Factory; 1999)
"It's Jaws, with a croc instead of a shark."
Reviewed by Dennis Schwartz

An exploitation B-film comedy thriller directed by Steve Miner ("Day of the Dead"/"Texas Rangers") and written by David E Kelley, It's not as funny as it thinks it is.

A group of scientists believe that under the calm waters of a Maine's Lake Placid there's a giant prehistoric crocodile lurking.

The investigative Museum of Natural History paleontologist from NYC, the whiny Kelly (Bridget Fonda), is not too thrilled she must camp out in a tent by the lake to cover the story, as ordered by her boss (Adam Arkin). At the site she sulks and meets the rugged Fish & Game officer Jack Wells (Bill Pullman). She will team with him to search for the croc. Soon they begin a stiff romance.
Meanwhile the foul-mouthed old widow, Mrs. Bickerman (Betty White), who lives near the lake, shows her love to the croc as she shouts out "If I had a dick, this is where I'd tell you to suck it."

Also around the lake for comic relief are Sheriff Hank Keough (Brendan Gleeson, Irish actor) and the wealthy eccentric croc loving naturalist Hector Cyr (Oliver Platt). The latter is into telling dumb boob jokes.

Academy Award winning creature maker,  using animatronics to create the croc, Stan Winston, is on hand to supply the terrific non-CGI effects.

It's Jaws, with a croc instead of a shark.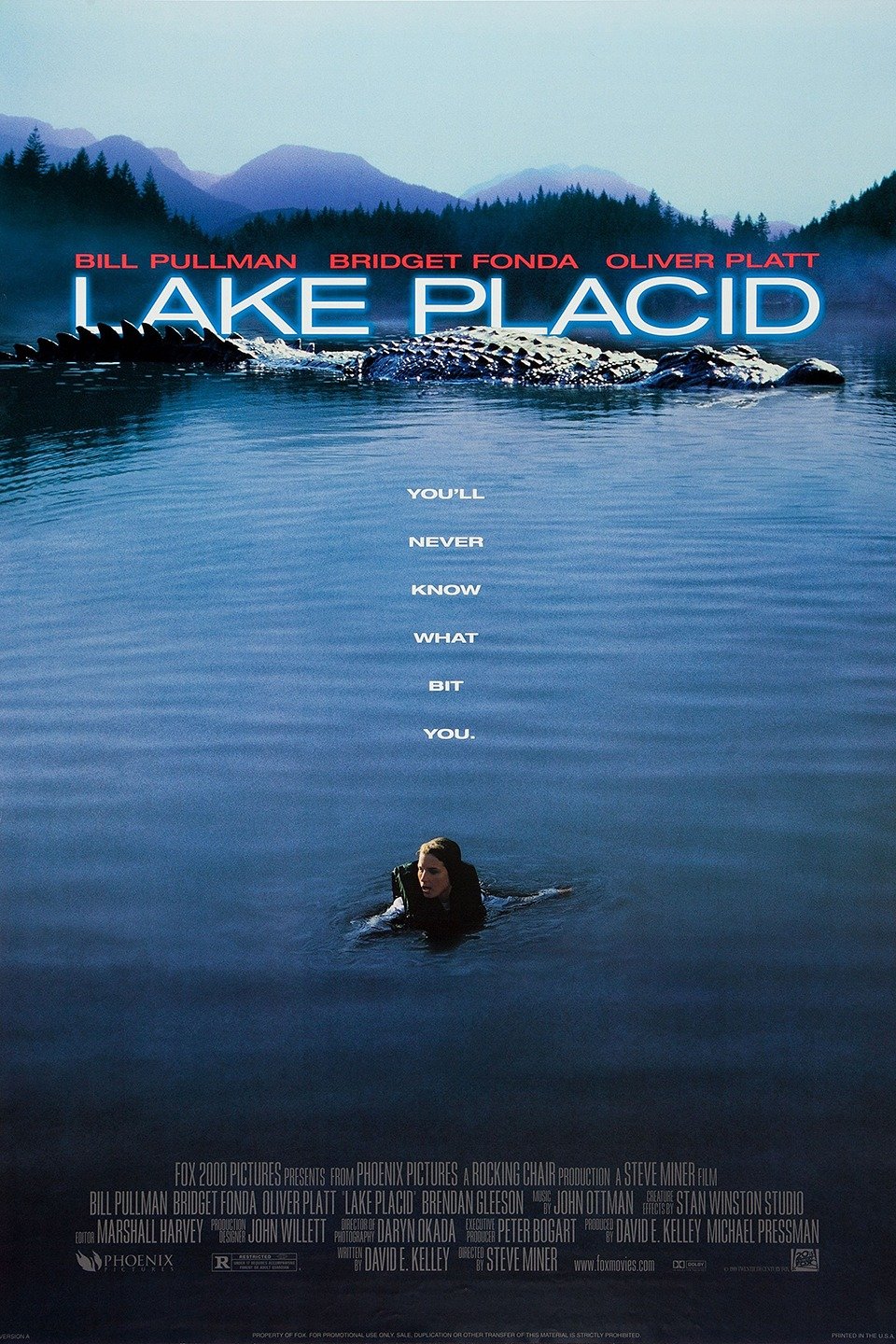 REVIEWED ON 4/6/2022  GRADE: C+