LADY CHATTERLEY'S LOVER
(director: Laure de Clermont-Tonnerre; screenwriters: based on the story by D. H. Lawrence/David Magee; cinematographer: Benoit Delhomme; editors: Geraldine Mangenot/Nina Annan; music: Isabella Summers; cast: Emma Corrin (Connie Chatterley), Jack O'Connell (Oliver Mellors), Matthew Duckett (Clifford Chatterley), Joely Richardson (Mrs. Boltan), Faye Marsay (Hilda), Ella Hunt (Mrs. Flint), Anthony Brophy (Sir Malcolm Reid), Nicholas Bishop (Ned); Runtime: 126; MPAA Rating: R; producers: Laurence Mark, Peter Czernin, Graham Broadbent; Netflix; 2022-UK/USA)
"Erotically and artistically directed as a love story."
Reviewed by Dennis Schwartz
Erotically and artistically directed as a love story, with full-frontal nudity, by the French actress turned filmmaker, Laure de Clermont-Tonnerre ("The Mustang"/"Rabbit"). It's written by David Magee. The forbidden love drama, in this French version, is based on the Englishman D.H. Lawrence's controversial and banned 1928 novel, which no longer is banned or creates a fuss in society.

The film gets fine performances from its lovers-Emma Corrin as the married Lady Chatterley and her gamekeeper lover Oliver Mellors, as played by Jack O'Connell.

During World War I, the impulsive upper-class progressive, Connie Reid (Emma Corrin), falls in love and marries Sir Clifford Chatterley (Matthew Duckett), who is a soldier fighting on the front. After the war, the wealthy coal mine owner is paralyzed from the waist down and is in a wheelchair at his country estate in Wragly. The atmosphere is gloomy when Connie joins her cold fish hubby (now only interested in exploiting his miners to make bigger profits) and is told by him he wants a heir and thereby gives her permission to have discrete affairs, but only with her upper-class peers (as the master of the house can no longer perform sexually). Thereby begins her affair with the handsome gamekeeper.

Connie plans on getting pregnant with the gamekeeper, but the sex is so good she also falls in love with him.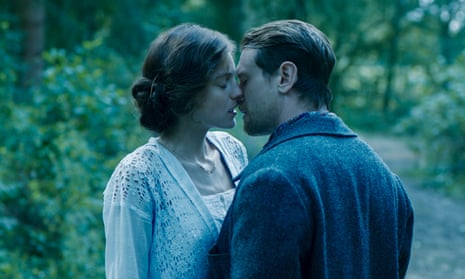 REVIEWED ON 1/26/2023  GRADE: B-