BEAST MUST DIE, THE  (BLACK WEREWOLF)
(director/writer: Paul Annett; screenwriters: Michael Winder/Scot Finch/story "There shall be no Darkness" by James Blish; cinematographer: Jack Hildyard; editor: Peter Tanner; music: Douglas Gamley; cast: Calvin Lockhart (Tom Newcliffe), Peter Cushing (Dr. Christopher Lundgren), Charles Gray (Arthur Bennington), Michael Gambon (Jan Jarmokowski), Anthony Diffring (Pavel), Marlene Clark (Caroline Newcliffe), Ciaran Madden (Davina Gilmore), Tom Chadbon (Paul Foote), Valentine Dyall (narrator); Runtime: 93; MPAA Rating: PG; producers: Max J. Rosenberg/Milton Subotsky; Amicus/Dark Sky Films; 1974-UK)
"Awkwardly filmed variation on The Ten Little Indians."
Reviewed by Dennis Schwartz

Paul Annett ("Menace Unseen"/"And the Wall Came Tumbling Down") is writer/director, with co-writers Michael Winder and Scot Finch, who base the offbeat film on the short story "There shall be no Darkness" by science fiction writer James Blish. It's an awkwardly filmed variation on The Ten Little Indians. There's a gimmick, where near the end is a 30 – second "Werewolf Break" the narrator calls for as the viewer is encouraged to guess who is the werewolf.

The Amicus Studio is known for its cheaply made omnibus horror pics before this failed attempt to make a modern horror pic.

The eccentric millionaire businessman and big-game hunter Tom Newcliffe (Calvin Lockhart) invites to his mansion a number of special guests (each a suspect of being a werewolf because they were involved in prior incidents where dead bodies were found of vics they might have brutally killed). He does so despite his wife (Marlene Clark), caught by surprise, voicing her disapproval.
On a full-moon week-end these suspicious folks are guests at his remote luxury country estate in Scotland. Tom suspects that one of them is a werewolf that he hopes to catch before harming others, as he has installed through the security expert Pavel (Anton Diffring) an elaborate high-tech electronic security system in the forest near his home to track down the movements of the werewolf.

The following people have made the guest list: the Norwegian archeologist Dr. Christopher Lundgren (Peter Cushing); the disgraced ex- diplomat Arthur Bennington (Charles Gray); the weirdo artist Paul Foote (Tom Chadbon); the pianist Jan Jarmokowski (Michael Gambon); and the beautiful young Davina Gilmore (Ciaran Madden). Tom tells them he believes that one of them is a werewolf, and no one can leave until after the week-end.

As attempts are made on his life and more grisly deaths occur, Tom becomes obsessed with bagging his werewolf.

The film is so tedious and absurd it's possible you might die of boredom before the beast dies.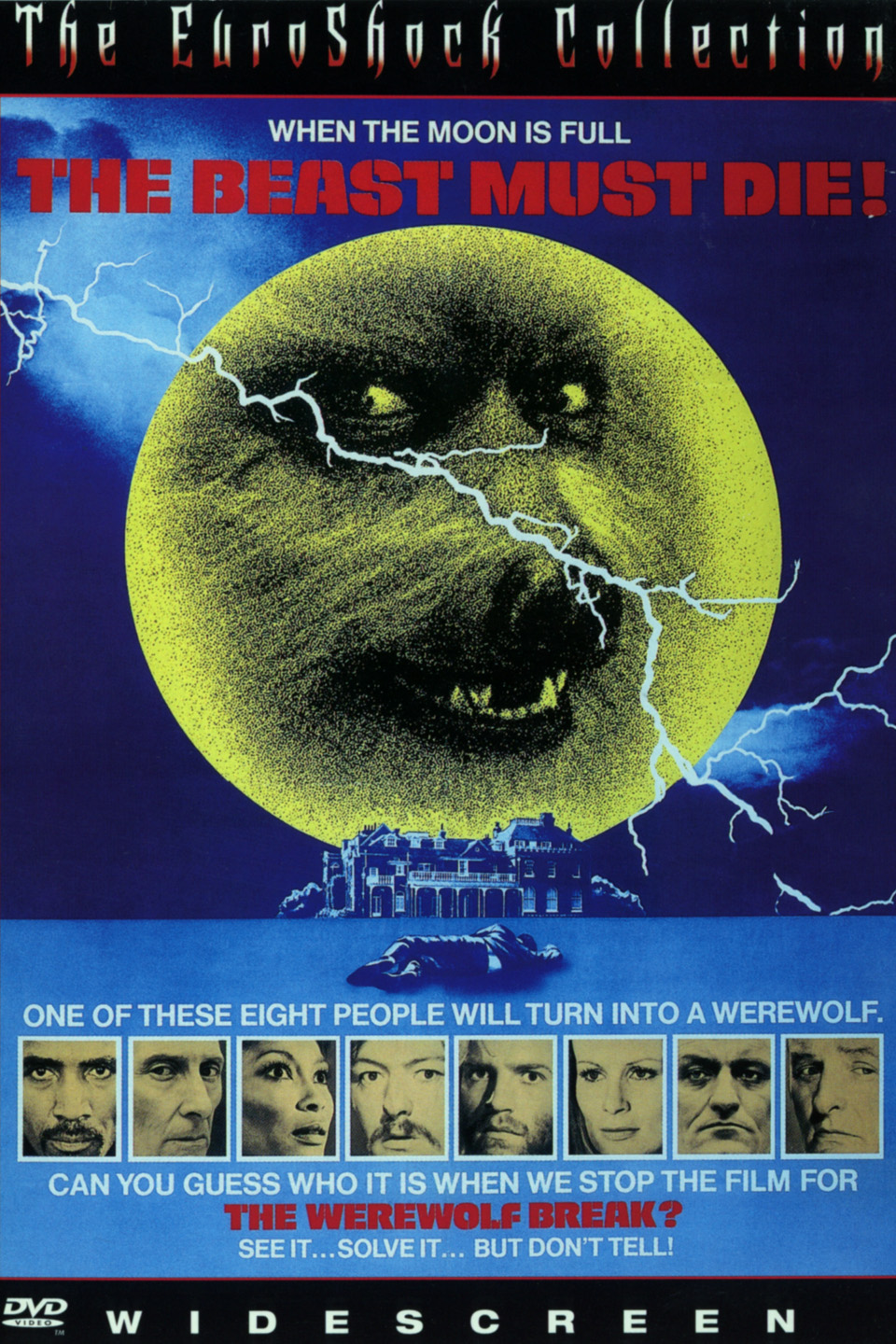 REVIEWED ON 9/25/2022 GRADE: C