KANDAHAR
(director: Ric Roman Waugh; screenwriter: Mitchell LaFortune; cinematographer: MacGregor; editor: Colby Parker Jr.; music: David Buckley; cast: Gerard Butler (Tom Harris), Ali Fazai (Kahil Nasir), Tom Rhys Harries (Oliver Alterman), Farhad Bagheri (Parshand), Mark Arnold (Mark Lowe), Nina Toussaint-White (Luria Cujai), Travis Fimmel (Roman Chalmers), Elnaaz Norouzi (Shina Asadi, female journalist), Navid Negahban (Mohammad "Mo" Doud), Bahador Foladi (Fazard Asadi), Vassilis Koukalani (Bashar Hamadani), Corey Johnson (Chris Hoyt), Ravi Aujla (Siraj Agha), Ray Haratian (Ismail Rabbani); Runtime: 119; MPAA Rating: R; producers: Basil Iwanyk, Brendon Boyea, Erica Lee, Gerard Butler, Christian Mercuri, Scott LaStaiti, Alan Siegal; Open Road Films/Thunder Road Pictures; 2023-USA/Saudi Arabia-in English)
"Formulaic chase thriller, that's tedious but is at least competently made."
Reviewed by Dennis Schwartz

Ric Roman Waugh ("Angel Has Fallen"/"Greenland") directs this disposable formulaic chase thriller, that's tedious but is at least competently made. It's written by Mitchell LaFortune, a former special ops agent.

Tom Harris (Gerard Butler) is an elite undercover CIA operative working inside Iran. The Black Ops agent, posing as a techie repairman, blows up a nuclear facility in Iran, but he must flee Iran to Kandahar when his cover is blown. Tom thereby goes through the  hostile desert territory with his elderly Afghan interpreter Mohammad (Navid Negahban),  now living in Baltimore after working for the CIA in Kabul.

The fleeing pair are pursued by various terrorist groups from both Iran and Afghanistan, that include ISIS, the Taliban, a Pakistani motorcycle-driving assassin (Ali Fazai), and the fanatical Revolutionary Guard Colonel (Bahador Foladi)-who took as a prisoner the journalist (Elnaaz Norouzi), a TV reporter who works for the Pakistanis and helped "expose" the CIA's involvement in the explosion of the nuclear reactor. 

In Kandahar, there's a chase sequence through a market place.

Tom wants badly to get a flight home to London to see again his estranged wife and daughter, as he already missed an earlier flight home to attend his daughter's graduation.

Nothing about the bland film stands out, as its current events history lesson is as dry as the desert and its adventure story is as empty as its flawed heroic main character.

The film was shot in Saudi Arabia.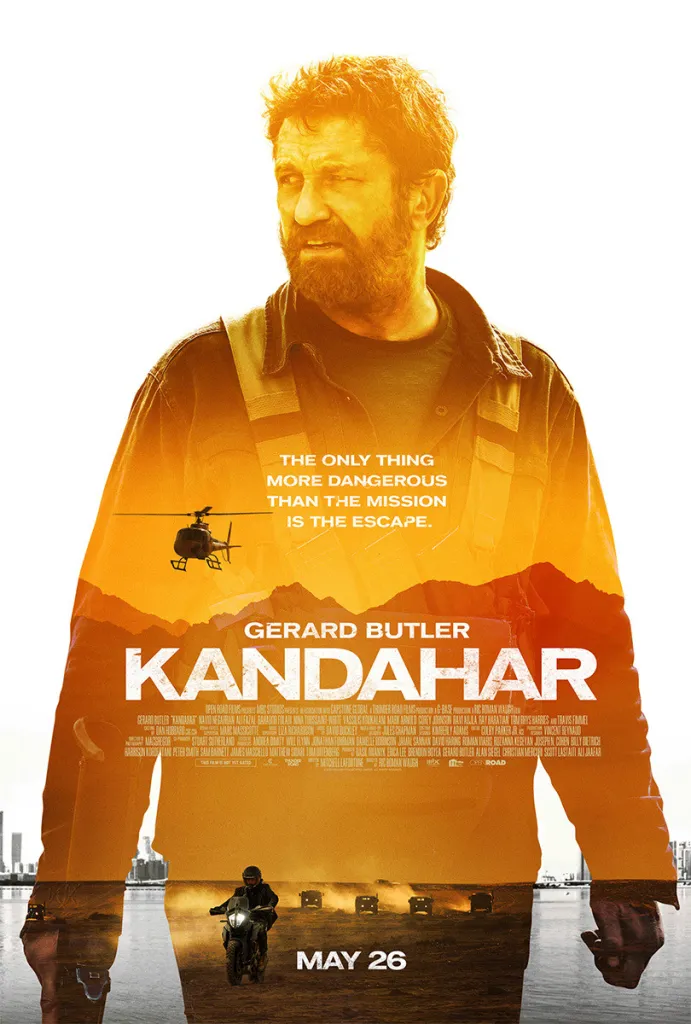 REVIEWED ON 9/26/2023  GRADE: C+