JULES
(director: Marc Turtletaub; screenwriter: Gavin Steckler; cinematographer: Chris Norr; editor: Ayelet Gil Efrat; music: Volker Bertelmann; cast: Zoe Winters (Denise), Ben Kingsley (Milton), Jane Curtin (Joyce), Jade Quon (Jules), Harriett Sansom Harris (Sandy); Runtime: 87; MPAA Rating: NR; producers: Marc Turtletaub, Alex Turtletaub, Michael B. Clark, Deborah Liebling, Andrew Daly; Bleecker Street/Big Beach Films; 2023)
"The quirky story was uplifted by some great acting."
Reviewed by Dennis Schwartz

A dramedy by Marc Turtletaub ("Puzzle"/"Looking at Animals") that's inventively written by Gavin Steckler. It lightens things up with a clever comedy for its heavy story on dementia.

Milton (Ben Kingsley) is an elderly widower who suffers from the onset of dementia. He lives in western Pennsylvania. His grown-up daughter Denise (Zoe Winters) worries about him, as his only interest is attending town council meetings.

When he believes an alien from another planet crash lands in his backyard of garden azaleas, Milton names the non-speaking creature Jules, befriends him, invites him to live in his house, and tells others about his new friend. But his strange behavior alienates him with others in his community. His senior citizen neighbors Sandy (Harriett Sansom Harris) and Joyce (Jane Curtin) get what's happening to their friend and try to help him, as the government investigates the possibility of an alien landing.

It's an endearing film that wrestles with the problems of aging and how transformative it is when one has a life purpose.

The quirky story was uplifted by some great acting.

It played at the Sonoma Film Festival.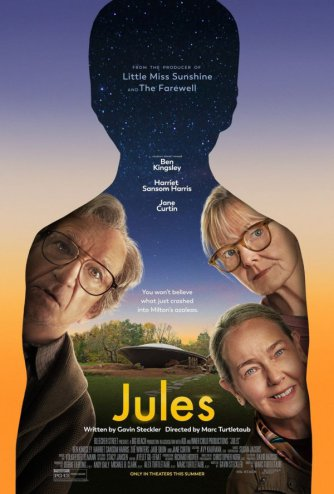 REVIEWED ON 8/7/2023  GRADE: B+