JOCKEY
(director/writer: Clint Bentley; screenwriter: Greg Kwedar; cinematographer: Adolpho Veloso; editor: Parker Laramie; music: Bryce & Aaron Dessner; cast: Clifton Collins Jr (Jackson), Molly Parker (Ruth Wilkes ), Moises Arias (Gabriel Boullait), DannyGarcia (Benny Hernandez IV), Ryan Barber (Jockey), Martin Bourdieu (Jockey), Colleen Hartnett (Ana Boullait), Logan Cormier (Leo Brock), Vincent Francia (Ronnie Langford), Marlon St. Julien (Marlon St. Julien); Runtime: 94; MPAA Rating: R; producers; Clint Bentley, Greg Kwedar, Nancy Schafer; Sony Pictures Classics: 2021)
"Comes in the money, if you bet on it."
Reviewed by Dennis Schwartz

The feature film directing debut of Clint Bentley (the son of a jockey) comes in the money, if you bet on it. This low-budget indie underdog sports film is Hollywood standard fare (with not enough budget to completely film its two racing scenes). It's about a veteran jockey trying for a big win before going off into the sunset. Bentley co-writes it with Greg Kwedan, giving it a feel of being a blend of documentary and cinéma vérité. It's set at a real Arizona racetrack–Phoenix's Turf Paradise.

The easygoing 5-foot-8 Jackson (Clifton Collins Jr, longtime character actor of some note, is in the best role of his career) is a 40-something leathery faced jockey, taller than most jockeys, nearing the end of his career, as after three serious spills he deals with constant nagging body pains that won't quit (he's also told no one he's gotten shots in his numb right hand and suffers from a tremor in that hand). Jackson lives in a trailer, behind the racetrack. The jockey has had a few successes and many struggles in his long riding career. He has a great relationship with Ruth (Molly Parker), his trainer-boss, who just bought a championship type of horse he hopes to ride.

Around the stables Jackson interacts with real jockeys (like Logan Cormier) and the DP, Adolpho Veloso, uses a hand-held camera for some terrific location shots that give the film an authentic racetrack look.

A twist to the usual sports tale has a new kid on the circuit, a 19-year-old hot rookie rider, Gabriel (Moises Arias), who claims to be Jackson's son. The two will bond in some wonderful scenes between them, as the strangers try to get acquainted but Jackson can't accept him as really his son but admits it's possible.

At its finest moments it gives us a sense of how a jockey approaches his job, what they talk about in the locker room and the pitfalls of being a rider in a sport that has had its share of accidents, scandals (like doping and so many horse deaths). When it goes off telling stories not about the track, it doesn't seem to work as well as well as when it sticks to its formulaic approach.
.
The score by Bryce and Aaron Dessner captures its bleak mood, the visuals are beautiful, the acting is real good and it's directed with integrity and smarts. It just drops the shoe when it tries to fit something more dramatically complicated into its simple jockey story that doesn't fit (like telling the story of the kid's mom-Colleen Hartnett).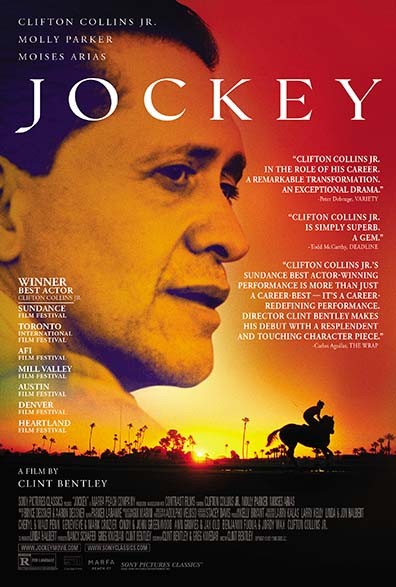 REVIEWED ON 1/3/2022  GRADE: B