JERRY & MARGE GO LARGE
(director:  David Frankel; screenwriters: Brad Copeland/based on the article Jerry and Marge Go Large, by Jason Fagone; cinematographer: Maryse Alberti; editor: Andrew Marcus; music: Jake Monaco; cast: Bryan Cranston (Jerry Selbee), Annette Bening (Marge Selbee), Rainn Wilson (Bill), Uly Schlesinger (Tyler), Larry Wilmore (Steve, the accountant), Anna Camp (Dawn), Ann Harada (Shirley), Ana Cruz Kayne (Heather), Tracie Thoms (Maya), Cheech Manohar (Eric), Michael McKean (Howard), Jake McDorman (Ben); Runtime: 90; MPAA Rating: PG-13; producers: Gil Netter/Amy Baer; Paramount; 2022)
"It manages to get by with its limited comedy because Cranston and Bening do wonders with such a stiff script."
Reviewed by Dennis Schwartz

David Frankel ("Marley and Me"/"The Devil Wears Prada") directs with too many slo-mo shots, as if it were a sports film. This dull comedy is too much like a conventional feel-good TV sitcom for my taste, as the writer Brad Copeland adapts it to the screen from the 2018 article Jerry and Marge Go Large, by Jason Fagone. It's loosely based on a true story, that is a human interest one.

The bland couple, high-school sweethearts, the nerdy Jerry Selbee (Bryan Cranston) and his frumpy wife Marge Selbee (Annette Bening), are senior citizens from Michigan who cash in on a lottery loophole (the WinFall lottery has a "roll-down," so that when the jackpot reaches in this case, $5 million, instead of going up from there the money rolls down to smaller bets, which are easier to win. And what Jerry has noticed is that the statistical odds of winning, if you buy enough roll-down tickets, actually favor the lottery player). This means if Jerry buys enough tickets he will win.

Jerry has recently retired at 62 from working at the Kellogg's plant in Evart as a mid-level manager. At this time, the math whiz, discovers a flaw in the arithmetic behind a lottery game. Using the error, he starts winning big. He furthermore gets the locals in on the action by forming a corporation so they can buy shares in it and by buying more tickets further guarantee that they will make a profit. Nevertheless even if Selbee and his followers beat the system, the system made out very nicely by beating the others.

A reporter for the Boston Globe found them out and outed them, as the lottery was eliminated. The couple and their corporation shareholders supposedly made some $27 million in winnings over nine years from their lottery scheme.
In the background we hear the music of Springsteen, The Kinks and The Who.
Supporting players who make an impact include the funny accountant played by Larry Wilmore and the orange bushy bearded roadside convenience store owner, who partnered with them, played by Rainn Wilson.

It manages to get by with its limited comedy because Cranston and Bening do wonders with such a stiff script. At its homespun best, it gives a shout out to the lively 1944 comedy of Preston Sturgis– "The Miracle of Morgan's Creek."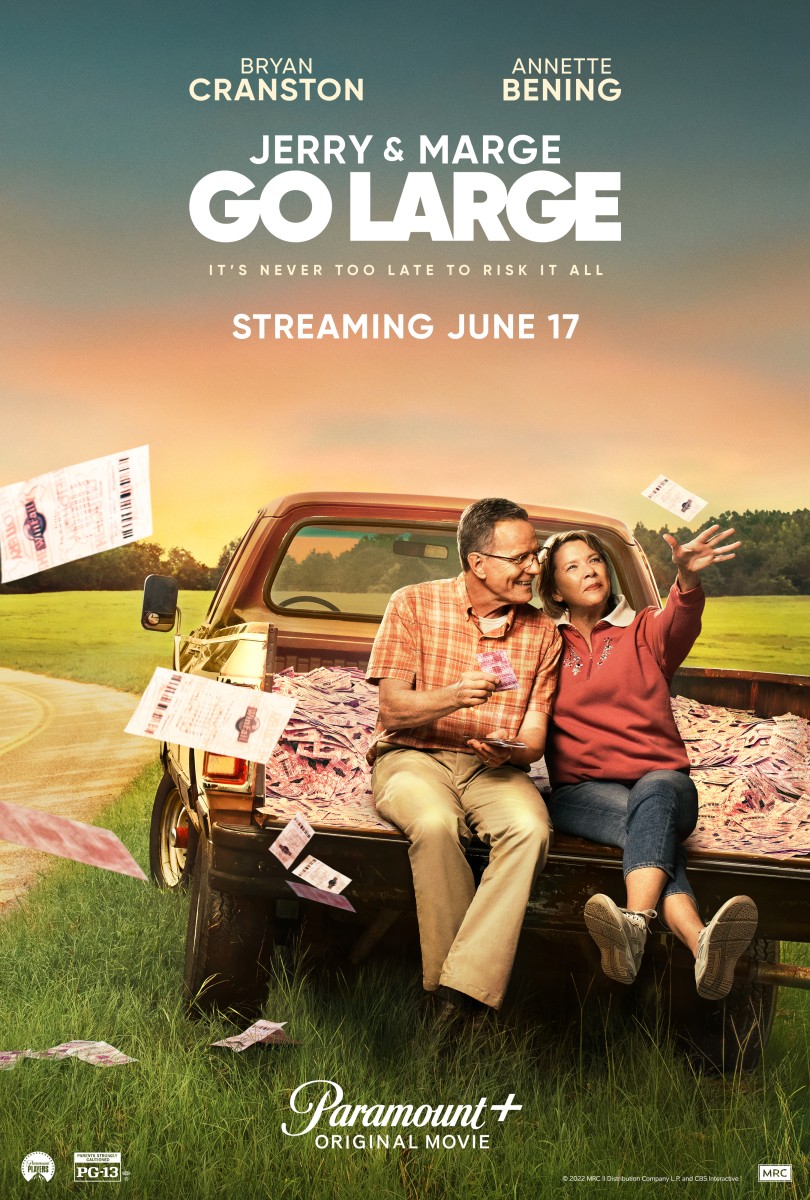 REVIEWED ON 6/25/2022 GRADE: C+