INFINITY POOL
(director/writer: Brandon Cronenberg; cinematographer: Karim Hussain; editor: James Vandewater; music: Tim Hecker; cast: Alexander Skarsgard (James Foster), Mia Goth (Gabi Bauer), Cleopatra Coleman (Em), Jalil Lespert (Alban), John Ralston (Dr. Modan), Thomas Kretschmann (Det. Thresh), Jeffrey Ricketts (Charles), Caroline Boulton, (Bex), Amanda Brugel (Jennifer); Runtime: 117; MPAA Rating: R; producers: Karen Harnisch, Andrew Cividino, Christina Piovesan, Noah Segal, Rob Cotterill, Anita Juka, Daniel Kresmery, Jonathan Halperyn; Neon; 2023-Canada/Croatia/Hungary-in English)
"The set-up is not plausible."
Reviewed by Dennis Schwartz

The director-writer Brandon Cronenberg ("Possessor"/"Antiviral") is the son of the legendary Canadian filmmaker David Cronenberg.

The writer James Foster (Alexander Skarsgard) and his wife Em (Cleopatra Coleman) are on vacation in the impoverished country of La Tolqua (a fictional country). They are staying at a luxury resort, where they are warned not to go outside the gates of the hotel because its dangerous.

James' last novel was six years ago, as he suffers from writer's block. He comes here hoping he can get inspired to write again.

One of the guests, the actress Gabi Bauer (Mia Goth), is an admirer who has read his only book. She and her architect husband Alban (Jalil Lespert) give James and Em a ride to the local beach in a borrowed car, going against the resort's policy. When the others are too drunk to drive back to the resort, James that evening drives. Because the headlights don't work, James can't see the road and runs over a farmer and kills him. Though fleeing the scene, they're arrested in the morning by Detective Thresh (Thomas Kretschmann). He explains to James that the custom here is that the eldest son is allowed to kill the person who murdered his father. The cop tells the despondent James that for a fee, a clone of James is created and the double is killed. James can't flee the country because his passport has been taken, but that doesn't stop his wife from fleeing.

James soon learns that Gabi and her friends at the resort have all been convicted of crimes and watched their doubles executed. With Em gone, James joins their underworld group at the resort. They take drugs and have orgies (the psychedelic drug scenes are trippy). In this setup, any crime of theirs is not punished.

Though the legalizing of revenge killings is an intriguing immoral idea, the set-up is not plausible.

It's a forgettable film–all play acting and no backbone to lean on. But it held my attention.
 
It played at the Sundance Film Festival.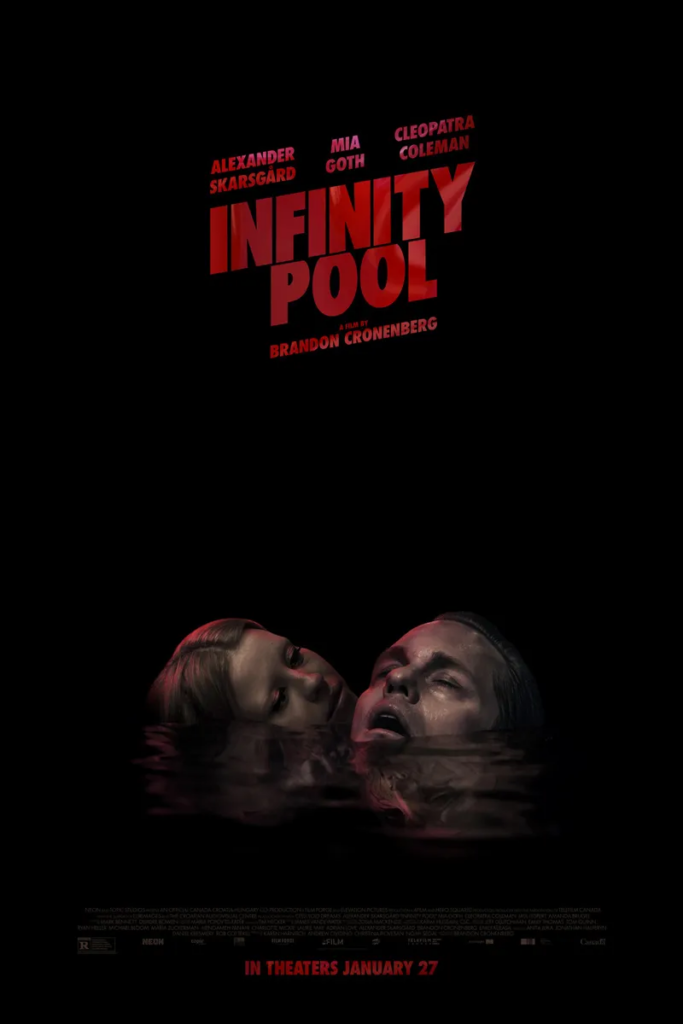 REVIEWED ON 6/20/2023 GRADE: B